I love chocolate, Drizzlers. With all my might! And a fudgy brownie has always been my weak spot. Don't serve me a cake brownie, that's just called cake! I want gooey, rich, smack your lips fudginess tucked into that brownie! Brownies are also a great canvas for so many other flavors. Raspberries? Delicious. White chocolate? Yes! Seed or nut butters? Obviously!!!
So when I was thinking of a new brownie recipe I wanted to add something to the actual brownie without taking away from the fudge and gooey aspect, then I wanted a frosting. But not a buttercream, sometimes that is too sweet from the powdered sugar and makes my cheeks hurt! Most people love a seed or nut butter combo with chocolate so I knew that was the winner.
Now, as a food allergy blogger and a chef to many families that have peanut allergies I wanted to remove peanuts from the equation and make this equally delicious with a sunbutter flavor. And guess what-HECK YES IT IS!!! So Free2B sent me a fab package of their delicious 35% cocoa and 66% cocoa mini cups and omg they are the cutest things ever, super delicious and perfect for this recipe!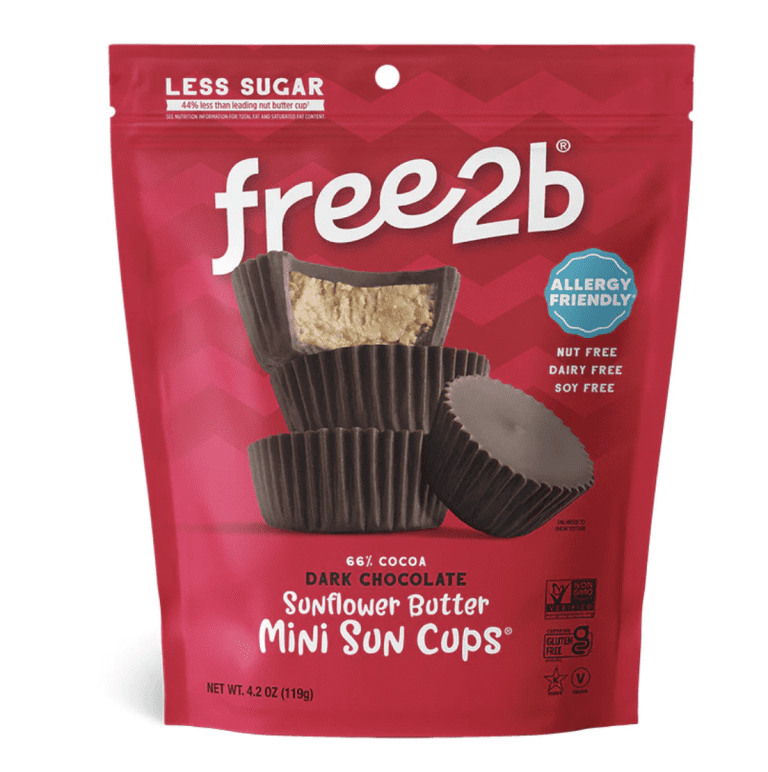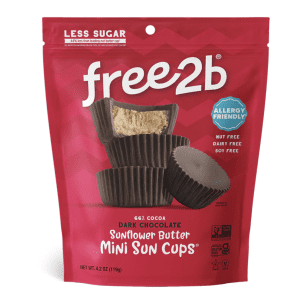 I chopped some up and threw them in with the brownie batter (drool) then made a dark chocolate sunbutter ganache, poured that over the top, added more chopped up mini sunbutter cups and finally finished with some flaky sea salt. The end result is probably the best brownie recipe I've ever made. And judging by my friends that I shared them with, I would say they agree!
And one of the best things about this recipe is that it's just as good if you make it from scratch or from your favorite boxed mix. Seriously! I've tried it both ways. And sometimes you just don't have the time or the energy to make from scratch so why prevent yourself from this deliciousness because of that? Use a box!
Otto's Naturals is my go-to for allergy friendly brownie mixes. They are fudgy, dense and perfect for this recipe! Free from the Top-9 and grain free, as well! I always keep a few bags on hand to make sure that I have brownies at my fingertips 🙂 This is quite possibly the best brownie recipe I've come up with to date. And if it's any clue into how tasty they are I have friends lined up for the next half year asking for these as their birthday treat! But why wait for a birthday? Make any day special and whip up these tasty little treats!
xo, Kendra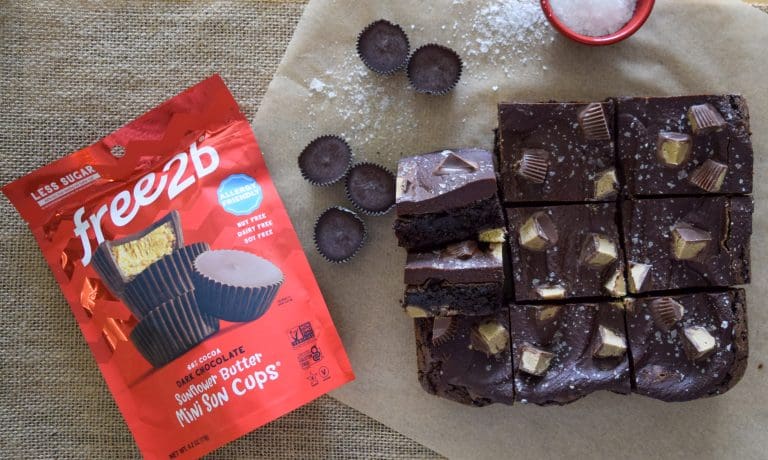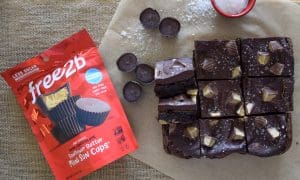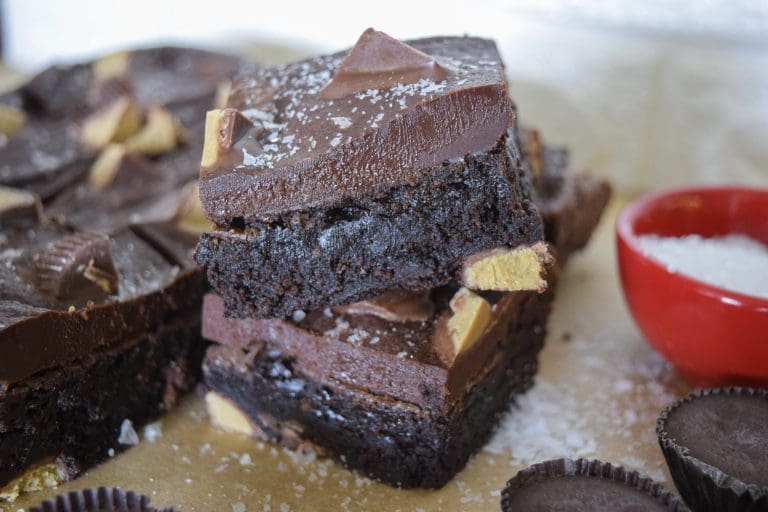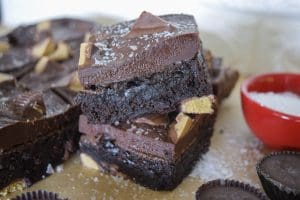 Salted Sunbutter Ganache Brownies
Gluten Free, Peanut Free, Adaptable to be Free From Top-9
Makes: 9 large brownies
Prep Time: 20 minutes plus baking and cooling
sunbutter cup brownies
1 package Free2B Mini Sun Cups
1/2 c. unsalted butter (if you can consume dairy)/coconut oil/vegan margarine
1 c. granulated sugar
1 c. packed brown sugar
1/2 c. semi sweet chocolate chips
1 Tbsp. sunflower seed butter
4 eggs (if you can consume eggs)/4 flax eggs/powdered egg sub
1 T. vanilla
1 1/2 c. gluten free flour blend
1 c. unsweetened cocoa powder
1 t. baking soda
1 t. fine salt
**alternatively you can use your favorite boxed brownie mix to replace the homemade brownies. Simply eliminate sub for all ingredients from unsalted butter through fine salt!
salted sunbutter cup ganache
1/3 heavy cream (if you can consume dairy)/full fat coconut milk/favorite plant milk
2 Tbsp. sunflower seed butter
2/3 c. semi-sweet or dark chocolate morsels
to top
remaining chopped Free2B Mini Sun Cups
flaky sea salt
Directions
Preheat oven to 350. Line an 8×8 baking dish with parchment paper so it lines the whole pan and up the sides (you'll need it to use like handles to pull the brownies out).
Cut each of the Free2B Mini Sun Cups into quarters and then divide the whole bunch in half. You'll use half for the brownie batter and half for the topping.
In a medium saucepan melt the butter, coconut oil or vegan margarine with the sugars and the chocolate chips, whisking occasionally, for about 6-7 minutes. Remove from heat. Whisk in the sunflower seed butter.
Crack the eggs into the pan and whisk in one by one until well blended or add your flax eggs, all at once, if using those. Add in the vanilla extract.
In a small bowl mix together the gluten free flour, cocoa powder, baking soda and salt. Pour into the saucepan and whisk until combined.
Add 1/2 the chopped mini suncups to the bottom of the prepared baking dish.
Pour the brownie batter on top, smooth  and bake at 350 for 15 minutes, rotate pan and bake an additional 10-15 minutes until toothpick inserted into the middle comes out clean. Set aside to cool.
To make the salted sunbutter cup ganache: Pour the heavy cream, coconut milk or plant milk into a small saucepan and bring to a soft simmer. Whisk in the sunflower seed butter until completely blended in.
Remove from heat, sprinkle in the chocolate morsels and cover with a lid for 5-10 minutes. Whisk until all blended and then pour over the cooled brownies.
Scatter the remaining Free2B Mini Sun Cups onto the ganache and finish with a sprinkle of flaky sea salt. Place in the refrigerator to set for 1 hour, cut into squares and devour!
**If using a boxed mix follow their instructions for baking time.
Happy Foods are the Best Foods!