Dark Chocolate Sunflower Seed Butter Cups
---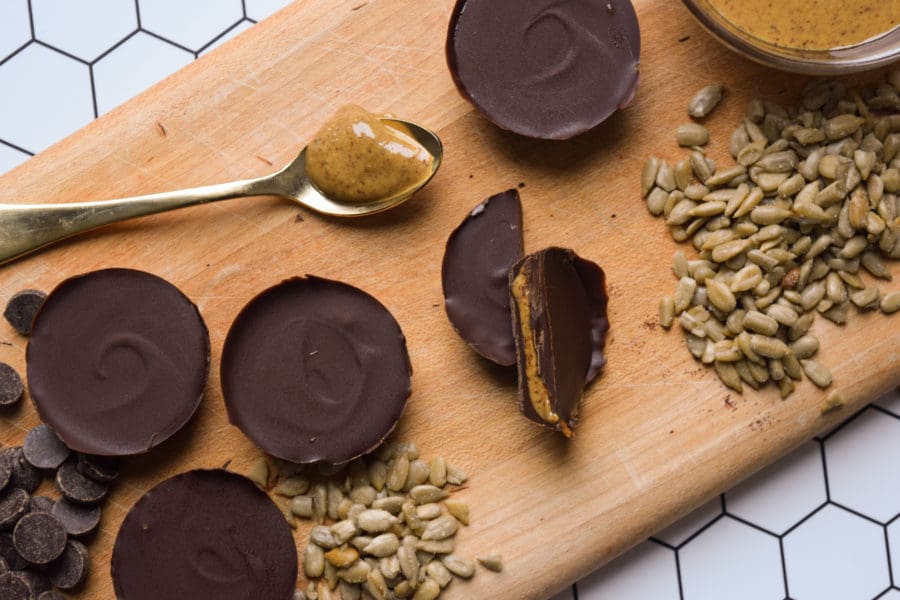 Two weeks ago I was on the news talking about the Teal Pumpkin Project. It's an awesome Halloween Idea brought about by the folks over at FARE (Food Allergy Resources and Education). Imagine if you were allergic to something that was found in most trick or treat candy. Imagine if you had a child who was so allergic to some foods that trick or treating ended up being throwing all their candy away?
Well, the Teal Pumpkin Project solves that issue. The idea is that you put a teal pumpkin outside your house (teal is the color for food allergies) to signify that you have non-food treats to hand out so everyone can enjoy Halloween! There are also some great brands that have allergy free treats (Enjoy Life Foods, Skinny Pop just to mention two) but the best way to keep everyone safe is to hand out fun stuff!
While I was on air I also demonstrated one of my favorite ways to treat my allergic friends and Mr. Drizzle Kitchen with some dark chocolate and sunflower butter. So if you're having a Halloween Party or if you just want a fun treat that is free from the Top-8 food allergens and also delicious try this recipe below for my Dark Chocolate Sunflower Seed Butter Cups. Everyone is guaranteed to love them!
Mini Sunflower Butter Chocolate Cups
Free from top-8 allergens, sesame, potato, corn, mustard
Makes 24 Mini Cups
2 cups allergy free dark chocolate chips (I always use Enjoy Life Foods Dark Chocolate Morsels)
1 T. flavorless oil such as sunflower or safflower
¾ c. unsweetened sunflower seed butter
1 t. pure vanilla extract
Pinch sea salt
DIRECTIONS
Melt chocolate and flavorless oil either in a double boiler or in the microwave at 30 second intervals, stirring in between.
In a separate bowl, mix together the sunflower seed butter, pure vanilla extract and pinch of sea salt.
Add a small spoonful of chocolate to the well of silicone mini muffin cups, if you feel ambitious use a chocolate brush to brush up to the top. This will create a little barrier keeping the filling tucked inside. Pop in the freezer for 30 minutes to set.
Remove from the freezer and evenly divide the sunflower seed mixture into the mini muffin cups. Add back to the freezer for 30 minutes.
Top with remaining chocolate (sprinkle with a smidge of additional flaky sea salt if you'd like now!) and place back into the freezer for another 30 minutes to set. Pop out and store at room temperature or in the refrigerator until ready to devour!
Happy Foods are the Best Foods!
xo, Kendra