Dark Chocolate Dipped Banana Chips
---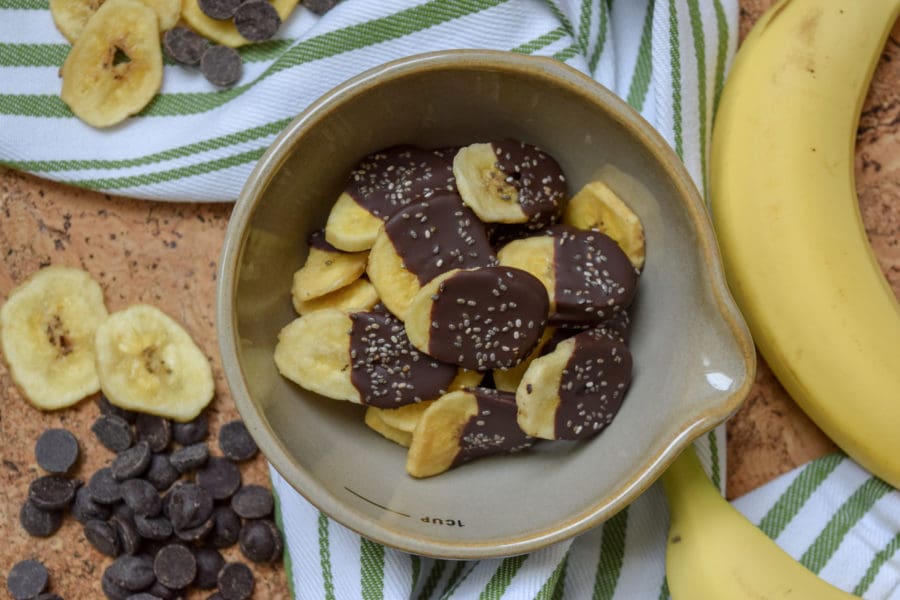 May is Allergy Awareness Month and Celiac Disease Awareness Month, did you know that? Even if you don't have an allergy I'm sure you know someone who does, have a family member who does, have a husband or wife who does, have a child who does, etc.
This month I am super dedicated to educating people on food allergies. It's more prevalent than ever in the United States with 32 million people having a food allergy. 1 in 10 adults and 1 in 13 children have food allergies, isn't that alarming?! Luckily we have some incredibly smart scientists, researchers and doctors trying to understand the why and help remedy the how. But in the meantime what I do best is to help people with recipes that are safe for them to enjoy; allergy adaptable recipes that are fun, nutritious and delicious at the same time!
Today's recipe is a very simple, quick but delicious recipe that also happens to be vegan in addition to being allergy free. Now, most banana chips at the store are cooked in coconut oil so if you can eat coconuts then it's super simple to get some allergy safe banana chips for you. Gerbs is a great source for clean banana chips. If you need to be coconut free then I love these Bare Banana Chips, the only ingredient is bananas!
So when you're craving something sweet and poppable put together a batch of these little guys and I'm sure they'll be gobbled up sooner than you think!
Happy Foods are the Best Foods!
xo, Kendra

Chocolate Dipped Banana Chips
Free From the Top-8, Sesame, Corn, Potato
1 bag Enjoy Life Foods Dark Chocolate Morsels
1 t. flavorless oil
2 cups banana chips
2 T. chia seeds
Melt the dark chocolate morsels with the flavorless oil either in the microwave at 30 second intervals or in a double boiler.
Take banana chips, one by one, and dip them in the chocolate. Set on a parchment or wax paper lined baking sheet
Once all dipped sprinkle chia seeds over the top and pop in the fridge to set for 30 minutes.
Store in refrigerator, enjoy!