Growing up, a Mounds Bar was my absolute favorite. Coconut quickly became an absolute favorite flavor of mine in any sort of dessert. Ice cream, cupcakes, cookies and any sort of sweet treat- coconut is my jam. So for Easter this year I thought a coconut cake was most certainly in order!
Now, the beauty of coconut is that it gives us so many different products to use. In this recipe, we use the oil, the milk and toasted coconut shavings. It adds that lovely flavor in three different ways, in the cake batter itself then the frosting and then the toasted shavings coating the frosted cake. Trifecta! But it is still a nice, subtle flavor. If you want more coconut flavor you can add coconut extract and if you'd like it more Mounds bar-like then toast off some sweetened shredded coconut!
Whichever way you choose to make this cake, it's a lovely spring cake. Decorate with flowers or add some cute little Easter egg shaped candies to make it festive for the holiday. And don't be fooled with the single layer. This is a dense and rich cake you'll only need a sliver of to feel super satisfied. I can't wait until after dinner tonight to have another slice of the cake I made for the food photography….and then probably for breakfast tomorrow also!
xo, Kendra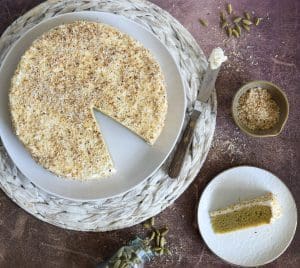 Coconut Cardamom Cake
Gluten Free, Allergy Adaptable to be Free From Top-9*, Vegan Adaptable
(*does contain COCONUT)
1/2 c. unsalted butter or Melt vegan margarine for dairy free, softened
1 c. cane sugar
2 large eggs* (I haven't tested this with egg substitute but I would recommend aquafaba egg for a vegan sub)
2 Tbsp. melted coconut oil
1 tsp. vanilla extract
1/2 c. full fat coconut milk, room temperature
1 1/3 c. gluten free flour blend
1 1/4 tsp. baking powder
1 tsp. fine sea salt
3/4 tsp. ground cardamom
1/4 tsp. ground cinnamon
Frosting
1/2 c. unsalted butter or Melt vegan margarine for dairy free, softened
2 1/2 c. sifted powdered sugar
pinch flaky sea salt
1 tsp. vanilla extract
3-4 Tbsp. full fat coconut milk
1 c. toasted coconut flakes*
Directions
Preheat oven to 325. Grease and flour the bottom of an 8″ round cake pan or springform pan. Set aside.
Add the softened butter or vegan Melt margarine to the bowl of a stand mixer. Pour in the sugar and mix on medium high until fluffy, about 3 minutes.
Add the eggs or aquafaba, melted coconut oil and vanilla extract. Mix another 1-2 minutes.
Add in the coconut milk and mix for a minute.
In a small bowl whisk together the gluten free flour blend, baking powder, sea salt, cardamom and cinnamon.
Add this to the bowl with the butter mixture and fold in by hand until there are no more streaks of flour and it is blended together.
Pour into the prepared baking pan and bake for 45-50 minutes until a toothpick inserted into the middle comes out clean. Cool completely.
To prepare the frosting: add the softened butter or Melt margarine to the bowl of a stand mixer. Add the powdered sugar and pinch of flaky sea salt and, using the whisk attachment, mix on low speed and gradually increase to low-medium.
Add the coconut milk, tablespoon by tablespoon, until it's softened and reached the consistency you'd like for spreading.
Place the cake on a large piece of parchment paper set on a flat cookie sheet. Evenly spread the frosting all over the top and sides of the cake (an offset spatula works well for this!) and then press the toasted coconut all over.
Refrigerate 3-4 hours or overnight and serve chilled!
Happy Foods are the Best Foods!