Cinnamon Spiced Chocolate Cake Balls
---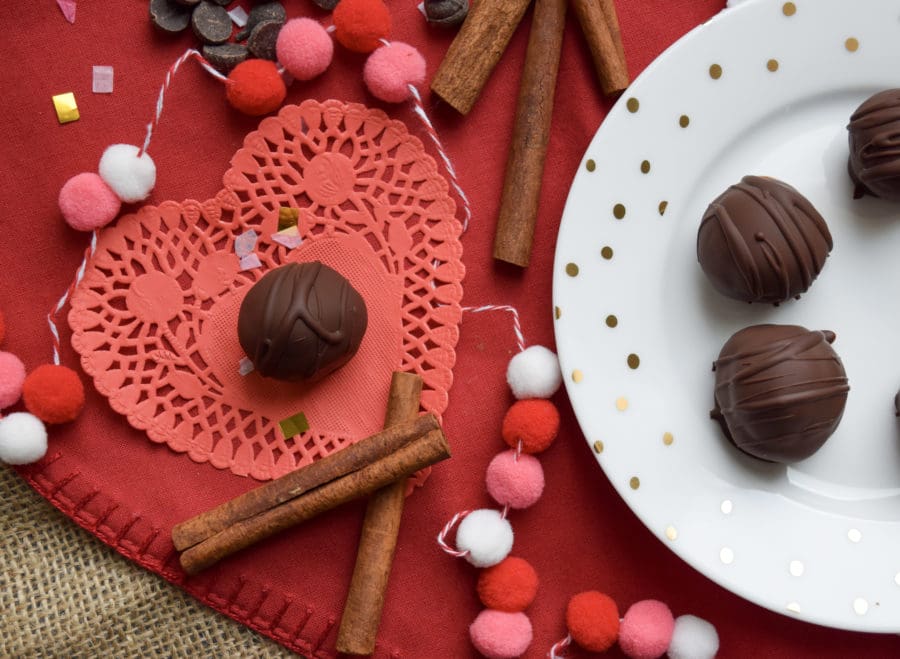 It's Valentine's Day Week which means all things chocolate must be a priority! One of our awesome Drizzle Kitchen chefs found a recipe for chocolate cake balls and said, we must make this allergy adaptable. It just looked and sounded too good not to! We made them Top-8 free plus vegan and let me tell you-NOBODY WOULD HAVE ANY CLUE. They're tasty!
So we adjusted a couple things, switched up a few methods and voila! A tasty, simple and delicious recipe for your bellies. Tender chocolate "cake" made with oat flour, cocoa powder and one of my all time favorite ingredients…..dates! A few other assorted things tossed in there and you simply blend it all up in a food processor. Couldn't be simpler!
Scoop out, roll into balls, freeze and then give those suckers a good dunk in dark chocolate. You just may eat them all before Valentine's Day!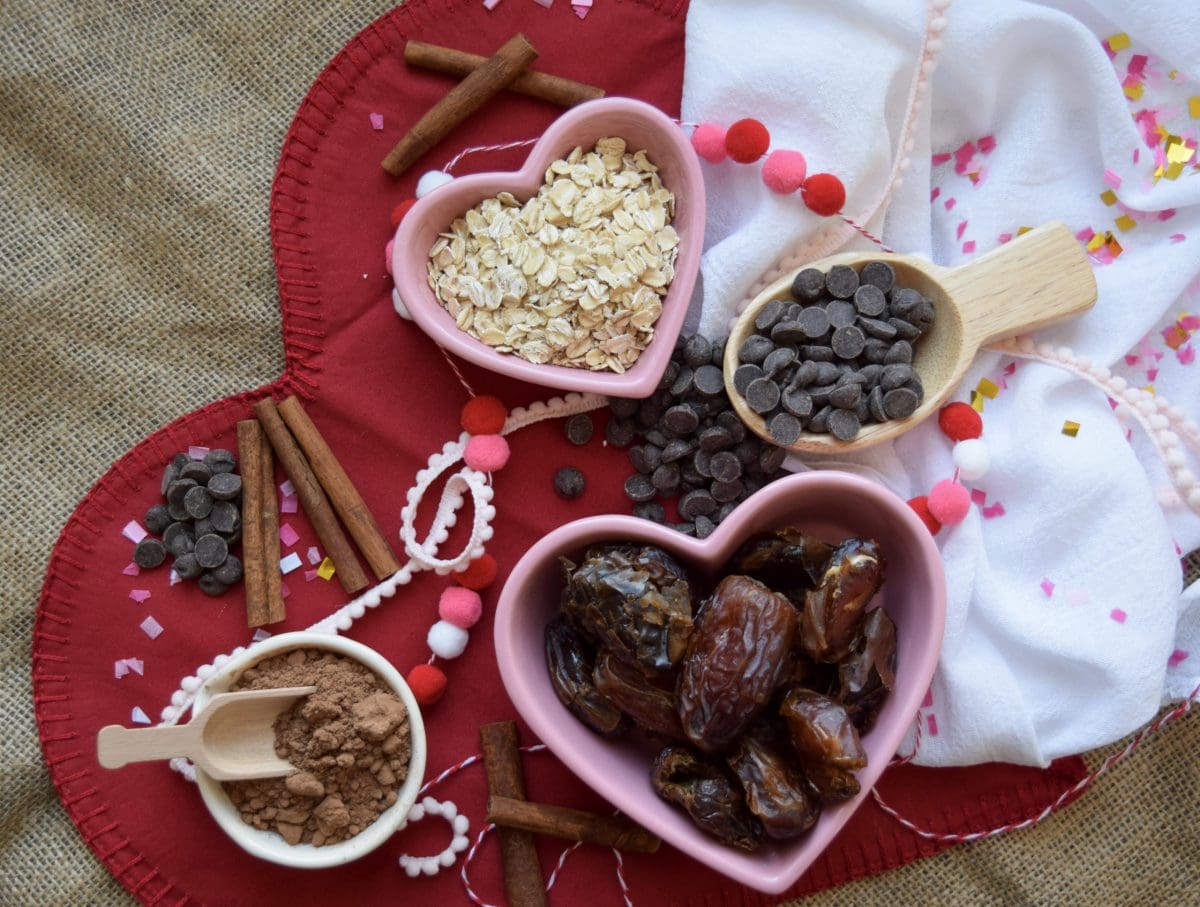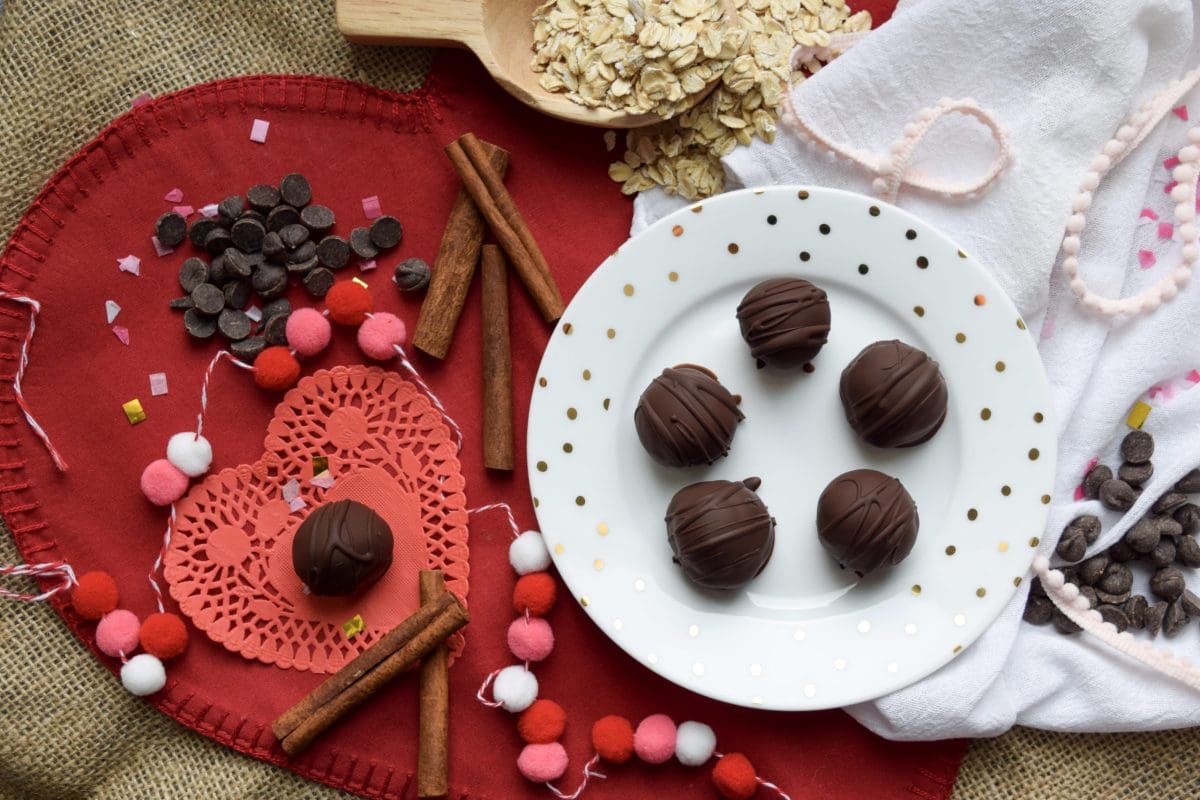 Cinnamon Spiced Chocolate Cake Balls
Vegan and Free From Top-8 + Corn + Sesame + Potato
Ingredients
1 1/4 c. pitted Medjool dates, packed*
1/3 c. cocoa powder
2/3 c. oat flour
1/4 tsp. salt
2 Tbls. cinnamon
2 tsp. vanilla extract
3 T. non dairy milk (I've used canned coconut milk and boxed vanilla hemp milk)
Chocolate coating
6 oz. dark chocolate (we love to use our fave-Enjoy Life Foods Dark Chocolate Morsels!)
1 t. flavorless oil
Directions
Line a sheet tray with parchment paper and set aside.
Soak the dates in warm water while you measure out the other ingredients.
Drain the dates and add them to the bowl of a food processor. Turn on until the dates and chopped and have formed almost into one giant date ball.
Scrape down and add the remaining cake ball ingredients to the food processor and pulse until all uniformly mixed through.
Using a scooper or spoons, portion out the dough onto the parchment lined baking sheet. Lightly roll into a ball and place in the freezer for 30 minutes.
When ready to coat, melt the chocolate and oil either in a double boiler or in the microwave at 30 second intervals. Coat each ball, one by one, in the chocolate and place back on the tray. Set in the fridge for 30 minutes to set the chocolate then place in storage container or goodie bags.
*Click on the link for medjool dates to take you to a Top-14 Free brand of dates! I have found them at my Whole Foods recently!
Happy Foods are the Best Foods!
xo,
Kendra