Cinnamon Spiced Chocolate Bark
---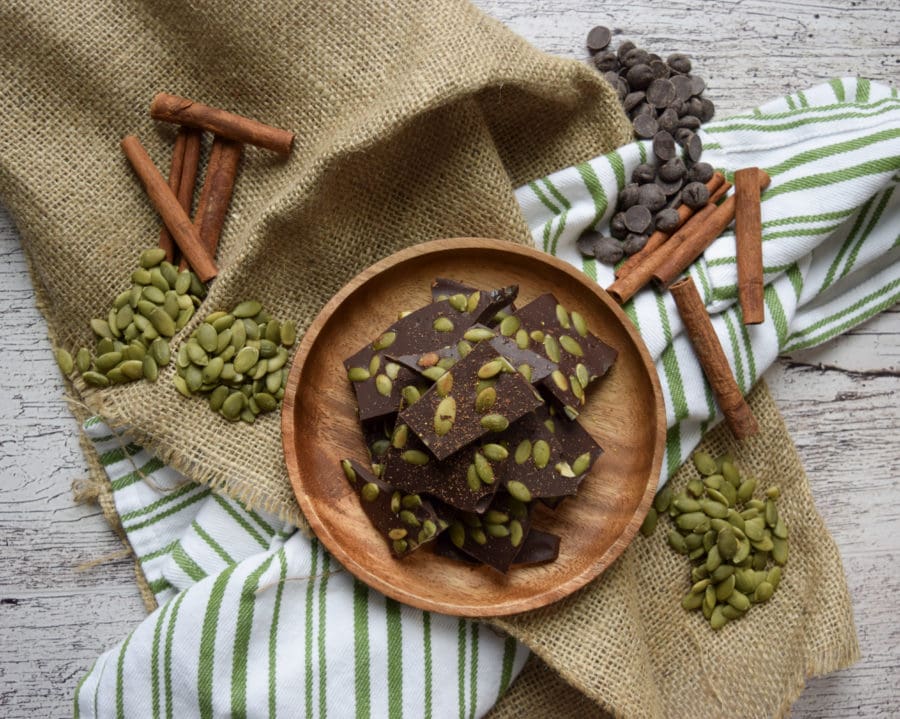 We are at the start of the weekend of Halloween festivities; open houses, theme parties, social club parties, pumpkin painting, etc. and everyone wants treats at those fun events!
Well, one of my favorite ways to spice up chocolate bark is with actual spice! Cinnamon, to be exact. So I created a Cinnamon Spiced Dark Chocolate Bark for you to quickly throw together and enjoy. It's the perfect little hostess gift or the perfect little sweet bite that will prevent you from eating all that gross, processed, packaged candy. Real chocolate is so much better!
There is only one secret to making this chocolate bark, instead of sprinkling it with ground cinnamon from a jar……you grate fresh cinnamon from a cinnamon stick on top for a super fresh taste and a delicious scent that hits your nose even before you take a bite.
So plan to make this for your favorite ghouls and goblins, I know they'll grab a piece of this tasty little treat!

Cinnamon Spiced Chocolate Bark
Free from the Top-8, Corn, Potato, Sesame, Lupine, Mustard
1 bag Enjoy Life Dark Chocolate Morsels (or 9-12 oz. dark chocolate or semi sweet)
1 tsp. flavorless oil such as safflower or sunflower
1/3 c. toasted pumpkin seeds
1 cinnamon stick
Optional: Flaky Sea Salt
Directions
Melt the chocolate and flavorless oil in a double boiler on the stove or in the microwave at 30 second intervals until smooth.
Pour onto a parchment or wax paper lined tray and spread to about 1/4″ thickness, or however thick you'd like your bark to be!
Sprinkle with the toasted pumpkin seeds.
Grate the cinnamon stick with a microplane grater all over the chocolate, I use about 1/2 stick for one batch.
Sprinkle with optional flaky sea salt if you'd like and then pop in the fridge to set. Remove, cut into pieces and store in the refrigerator until ready to serve!
Happy Foods are the Best Foods!
xo, Kendra