It's that time of the year when everything turns pink and red to celebrate all things love- Valentine's Day!!! And what do we all love, especially around February? CHOCOLATE!
This is such a fun little recipe filled with chocolate and cinnamon and then coated in more chocolate. With a base of dates and oats not only is this a delicious treat but also a nourishing one! Fiber and gut healthy nutrition from the oats plus vitamins and minerals from the dates, all rolled into little balls and coated in dark chocolate this is sure to be a fun new treat that you'll make year round.
Feel free to play around with it also. If you don't love cinnamon you can leave it out! Want it to be a candy cane flavor? Remove the cinnamon and vanilla and add peppermint extract instead then top with crushed candy canes. However you make these, I know you'll love them. Poppable, chocolatey, happy little bites of goodness to make you smile.
Stay Safe out there, Drizzlers!
xo, kendra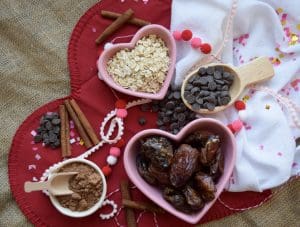 Chocolate Cinnamon Cake Bites
Free From the Top-9 Food Allergens
1-1/4 c. pitted dates, soaked in hot water
1/4 c. unsweetened cocoa powder
2/3 c. oat flour (or almond flour if you can have tree nuts)
2 Tbsp. cinnamon
1/4 tsp. salt
2 tsp. vanilla
3 Tbsp. favorite allergy friendly milk
2/3 c dark chocolate
1 tsp. flavorless oil
Directions
Add the soaked dates to a food processor. Pulse a few times to break them up. Add in the dry ingredients and let run until it resembles cookie dough.
Add in the vanilla and vegan milk and combine.
Remove from the food processor and scoop even balls onto a parchment lined sheet tray. Roll each scoop between your hands to smooth them out. Place in the freezer for at least 30 minutes to set.
Add the oil to the chocolate and melt over a double boiler or in the microwave in 30 second increments, stirring between each. Dip each cake ball in the melted chocolate and place back on the parchment lined tray.
Once all of the cake balls are dipped, use a fork to drizzle more chocolate over the top.
Place in the fridge to set.
Happy Foods are the Best Foods!