Easter was always a fun Sunday in our house. Everyone was dressed up so nicely for church, we were all hoping for warmth and sunshine, baskets were hidden in the yard and inside the house and it was an excuse to have a beautiful brunch, eat candy all day and have a family filled lovely dinner together.
Now, as I get older, I try to keep old traditions as well as incorporate new ones to the holidays. And with me it typically means it's food related!
A couple years back I created this recipe for Enjoy Life Foods and I have to say it still makes me so happy. Bright colors, chocolate, yummy little things tucked inside and you've got yourself an easy dessert that everyone can help make the day before. It's basically just melting chocolate, sprinkling with candy of choice and then pressing the rice milk crunch candy squares on top. Let it set, break it apart and enjoy!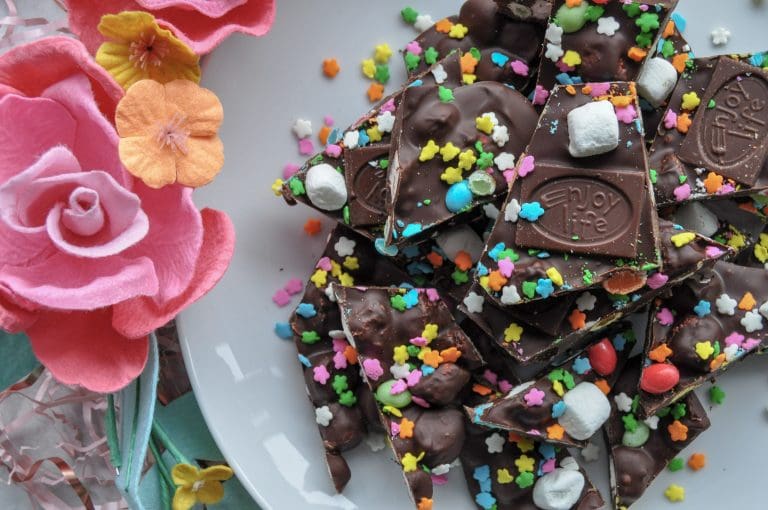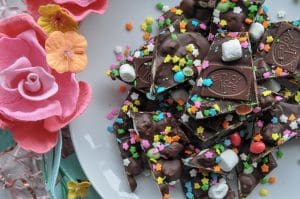 Bunny Bark
Originally Created for Enjoy Life Foods
Vegan and Free From the Top-9 Food Allergens
Serves: 12
Prep Time: 15 minutes plus setting time
Ingredients
2 bags Enjoy Life Foods Dark Chocolate Morsels (or whichever chocolate is safe for you)
2 Tbsp. coconut oil or grapeseed oil
1 c. jelly beans
1/2 c. fun sprinkles
1-2 c. mini marshmallows
1 bag Enjoy Life Foods Easter Chocolate Minis
Directions
Melt the dark chocolate morsels with the flavorless oil either in the microwave or in a double boiler.
Mix half of the jelly beans and mini marshmallows into the melted chocolate and pour into a parchment lined 9×13″ baking dish.
Sprinkle with the pastel sprinkles and remaining jelly beans and mini marshmallows.
Lastly, place the unwrapped Easter Minis all over into the bark. Place in the refrigerator to set for 30 minutes.
Cut into pieces and enjoy!
Happy Foods are the Best Foods!