Summer herbs are the best! Now, I have a terrible green thumb and am not great at growing very much. However, basil seems to like me and I have a beautiful basil plant that has bright, fragrant and flavorful leaves all ready to be incorporated into a beautiful vinaigrette recipe.
Sometimes I have too much basil, though, and know I need to use it quickly before the flavor turns. Aside from eating my body weight in caprese salad or making more ratatouille, one of the best ways to pack a punch of basil flavor is with my basil vinaigrette recipe. It's bright, full of that gorgeous perfumed basil flavor and just a hint of lemon and sweetness. It couldn't be easier, you just throw everything into a blender and puree away until you have a smooth, delicious green puree. Store the basil vinaigrette in a glass jar in the fridge for 7-10 days for an easy pop of flavor.
Some of my favorite ways to use it:
Swirl into your favorite yogurt for a delicious veggie and/or chip dip!
Add it to a chilled rice and grilled vegetable salad, yum!
Use it as a delicious dressing for a summer chopped salad!
Grill some chicken or fish and drizzle a bit over the top for a punch of easy flavor!
Smash an avocado, stir in a bit of the basil vinaigrette and spread on top of your favorite toast for a new version of avocado toast!
However you enjoy this vinaigrette recipe, I know it'll become part of your summer repertoire. It's a jar full of happy, green summer flavor you can do so much with!
xo, kendra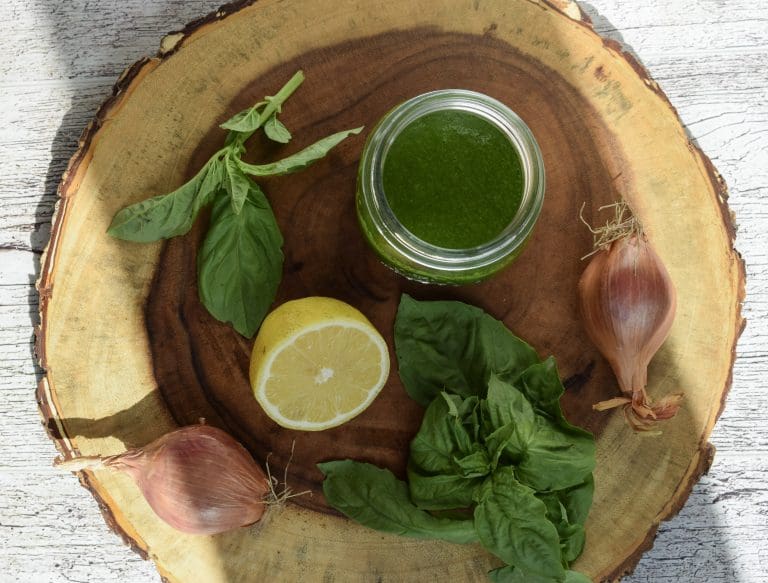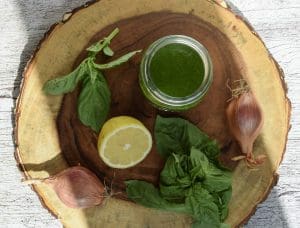 The Best Basil Vinaigrette Recipe
to try Right Now!
Free From the Top-14 Food Allergens
Vegan, SIBO Phase 2, Low Fodmap & AIP friendly with elimination of shallot
Prep Time: 5 minutes
Makes about 6-7 servings
2 c. packed basil
1 small shallot, peeled and chopped
juice from 1/2 lemon
1/2 c. olive oil
2 Tbsp. sherry vinegar
1-2 tsp. honey or maple syrup, depending on bitterness of basil
big pinch flaky sea salt
Directions
Add all the ingredients to a blender, using only 1 tsp. of the honey.
Blend until smooth, you might need to add a bit more olive oil to thin to your preferred consistency.
Taste for seasoning and add more honey or salt as needed.
Pour into a glass jar and keep in the refrigerator for 7-10 days.
Happy Foods are the Best Foods!