Quarantine Kitchen Series: Banana Chocolate No Bake Cookies
---
Well, it seems we all need a little chocolate and a little baking right now! We are a couple weeks into shelter in place in most of the country and I think everyone is wanting to be the Italian Mama who cooks and feeds the family and takes care of her people through the love of meals.
At least that's how I feel! So I guess the two of us over here will just have to eat that entire cake I made last night ourselves…..
Back to the recipe-the nice thing about this recipe is that it all gets mixed into two bowls, easily combined and then portioned out into little "cookies." I like to think of these more like soft granola cookies rather than a classic super sugary baked chocolate chip situation. They're dense little bites of chocolate energy wrapped up in the guise of a cookie 😉
And feel free to make them yours! Add some collagen powder for good pre or post workout energy bites. Add some chia seeds for a fun crunch. Add some toasted and crushed pumpkin or sunflower seeds for some different texture. Whatever you do, just make them!
Stay safe out there, Drizzlers!
xo, Kendra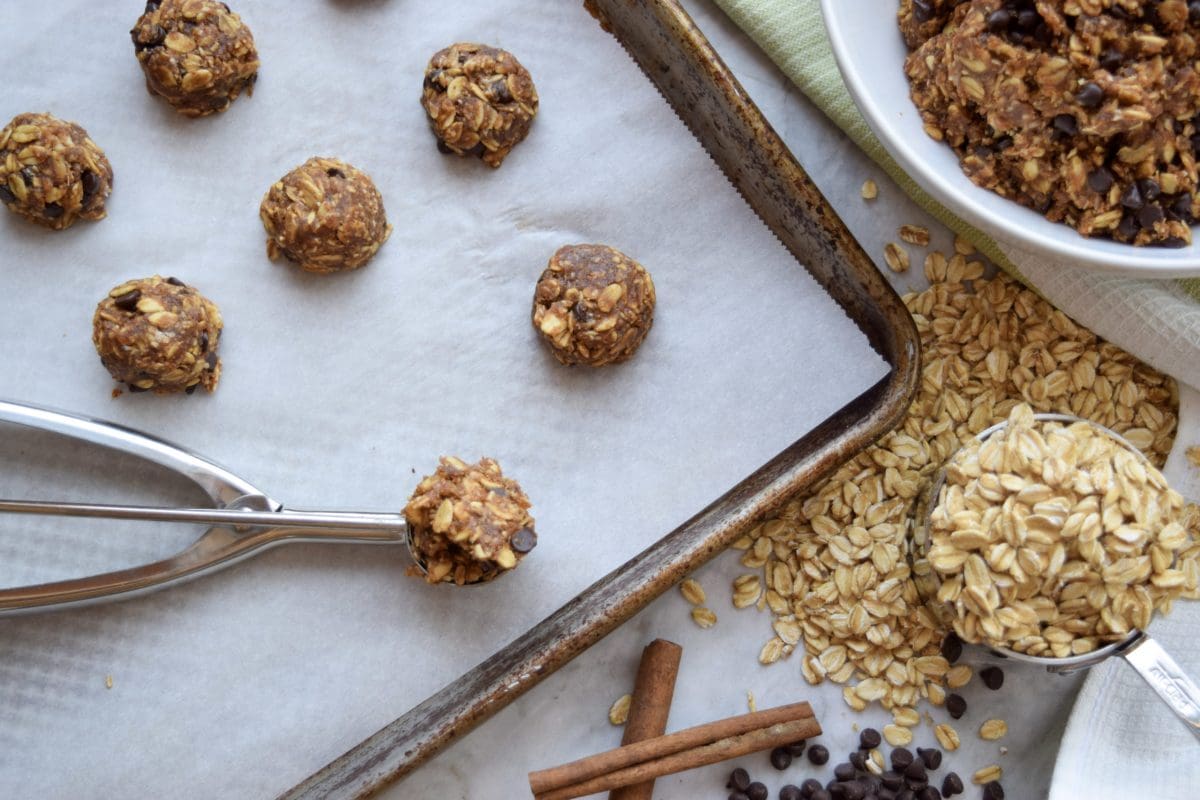 Banana Chocolate No Bake Cookies
Free From Top-8, Corn, Potatoes, Mustard, Sesame
Allergy Adaptable and Vegan
Makes about 64 mini cookies
2 1/4 c. gluten free oats
1 Tbls. ground cinnamon
1 tsp. salt
1/2 c. mini chocolate chips
3/4 c. sunflower seed butter (or any kind of seed or nut butter, depending on your allergies and preferences)
2 tsp. vanilla extract
1/2 c. mashed banana (about 2 small bananas)
1/3 c. packed brown sugar/maple syrup/honey/agave
Directions
Add half the oats to the bowl of a small food processor and pulse until they are a coarse flour consistency.
Add to a large mixing bowl along with the remaining whole oats, ground cinnamon, salt and mini chocolate chips.
In another medium bowl mix together the sunflower seed butter, vanilla extract, mashed banana and your sweetener of choice.
Add the sunflower seed butter mixture into the oat mixture and combine until well blended.
Scoop out into mini cookies, about the size of a tablespoon, and then press them together and form into a cookie shape by gently pressing on the top.
Store in the refrigerator for 5-7 days.