With the commencement of spring comes vacation, school spring break, Easter, graduations and warmer weather. This means I am in the mood for dips, spreads, appetizers and all things meant for gathering of friends and family. I also love a dip that you can make and use on a myriad of things. Spread for sandwich? Yep. Spread for avocado toast? Mmmhmmm. Sauce for grilled chicken? Oh, yeah. Dip for veggies? Sí! How about a dip for roasted sweet potato fries? Oh, yesssss.
And did I mention this recipe for ranch dip is DELICIOUS? And also just happens to check off some boxes: vegan, gluten free, free from the top-9 food allergens, keto, anti-inflammatory, full of healthy fats. Not to mention super easy to prepare!
So whether you're trying to get some new spreads in your repertoire for sandwiches and wraps or you just want something easy to enjoy with toast, scrambled eggs or even just some sliced veggies this is it! Bonus!!! I'll tell you how to keep almost overripe avocados so you can still use them without turning bad.
xo, Kendra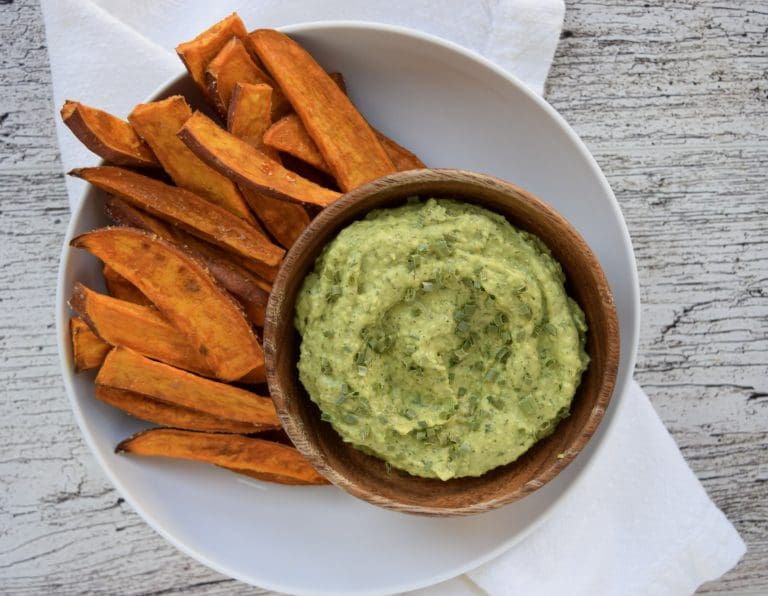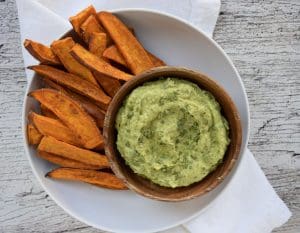 Ranch Avocado Dip
Vegan, Free From the Top-14, Low Fodmap, AIP Compliant
2 ripe medium sized avocados
1 Tbsp. olive oil
6-7 Tbsp. water
1 Tbsp. garlic powder
1 Tbsp. dried dill
1 Tbsp. dehydrated chives
1/2 tsp. salt
Directions
Scoop out the flesh of the avocados into a food processor.
Add the olive oil and water and puree until smooth.
Add in the garlic powder, dried dill, dehydrated chives, salt and pulse until mixed through.
Refrigerate 1 hour and enjoy!
***have avocados on their last leg? Cut them, pull out the seed and pop the halves into a resealable bag. Put in the freezer and keep there for 2-3 months until ready to use!
Happy Foods are the Best Foods!!