Well, it's Thanksgiving next week and that means stuffing or dressing will be on everyone's menu. Which are you, team stuffing or team dressing? Do you know there's a difference? Stuffing is when the mixture is tucked into the bird (the food science background in me cringes at the possibility of salmonella with this one). Dressing is when it's baked outside the bird. Now, there are recipe differences when making stuffing vs. dressing.
Stuffing stays super moist since it's encompassed by a juicy bird. So to make up for that we add extra liquid and extra fat. Plenty of butter or vegan butter and plenty of turkey/chicken stock. Cover with foil and voila! You've got a delicious, moist and tender dressing. PLUS you can make it ahead of time!!!
This recipe is a really fun one because I made it in collaboration with Chomps Jerky. Adding a bit of their turkey jerky to the carrot, celery and onion not only adds different texture but a super tasty meaty flavor. All the while adding extra protein and extra flavor without extra calories and fat. And if you want to get crazy you can use their cranberry habanero beef jerky for some pop to your dressing. Either way, it's delicious! And with low carb and keto friendly options this stuffing won't turn you into a stuffed bird, making sure you still have room for plenty of pumpkin pie!
xo, kendra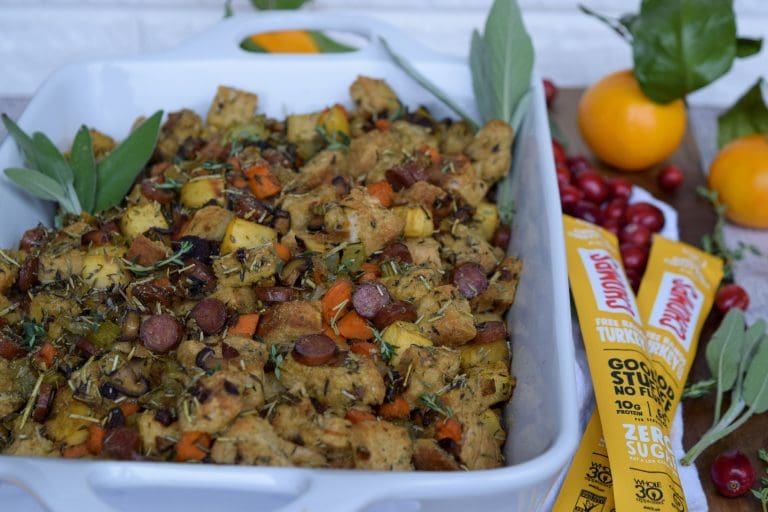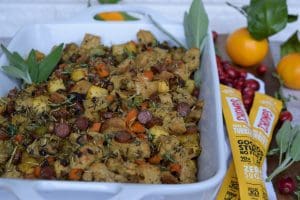 Chomps Turkey Stuffing
Recipe originally created for Chomps
Adaptable to be free from the top-9 food allergens, keto friendly
Prep Time: 35 minutes plus baking
Serves: 8-10
8 c. gluten free bread cubes or keto friendly bread cubes
1/2 c. finely diced onion
1/2 c. finely diced carrot
1/2 c. finely diced celery
1 c. chopped wild mushrooms
1 c. diced root vegetables (any kind! rutabaga, celery root, radish or even butternut squash!)
6 Chomps Turkey Jerky, sliced
3 Tbsp. dried rosemary
2 Tbsp. dried sage
2 Tbsp. dried thyme
2 tsp. salt
2 eggs
3 c. turkey or chicken stock
1/3 c. ghee, divided (or vegan butter for dairy free)
optional: fresh sage, rosemary and thyme for garnish
Grease a 3 qt. baking dish or a 9×13 baking dish and set to the side.
Preheat the oven to 400. Place the gluten free or keto bread cubes on a rimmed baking sheet and place in the oven to dry out for 20 minutes, tossing once.
Meanwhile, saute the onion, carrot, celery and wild mushrooms in a large saute pan with half of the ghee/vegan butter for 9-10 minutes until golden brown and fragrant.
Add the diced root vegetables and the sliced Chomps Turkey Jerky and continue sautéing until the root vegetables are beginning to soften and the jerky is slightly browned.
Remove from the heat and toss with the dried keto friendly bread cubes.
Toss with the dried rosemary, sage, thyme and salt and toss to mix.
In a small bowl whisk together the eggs and the turkey stock. Pour over the bread, jerky and vegetable mixture and gently toss until most of the liquid has been absorbed.
Pour into the prepared baking dish.
Melt the remaining ghee/vegan butter and drizzle evenly over the top and cover tightly with foil.
Turn oven down to 350 and bake for 45 minutes. Remove the foil and bake an additional 10 minutes.
Happy Foods are the Best Foods!