Well, it's that time of year when almost all my water turns to a lovely pink color. Because it usually is rosé and not water, haha! There is a reason that the nickname for rosé is summer water. It goes down eeeaaasssssy.
But there are a million kinds of rosé! How do we choose? What should we pay? Well, I'm no sommelier friends. I'm just a chef over here who loves wine and loves food and is going to give you my advice based on that experience. K?
Now, wine, is typically a very personal experience. Some people love sweet, some people love dry, some love red and some love white….among the other hundreds of reasons people choose the wines they do. Rosé is a special little friend that I love having in my house from May through November because, hey, you never know when it's going to be a random warm day in the spring or if Mother Nature will give us a beautiful, warm fall!
A few years ago I was lucky enough to meet the owner of a lovely vineyard in Napa while he was visiting Chicago. Blackbird Vineyards has since become one of my favorite places to visit when I'm in wine country and I love being part of their wine club. They have a few varietals but I really do love their rosé the most. As a gal who typically goes for white wine during the week, I love a light but flavorful wine and this rosé is just so lovely. It's gorgeous in color, a jewel tone if you will, and the flavor is jammy and full of fruit bursting in your mouth but not in the too sweet, make your lips pucker and your cheeks hurt way. In a nuanced, balanced way that I adore. It's the perfect balance of dry fruit with a lovely raspberry hint on your nose when you swirl and smell it in your glass.
And in summer I think rosé pairs beautifully with simple grilled meats, fish, veggies and a simple garnish of fresh (and preferably local!) produce. This recipe below is exactly that. Easy to prepare you likely have most of these things on hand anyway! Full of beautiful summer flavors without being too much, basil and parsley are the perfect addition to marinated tomatoes, olives and capers. And the chicken is simply grilled with olive oil, salt and pepper.
Now, doesn't this sound like the best way to spend your National Rosé Day?
Cheers!
xo, Kendra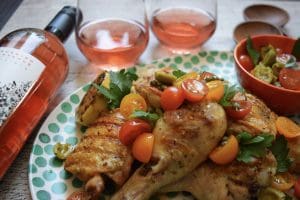 Grilled Chicken with Marinated Tomatoes
Top-9 Allergen Free, SIBO Phase 1 & 2 and Low-Fodmap Friendly
Serves:4
Prep Time: 15 minutes plus grilling
1 pint cherry tomatoes, halved
1 cup favorite olives, pitted and halved
2 Tbsp. capers
3 Tbsp. good quality olive oil
2 Tbsp. sherry vinegar or fresh lemon juice
1/4 c. minced parsley
1/4 c. sliced basil
3 pounds bone in chicken, mixture of drumsticks and thighs
salt and pepper, to taste
Optional: if you can have garlic grate 2 cloves of garlic and add to the marinated tomatoes
Directions
Preheat a grill.
In a medium bowl, gently combine the halved cherry tomatoes, pitted and halved olives, capers, olive oil, sherry vinegar, parsley, sliced basil and some salt and pepper. Let this marinate while you get the chicken ready.
Toss the chicken pieces with a bit of olive oil, salt and pepper.
Grill until cooked through. Remove to a platter and spoon the marinated tomatoes over the top.
Happy Foods are the Best Foods!