Holiday cookie baking was always a family favorite tradition. We would start baking cookies the weekend after thanksgiving, store them in tins in the cool air of the garage and gift them to friends during the season. The cookie extravaganza culminate with the big dinner party my parents always threw on Christmas Eve. For those of you who don't know, my mom died when I was 8 years old. I have very few memories of her, sadly, but the ones I do have give me the warmest feeling of love and joy. One of those memories happens to be what a fabulous cook, baker and entertainer my mom was. She always had place cards, coordinating floral arrangements, napkin holders (often homemade), usually a punch and she always used china, crystal and silver. It seemed so glamorous and fun to be an adult at those parties!
After she died was when I really dug into my love for the kitchen. Since my mom was such a fantastic cook I would pour through her cookbooks and recipes and her memory lived on with me through her food. I have so many favorite recipes of hers (and some I'll never make-NEVER AN ASPIC!) but this Christmas cookie lives on through our family as not only a wonderful memory of hers but a delicious and easy recipe in itself!
Like usual, I've included the adaptations to make them free from the Top-9 and you might be surprised by the egg substitute in this one! I hope these become part of your family holiday repertoire as well!
xo, 
Kendra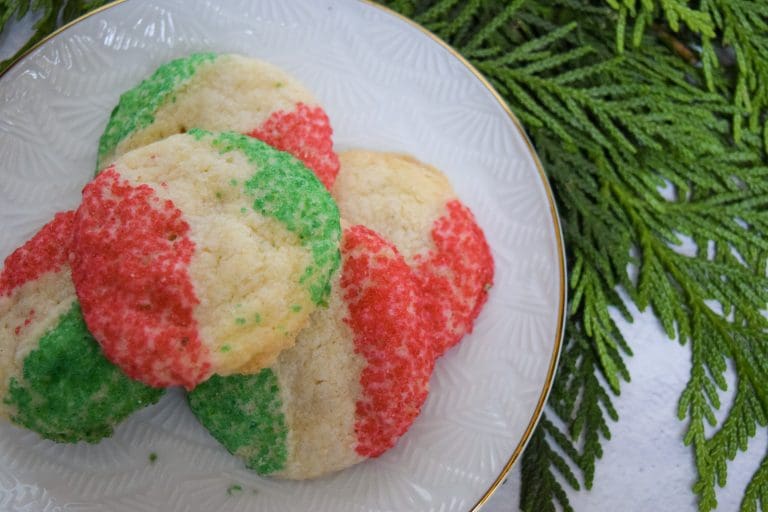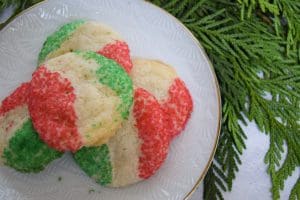 My Mom's Christmas Italian Cookies
Gluten Free, Top-9 Allergy Free Adaptable
Ingredients
1 cup butter, softened (dairy free: use vegan margarine)
1 c. granulated sugar
2 eggs yolks (egg free: whisk together 1 packet gelatin with 1 c. cold water, sit 5 minutes then use 3 Tbsp. of that mixture in place of the 2 yolks)
1 tsp. vanilla extract
1 tsp. almond extract (nut free: eliminate)
2 1/2 c. gluten free flour (if using regular all purpose reduce to 2 1/4 c.)
1 tsp. salt
red and green sugar for decorating
Directions
In a stand mixer or in a bowl with a hand mixer cream together the softened butter (or margarine) with the granulated sugar for 2-3 minutes until light and fluffy.
Add the remaining ingredients except the red and green sugar and blend another 1-2 minutes until mixed.
Scoop out by generous tablespoon full and roll into balls. Dip one side in the green sugar about 1/3 of the way then dip the other side about 1/3 of the way in the red sugar, so there should be a stripe in the middle of the ball with no sugar.
Refrigerate the dough balls for 30 minutes.
Preheat oven to 350 and bake the prepared and chilled dough for 11-12 minutes until just set and barely golden brown around the edges. Cool.
Store in an airtight container until ready to enjoy!
Happy Foods are the Best Foods!