Breakfast has always been my favorite meal of the day. It's also something you can eat anytime of the day! Breakfast for dinner, heck yeah!! I was introduced to The Cloudbread Company last year and since then I've created some super fun recipes for them but I also use their Cloudies as burger buns, as the base for a beautiful gluten-free quiche, wrapped a round of brie for the holidays with them and so much more.
For this summer recipe I wanted to do something fun and easy. I love using the Cloudies as a gluten-free crust or a base and protein and fat are also big on my list for morning must have with my breakfast. And then the baked egg cup came to me! Add a few vegetables, finish with some cheese and herbs and wrap it all up with a bit of avocado and you're set with a tasty breakfast that takes literally 5 minutes to throw together.
It's also perfect for those lakehouse mornings when you have a ton of people all together over the weekend. Task someone with making coffee, task someone with chopping some peppers, task someone with unwrapping the Cloudies and then task another person with assembling. Then all you do is bake for 20-25 minutes and you're nourishing yourself with something tasty, low carb and gluten free to get you ready for a day filled with sunshine and beaches.
xo, Kendra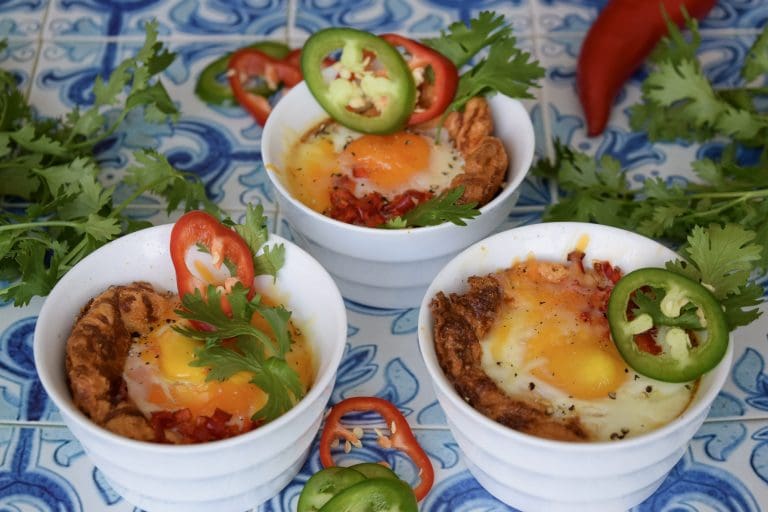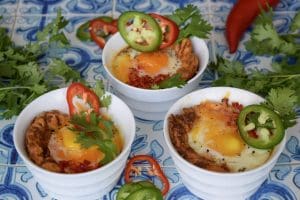 Mexican Egg Cups
Low Carb, Gluten Free, Dairy Free Optional
Makes 8 egg cups
Prep Time: 10 minutes + baking
Ingredients
8 eggs
1 red bell pepper, finely diced
1 c. shredded cheddar cheese or dairy free cheese alternative
Optional: cilantro, spicy peppers, avocado, salsa
Directions
Preheat oven to 375.
Lightly grease standard size ramekins with spray or a tiny bit of olive oil or butter. Press the Cloudies into the ramekins off center, so one side is higher and sticking above the ramekin slightly.
Crack one egg into each ramekin, careful to not break the yolk.
Divide the chopped red bell pepper up evenly between the ramekins.
Place on a rimmed sheet tray and bake at 375 for 20-24 minutes until the yolk is set.
Remove and immediately sprinkle with the cheese, dividing evenly between the ramekins. Sprinkle with salt and pepper, any optional additional toppers and enjoy!
Happy Foods are the Best Foods!