One of my favorite meal hacks is a big tray of nachos. Who doesn't love a nacho?? Well, the base of nachos is a whole bunch of chips and usually some nasty cheese sauce so if you swap those out I promise you'll love them even more!
Recently Chomps reached out to me to create some recipes with their delish and allergy friendly jerky. I was excited because Chomps is an awesome allergy friendly company, their products are free from the Top-8 Food Allergens!
One of the recipes I created was this Keto Sweet Potato Nacho situation and, trust me, you want to get involved. The recipe itself has dairy but, just like everything we do here at Drizzle, it's allergy adaptable to be free from the Top-9! Whether you are keto, gluten free or just want a darn good nacho recipe this one has your name drizzled all over it!
xo, Kendra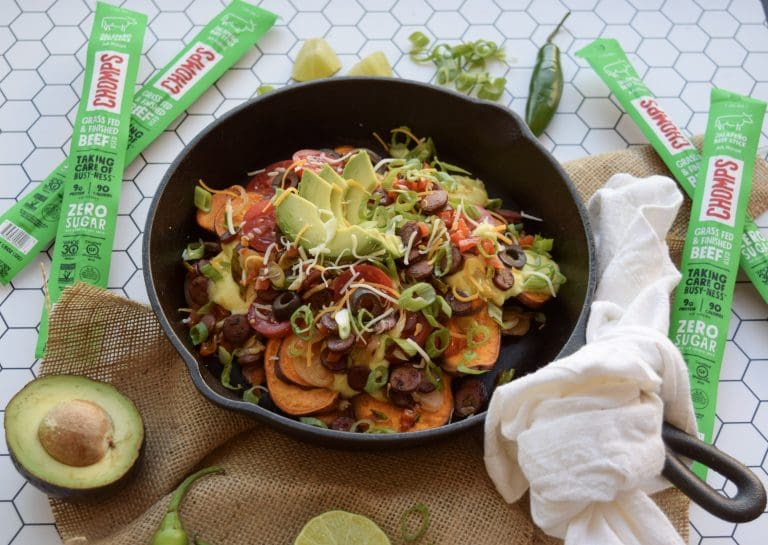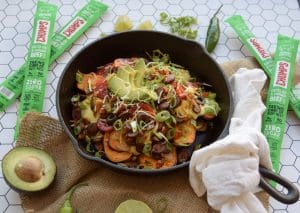 Keto Sweet Potato Nachos
Created for Chomps
Keto, Allergy Adaptable to be Free From the Top-9
Serves: 4
Prep Time: 40 minutes
1 large sweet potato, sliced thinly
1 red pepper, diced
1 bunch green onions, sliced and separated greens and whites
4 Chomps Jalapeño Beef Sticks, sliced
1 c. sliced tomatoes
1/2 c. sliced black olives
1 c. cauliflower cheese sauce*
2 avocados, sliced
1/2 c. minced cilantro
 2 limes, wedged
Directions
Preheat oven to 375. Lay the sliced sweet potatoes in a single layer on parchment lined baking sheets and lightly drizzle with olive oil. Sprinkle with sea salt and bake for 18-20 minutes until golden brown and crispy on the edges.
Meanwhile, preheat a nonstick saute pan over medium heat and add a swirl of olive oil.
Saute the diced red pepper, sliced green onion whites and the sliced Chomps Jalapeño Beef Sticks together until fragrant, about 7-8 minutes. Remove from heat and set aside.
Assemble the nachos by arranging half the sweet potatoes on a large platter. Top with half the sauteed red pepper, green onion and Chomps mixture. Spoon some of the cauliflower cheese sauce over.
Top with half of the sliced tomatoes and black olives.
Repeat the same process with the remaining ingredients.
Top with the sliced avocados, minced cilantro, reserved green onion tops and serve with the lime wedges and any extra cauliflower cheese sauce on the side.
*Cauliflower Cheese Sauce
2 c. steamed cauliflower
4-5 Tbsp. heavy whipping cream*
1 Tbsp. grass fed ghee**
1 c. grass fed, shredded cheddar cheese***
salt, to taste
Add the cauliflower, 4 Tbsp. heavy whipping cream and grass fed ghee to a high speed blender. Puree until silky smooth. Add the shredded cheddar cheese and pulse until combined. Taste and season with salt, as needed.
To make dairy free: replace your favorite vegan milk for the heavy whipping cream. Remove the grass fed ghee. Replace your favorite vegan cheese shreds for the shredded cheddar cheese.
Happy Foods are the Best Foods!