Well, since dealing with some crazy GI things as of late I have chosen, until we find solutions, to put myself on a version of Candida diet combined with SIBO diet. I'm sure many of you will read that and think it's the craziest thing you've heard of, basically Candida is an overgrowth of a specific yeast in your lower GI and SIBO stands for Small Intestine Bacterial Overgrowth. In a snapshot-my body is reacting to food and drinks because of a complete disruption of microorganisms in my gut.
And until my doctors really figure out what is going on, I've put myself on a very strict regiment following the guidelines outlined by these two diets. I am sticking primarily with SIBO as my chiropractor believes I have that plus a parasite (what?!?!). There is something called the Low-Fodmap Diet (more weird words). This diet eliminates foods that turn into fermentable carbohydrates in your gut, hence creating bloating/gas/discomfort/poor nutrition among other symptoms.
It's been really a shock for me. I can almost always figure out and treat what is going on with my body through my knowledge of nutrition. And to have so many things stripped away is really crushing. But I'm trying to look at it in a different light of-now I can create new recipes to help everyone who is also suffering with any sort of GI issue, whether it's Chrohns, IBS, SIBO, Candida or just plain inflammation of your body.
So enough chatter, let's get into this first recipe which I think is so fun, so delicious and easily adaptable to make for your family!
Stay Safe out there, Drizzlers!
xo, Kendra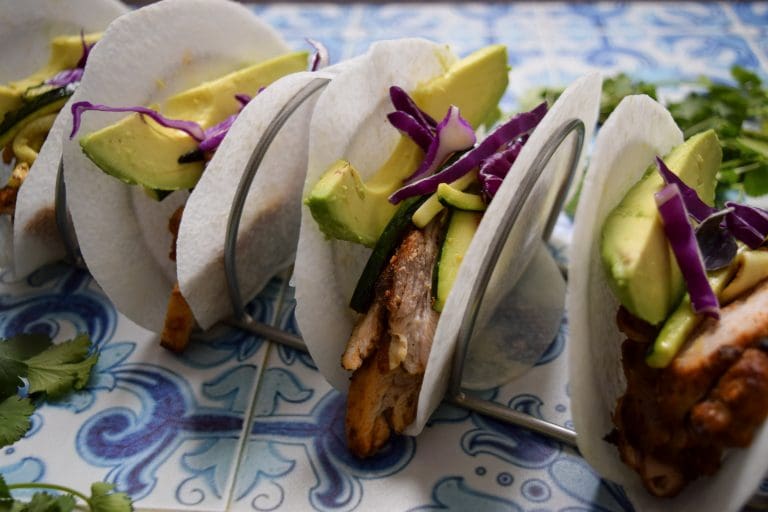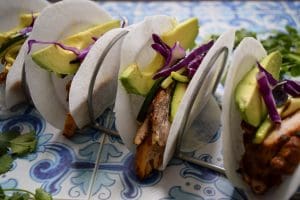 Jicama Wrapped Chicken Tacos
Free From Top-9 Food Allergens
Suitable for: Low Fodmap, Candida Protocol, SIBO Protocol
Serves 4
1 1/2 pounds boneless, skinless chicken thighs
2 Tbs. smoked paprika
2 Tbs. ground cumin
salt and pepper, to taste
2 zucchinis, sliced into matchsticks
Peeled and thinly sliced jicama (you can also purchase these from Trader Joe's!)
1 c. shredded purple cabbage
2 ripe avocados, sliced into thin pieces
fresh chopped cilantro and lime wedges, for serving
Directions
Rub the chicken thighs with the smoked paprika and ground cumin. Sprinkle with salt and pepper and let sit for a couple minutes.
Indoor prep: Turn on your broiler. Line a tray with foil, drizzle lightly with oil and place the chicken thighs on, drizzle very lightly with olive oil and broil on each side for about 6 minutes. Let sit a few minutes and then thinly slice.
Outdoor prep: Preheat your grill. Oil the grates and grill chicken over medium until cooked through. Let sit a few minutes and then thinly slice.
(While the chicken is sitting) you can saute the zucchini! With a little bit of oil in a nonstick pan, they should only take a few minutes.
Now assemble your tacos! Jicama wrapper, sliced chicken, zucchini, purple cabbage, avocado, lime and cilantro. How delicious is that?
Happy Foods are the Best Foods!