Memorial Day is right around the corner and everyone is excited to get outside, get friends together and get grilling! The easiest way to season your grilling goodies is with either a marinade or a rub. And as I continue to post holiday recipes that will be perfect for all your summer outdoor get togethers lets get started with a delicious Italian marinade that starts with a secret ingredient you'll NEVER GUESS.
I created this recipe for an awesome company, FODY. We actually worked together last summer and little did I know I would need to really get on the bandwagon with a low-fodmap diet because of my SIBO diagnosis. But just like with all of my recipes, just because we need to work within food parameters doesn't mean we are going to lose flavor, friends! This recipe is awesome. Easy, flavorful and easy on your body to digest. It's also perfect for holidays and get togethers since you can prep it the day before. Then just throw the chicken on the grill to cook it up!
The potato wedges can be done the day before as well and then just reheated before serving. Or, if you are making the day of they are also super duper easy and will totally satisfy that chewy, garlicky (without garlic!) fry craving.
So start planning those menus and get ready for a stellar weekend of food, fun and friends. Here's to spending time with our friends and families again!
xo, Kendra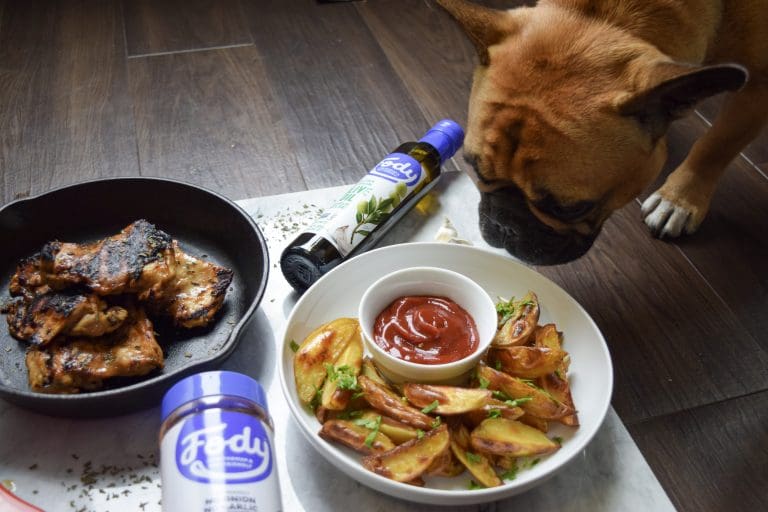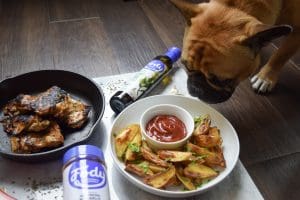 Nutmeg, my frenchie, was verrrrrrry interested in all these goodies.
But he knows, he can sniff but no sampling!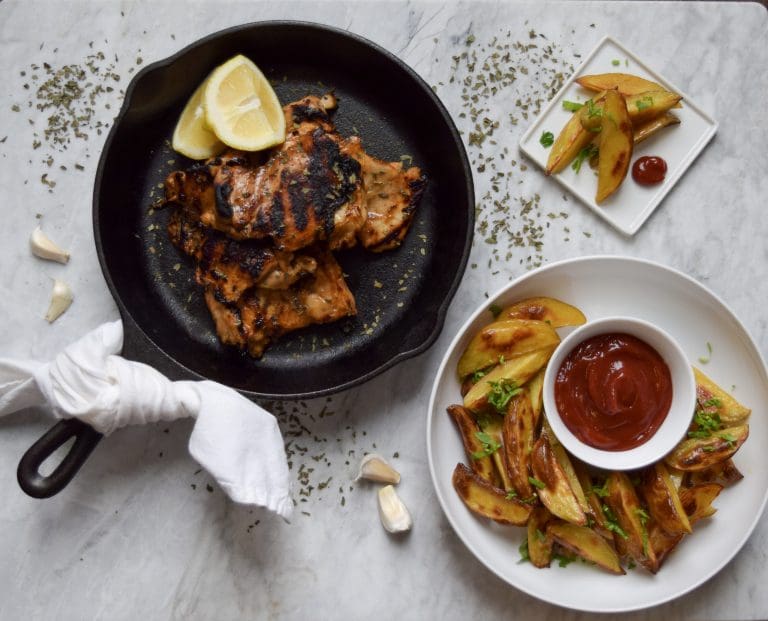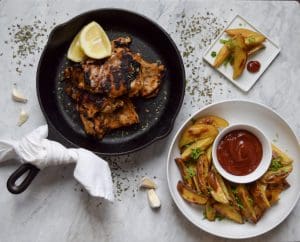 Italian Marinated Chicken Thighs and
Crispy Oven Potatoes
Free From the Top-9 Food Allergens
Sibo Phase II and Low-Fodmap Friendly
Italian Marinated Chicken Thighs
Serves: 4
Prep Time: 20 minutes plus 15 minutes grilling
2 Tbsp. Fody Ketchup
3 Tbsp. balsamic vinegar
2 Tbsp. dried oregano
1 tsp. salt
1 1/4 pound boneless, skinless chicken thighs
Directions
Whisk together the ketchup, balsamic vinegar, garlic infused olive oil, dried oregano and salt.
Add the chicken thighs to the mixture, toss to coat and pour it all into a resealable plastic bag and marinate 2 hours or up to overnight in the refrigerator.
When ready to cook, preheat grill. Shake excess marinade from the thighs and grill over medium heat until cooked through.
Crispy Oven Potatoes
Serves: 4
Prep Time: 20 minutes plus 45-50 minutes roasting
Preheat oven to 400 and line a rimmed baking sheet with parchment paper.
Cut the potatoes into wedges, about 8-10 per potato, and place in a bowl.
Pour the olive oil over and toss to completely coat. Pour into the prepared baking sheet.
Spread out into an even layer and pour the soup base over the top, making sure the potatoes are covered least halfway up.
Cover with foil, gently place in the oven and roast at 400 for 20 minutes. Remove the foil and roast another 25-30 until golden brown and crispy, turning once during cooking.
Enjoy!
Happy Foods are the Best Foods!