What else is more soul satisfying than Macaroni and Cheese? I think it's one of the coziest things you can eat and one of the most loving things you can make for those you care about. And I'm not talking about a box mix with a packet of crappy dehydrated fake cheese. I mean REAL mac and cheese with creamy, gooey, cheese-riffic sauce.
And if there is any time that we need a loving recipe and soul satisfying food it's to round out this dumpster fire of a year. Food has always brought me joy, solace, love, comfort. And right now is no different. Now, the thing about this recipe is that it has a secret ingredient, as listed in the title, cauliflower!!!
This specific version of my macaroni and cheese has been sought after for years and I'm so happy to share it with you now. It's allergy adaptable, so per usual, if you have any allergies that fall into the Top-9 you can easily make this recipe! And if you don't have any allergies you can also make this recipe!
I know you might think cauliflower has jumped the shark, but let me tell you. I'll be using cauliflower in a zillion different ways from here until eternity. It's such an incredible vegetable to help power you against cancer (hello, cruciferous vegetable heroes!) and it's so darn creamy when prepared the way I do below. It helps make soups creamy, it can be the base of a vegan "cheese" sauce, it can be used to make a bean free hummus (recipe on the blog!) and here it helps cut back on the amount of milk/butter/flour that you use as the base of the sauce.
Now, as I post this on New Years Eve, I realize regular macaroni and cheese seems somewhat pedestrian for tonight. Especially as we celebrate the close of one of the worst years any of us will live through. So, if you want to make this recipe a little more bougie (because WHY NOT!!) here are some fun ways to sass it up:
Make the recipe and then finish it with a delicious drizzle of truffle oil, flaky salt and minced chives.
If you can eat shellfish: before adding to the broiler, gently fold in steamed lobster claw meat, steamed crab, jumbo shrimp.
If you can eat dairy: sub 1/2 the cheddar cheese for gruyere cheese and finish with parmigiana-reggiana before putting in the broiler.
Stay Safe out there, Drizzlers! And here's to a new year filled with hope and healing.
xo, Kendra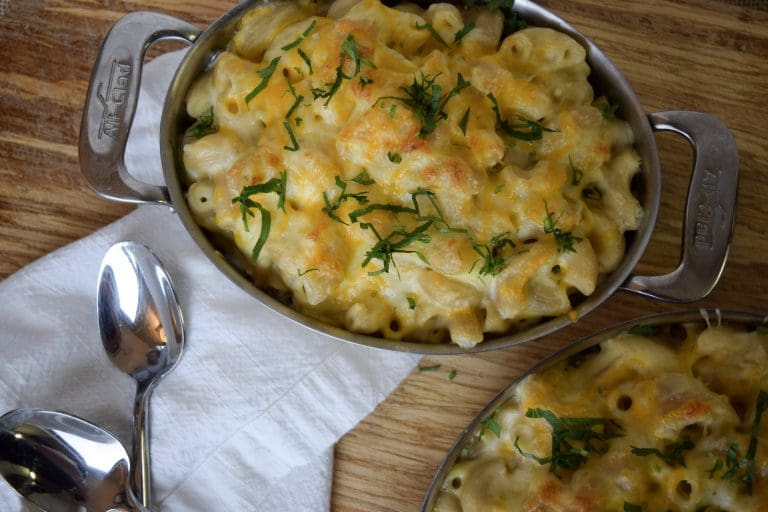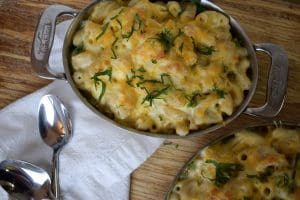 Hidden Cauliflower Mac & Cheese
Allergy Adaptable to be Free From the Top-9 Food Allergens
Prep Time: 
1 small head cauliflower
4 Tbs. butter/vegan margarine, divided
2 c. milk of choice, divided (For dairy free I find the best to use are unsweetened rice or unsweetened hemp)
3 Tbs. gluten free flour (preferably without starch, I typically use rice or quinoa flour)
12 oz. gluten free pasta
2 1/2-3 c. shredded cheese or vegan cheese shreds, depending on how cheesy you like your noodles!
salt, to taste
Directions
Bring a small pot of water to a boil. Add the cauliflower and simmer for 7-8 minutes until soft. Drain.
Add the cooked cauliflower to a blender base and add 1 Tbs. butter or vegan margarine and 1/2 c. milk of choice (for vegan + allergy free I usually use unsweetened hemp or rice milk. For a classic recipe I use 2% milk).
Blend until silky smooth and set aside.
Add the remaining 3 Tbs. butter/vegan margarine to a large pot and melt.
Sprinkle the 3 Tbs. gluten free flour over the top and whisk for 1-2 minutes until bubbling and thicker.
Add the remaining 1 1/2 c. milk and the cauliflower puree and whisk, occasionally, until thickened, about 6-7 minutes.
Sprinkle in all but 1/4 c.  the shredded cheese/vegan cheese shreds and stir just a couple times until melted through.
Pour into an oven safe container and sprinkle with the reserved 1/4 c. cheese. Broil for 2 minutes until golden brown.
Happy Foods are the Best Foods!