For all my lamb lovers out there, this recipe is for you! It's easy, it's delicious, it looks beautiful and is a real show stopper for dinner parties and holidays. It's also a super easy weeknight dinner to assemble in the morning and then pop in the oven when you're home.
Boneless leg of lamb is a beautiful cut that is pretty forgiving and this leg of lamb recipe couldn't be easier. It doesn't really require any marinating, although you absolutely can, and is delicious when hot or even just at room temperature. It's a beautiful centerpiece for a simple dinner party entree or just something great to roast on a Sunday for dinner and then save the leftovers for a delicious Greek salad to have through the rest of the week!
The rub is pretty simple with a mixture of whole grain dijon, maple syrup, garlic, sea salt, pepper, lemon, thyme and rosemary. I like to crush the garlic with salt in a mortar and pestle and then add the rest but to make it easier on yourself you could throw it all in a mini food processor and call it a day! Now, if you don't love lamb, this rub is still a good recipe to have in your back pocket. It's super tasty on pork tenderloin, chicken thighs and even salmon. Whichever way you prepare I know you'll enjoy it!
xo,
Kendra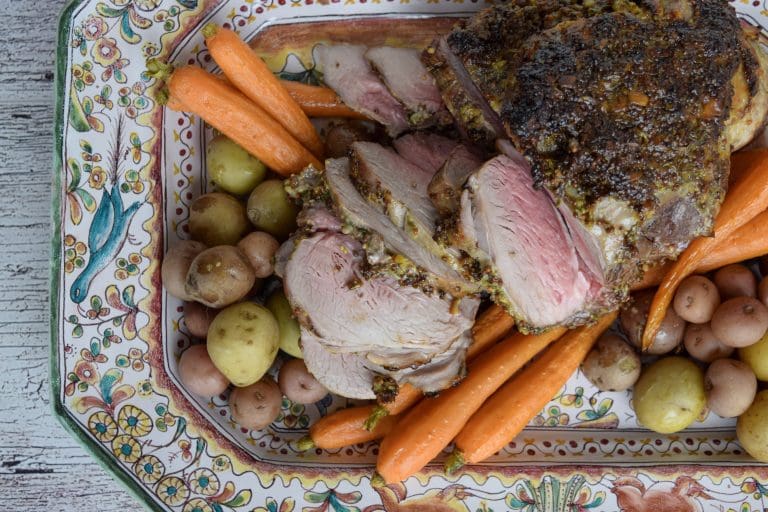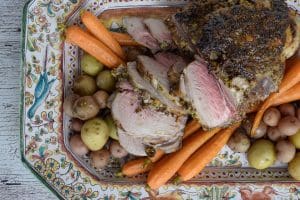 Herb Crusted Leg of Lamb
Free From the Top-9 Food Allergens
Serves: 8
Prep Time: 20 minutes plus about hour and half roasting
Ingredients
3-4 pound boneless leg of lamb
6 cloves garlic, finely minced
2 Tbsp. finely chopped thyme
8 sprigs fresh rosemary, leaves stripped and chopped
zest from 1 lemon
3 Tbsp. olive oil
salt and pepper
1 Tbsp. whole grain dijon mustard
2 tsp. maple syrup
2 bunches spring carrots (the ones typically with the tops, although Trader Joe's sells them already prepped for you!)
2 pounds tiny potatoes
Olive oil, butter or vegan butter sub (whichever is best for your lifestyle!)
Directions
Preheat the oven to 375 and place a wire roasting rack or wire cooling rack inside a rimmed pan lined with foil or parchment (helps with the cleanup!).
Mix together the wet rub ingredients by combining in a small bowl: minced garlic, chopped thyme, chopped rosemary, lemon zest, olive oil, salt and pepper, whole grain dijon and maple syrup.
Unroll the leg of lamb from the netting or twine the butchers have placed it in. Unwrap it and spoon a little bit of the wet rub mixture inside. This helps with extra flavor!!! Roll back up and tie together with twine to keep it together.
Place, cut side down,  on top of the prepared wire rack/baking sheet situation you already prepared. Spoon the rest of the wet rub on top of the lamb and place in the oven for 1 to 1 1/2 hours until the inside of the meat reads 140. Remove from the oven and tent with foil.
While the lamb is roasting cook the potatoes in boiling water (start with the potatoes in cold water and bring up to a boil, simmering until they are fork tender). Drain and place back in the pot you cooked them in, cover with lid.
While the lamb is resting, covered with foil, finish the potatoes and roast the carrots. Turn the temperature up to 400 and toss the potatoes and carrots in olive oil and sprinkle with sea salt. Roast for 20 minutes.
Arrange on platter, slice the lamb and arrange on top.
Happy Foods are the Best Foods!