This week in-between Christmas and New Years always feels like no-mans land. It's like the airport. Nobody knows what time it is, you can have a cocktail at 10 am, you stay in pajamas, you eat anything at any time and it just seems like lazy days that we should savor.
Well, we still need to eat. So when the leftovers are all gone and you need something to make check out this easy recipe for roasted chicken. It's one of my favorite meals to make when people are over because it makes your house smell amazing and is a one pan kinda deal.
It's a silly little word, spatchcock, but it's an important one to know! This simple technique is one of my favorite ways to roast an entire chicken in under an hour for a fast, delicious and nourishing meal. Throw some veggies underneath the chicken and let them roast with all the pan drippings that melt out of that bird while it roasts. Delicious.
And it's also a great thing for entertaining (although how much of that are we doing these days?) since you can easily dress it up with some wedged lemons, fresh herbs and some oranges or even a pomegranate. Add this to your repertoire, trust me, you'll want to!
Stay Safe out there, Drizzlers!
xo, Kendra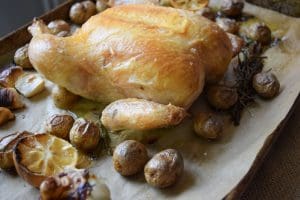 Spatchcock Roasted Chicken
Serves 4
4-ish pound roasting chicken
olive oil or butter
salt and pepper
Additional Pan Add-Ins*: rosemary, sage, thyme, sliced red onions, peeled shallots, peeled whole cloves of garlic, halved lemons, baby potatoes, cut sweet potatoes, brussels sprouts
Directions
Preheat the oven to 375.
Lay the chicken on a cutting board and, using a kitchen shears, cut along each side of the backbone to remove the entire thing.
Flip the chicken over and use your palms to press down on the breastbone to crack it and flatten the chicken a little more.
Place your chicken in your rimmed sheet tray or roasting pan and cover with olive oil, salt and pepper.
Place in the 375 degree oven and roast for 25 minutes. Remove from the oven and, if using any additional pan add-ins, layer the herbs and garlic underneath the chicken and any of the other vegetables around the outside. Toss with tongs to coat in oil from the pan and season with salt and pepper.
Roast for another 30-40 minutes until the juices run clear when pierced or a thermometer inserted at the thickest part of the thigh, not touching bone, has reached 165.
Let the chicken rest for 5-10 minutes before slicing and check if the veggies need more time you can add those back in to continue cooking while the chicken rests.
Carve and enjoy!
Happy Foods are the Best Foods!