I did a very special dinner party a few weeks ago and the guest of honor was paleo. Now, I love nothing more than a good food challenge so we set off to make a beautiful menu that not only fit into her diet but that everyone would love regardless of it being paleo.
We began with roasted vegetables and mixed greens with a warm, spiced moroccan vinaigrette. Moved onto whipped parsnips topped with beautiful roasted young carrots and a gloriously glazed short rib. We wrapped the meal with this tartlette recipe. Filled with rich, dark chocolate ganache made with coconut milk and good quality chocolate they have a gloriously rich chocolate flavor. Encased in a crust made of coconut flour, cocoa powder, vanilla, flax meal, and melted coconut oil. You can, of course, always use a regular pastry crust or you can use a chocolate cookie press in crust.
The top is where the magic happens. You chill the tartlettes just until they begin to set and then place dried rose petals  on them,  such a fun touch for this tartlette recipe! Finally, when ready to serve whip up coconut cream and spoon on top adding more rose petals as desired. Voila! The most beautiful individual desserts that everyone will feel so decadent enjoying!
Happy Valentine's Day, Drizzlers!
xo, kendra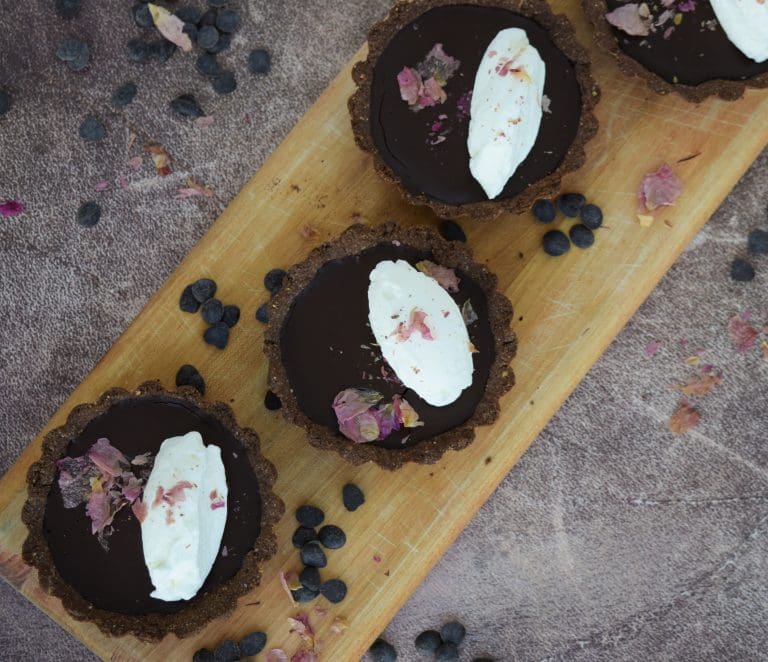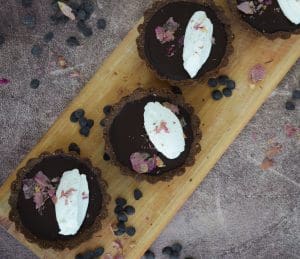 Dark Chocolate Tartlettes
Vegan, Free From Top-9 (*includes coconut), AIP, Low Fodmap
Preparation Time: 40 minutes plus chilling
Serves: 6
Ingredients
Crust
1/2 c. coconut flour
1/4 c. cocoa powder
2 Tbsp. coconut sugar
pinch flaky sea salt
2 egg substitutes (flax meal eggs, ground chia seed eggs)* OR 2 eggs if you can eat them
1/4 c. + 1 Tbsp. melted coconut oil
1/2 tsp. vanilla extract
Optional-1/4 tsp. cardamom
Filling
1 1/2 c. full fat coconut milk (without gums)
2 c. chopped dark chocolate
tiny pinch flaky sea salt
1/2 tsp. rose water OR 1 tsp. vanilla extract
Whipped Coconut Cream
1/2 c. coconut cream, the thick part from the top of a can of coconut milk, chilled**
1/4 tsp. rose water or 1/2 tsp. vanilla extract
Directions
Line a small rimmed baking sheet with parchment paper or a silpat. Place out 6-4″ tartlettes shells with removable bottoms and set aside.
Preheat oven to 350.
Add all ingredients for crust into a medium bowl and use a fork to blend together. It will be very damp and a smidge crumbly. Evenly divide between the tartlettes shells and press up the sides.
Use the same fork to poke a few holes in the bottom of the crusts and place in the oven for 14-16 minutes until set. Cool completely.
Meanwhile make the filling by warming the coconut milk and chopped dark chocolate together over very low heat on the stove until just melted together, whisking occasionally. Remove from the heat and add in the flaky sea salt and then the rose water or vanilla extract.
Pour the filling evenly into the tartlette shells, if you have any filling leftover save it for truffles or a decadent ice cream sauce!
Place the tartlettes in the fridge for about 45 minutes and, if using, arrange the dried rose petals on top.
When ready to serve-whip the cold coconut cream with a hand mixer until thick. Add the rose water or vanilla extract and mix in. Spoon on top of each tartlette and enjoy!
*to make a flax or chia egg, per egg: 1 Tbsp. flax meal or chia meal + 3 Tbsp. warm water and let it sit about 10 minutes
**when making whipped coconut cream it must be very, very cold. Chill a can of full fat coconut milk overnight and then gently open-DO NOT SHAKE. Scoop out the thick cream and discard the watery liquid.
Happy Foods are the Best Foods!