My way of eating has been going in spurts and waves through Covid-19 and breaking  my wrist. I would go for days on end eating really clean and nutritiously dense. Then I would go for days having lattes, bowls of pasta and cookies. And you know what? Both are fine. These are the craziest of times and, I know I've mentioned it before, but we need to be gentle on ourselves!
So in that vein I wanted to bring you a wrap that I love to use. Collard Greens!!!! Sometimes I fill these beautiful green leaves with super nutritious veggies and hummus, sometimes I fill it with cheesy warmed buffalo chicken filling. Either way I know I'm getting a veggie just from the wrap so whichever way I'm filling it I can feel great about getting that wrap as part of the mix.
And it's pretty easy, honestly! I've been trying to put together recipes that are easy for you since this whole quarantine thing started. Even though many of you are now incredible home cooks and have been spending awesome amounts of time in the kitchen, I think it's nice to provide you with simple but fantastic recipes that I hope you incorporate into your weekly rotation.
So grab some collards, or better yet if you have a garden you planted during this all and have home grown collards, grab those and clean 'em off because we are going to make some wraps!
And if you'd like to see the video of me preparing this entire recipe head over to my instagram channel @drizzlekitchen or head to IGTV with the same handle.
stay safe out there, Drizzlers!
xo, Kendra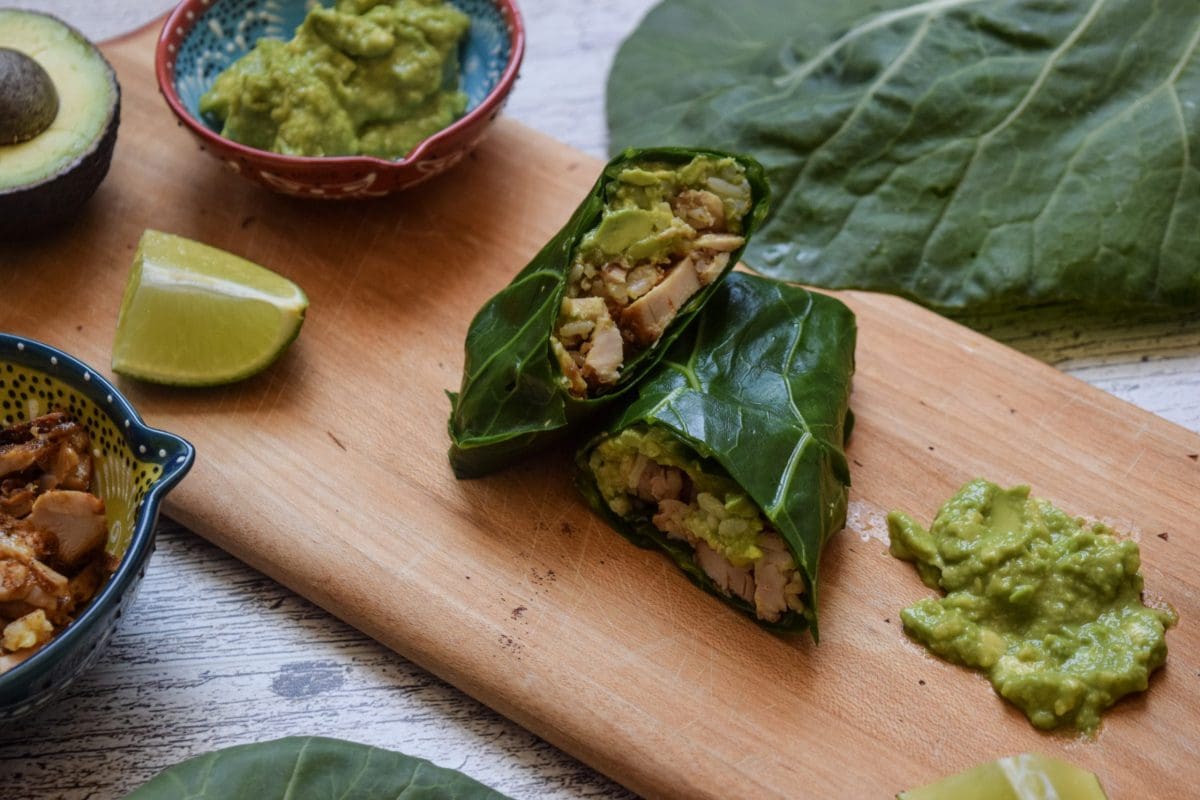 Collard Green Sandwich Wraps
Allergy Adaptable, Free From Top-9 + corn + potatoes
1 bunch collards, washed thoroughly
Filling
1 cup sliced, marinated cooked chicken thighs (this is perfect for using a shredded rotisserie chicken also!)
1 avocado (note- for low formal use 2 Tbs. per serving!)
juice from 1/2 lime
pinch salt
sautéed cauliflower rice
Or your favorite fillings! Some other ideas: hummus with chopped, grilled vegetables. Shredded chicken with sliced roasted red peppers and seared halloumi. Curry chicken salad.
Directions
Bring a large pot of water to a boil with plenty of salt.
In the meantime, grab a collard leaf and lay it flat. Knotch out the stem but just about halfway up so the top half remains totally in tact. Slice it out on either side at a slight angle, just to the right and the left of the stem. Continue with the remaining leaves.
Add the leaves into the pot of boiling water and leave them in for about 1 minute.
While the leaves are blanching get your ice bath ready to cool off the leaves from the heat! Fill a large bowl with a couple handfuls of ice and then plenty of cold water.
Remove the leaves from the hot water and add right into the ice bath. Pull them out after about a minute and dry them between layers of towels or paper towels.
To make your filling: the chicken is already sliced, just make sure it's in bite size pieces. Mash together the flesh from the avocado with the lime juice and pinch of salt. Warm the rice or cauli rice if you'd like (I like that!).
Then, working with the top half that remained intact, lay a good smear of the avocado spread in the very center, leave about 2″ around the outside. Top with the rice and then some chicken.
Now, roll up like a burrito! Pull the top (furthest part of the leaf away from you) over the filling, fold the left and right side into the middle as much as you can and roll towards you. Folding the sides in as you go to create a little collard green burrito sandwich. Slice in half and enjoy!
Happy Foods are the Best Foods!