Growing up I loved cheeseburgers. Not really hot dogs, not really a bratwurst but a classic cheeseburger. Simple with nothing on it and smooshed in-between a soft burger bun. As I've gotten older I continue to love a burger but in different iterations.
When you think about a burger, in essence, it's kinda like a big meatball! And when I think about it that way what I really want is a chicken burger. With Italian flavors. And maybe pesto. And maybe tomatoes. Because doesn't that all sound delicious?
Not to mention, Memorial Day is right around the corner and if you want to be the hit of the bbq you better show up with something fun! Now, the Chicken Parm Meatballs from my first cookbook are a huge hit. So I figured I could enhance them slightly and turn them into a burger, and, voila! These are super easy to throw together with a fun and unexpected flavor. I've been making them for clients for awhile and I'm not sure why I never added the recipe here to the website! Well, just in time for the holiday weekend here it is, in all it's delicious and tasty glory!
xo, Kendra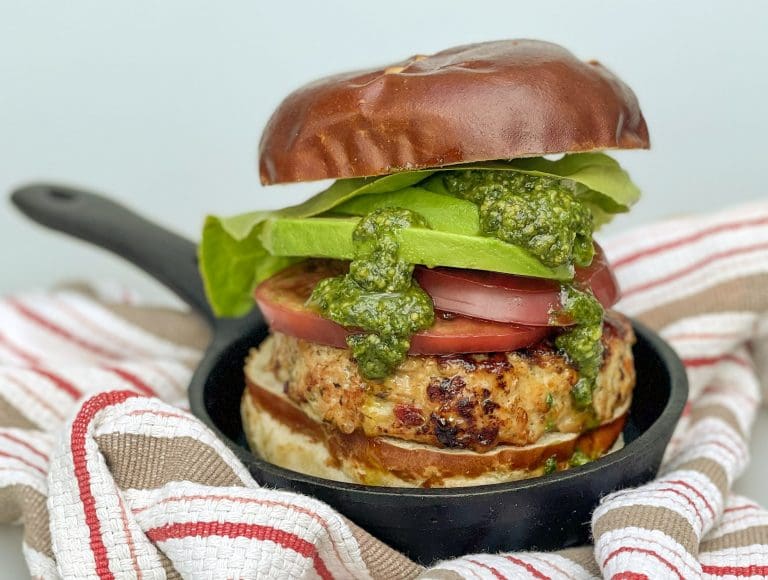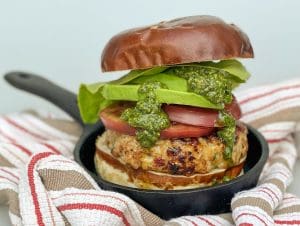 Chicken Parm Burgers
Allergy Adaptable to be Free From Top-9
Serves: 4
Prep Time: 20 minutes plus cooking
1 1/2 pounds ground chicken thigh
1/3 c. sliced, sundried tomatoes
1 Tbsp. dried oregano
1/3 c. gluten free breadcrumbs or grated parmigiana if you can eat dairy*
1 tsp. salt
*For assembling: sliced tomatoes, lettuce, avocado, vegan and nut free pesto, gluten free buns
Directions
Mix together the chicken thigh, sundried tomatoes, dried oregano, breadcrumbs or grated parmigiana and salt.
Form into 4 burgers and refrigerate for an hour.
Cook on the grill until cooked through or pan sear 1-2 minutes each side and finish cooking in the oven at 375 for 10 minutes.
Assemble with chosen ingredients and enjoy!
*SIBO phase 2 and Low Fodmap safe with grated parmigiana or rice flour breadcrumbs. 
Happy Foods are the Best Foods!