Cherry season is upon us in all it's glory. I love seeing a beautiful bowl of bright red cherries on the counter just begging me to enjoy them, I think it's such a fun fruit to enjoy. You have to take your time, eating just the fruit and discarding the pit, so I think you really get to savor all of the wonderful flavors that the cherries give us, rather than just shoving a bunch in your mouth all at once.
Now of course you can make cherry pies, cherry jam, cherry bars, cherry tarts. But what about something unique? What about something that will keep for a couple weeks in your fridge, make your cocktails extra fancy, make your vanilla ice cream a special occasion and also make a fantastic Father's Day gift?
Bourbon soaked cherries fit that bill and then some! With just a handful of ingredients you can have your own jar full of delicious cherries bursting with flavor from orange, vanilla and-of course-bourbon!
Just be sure to plan ahead, they need to marinate for at least 5 days before you can enjoy them fully….so get going now to make sure your jar is ready for next weekend!
xo, Kendra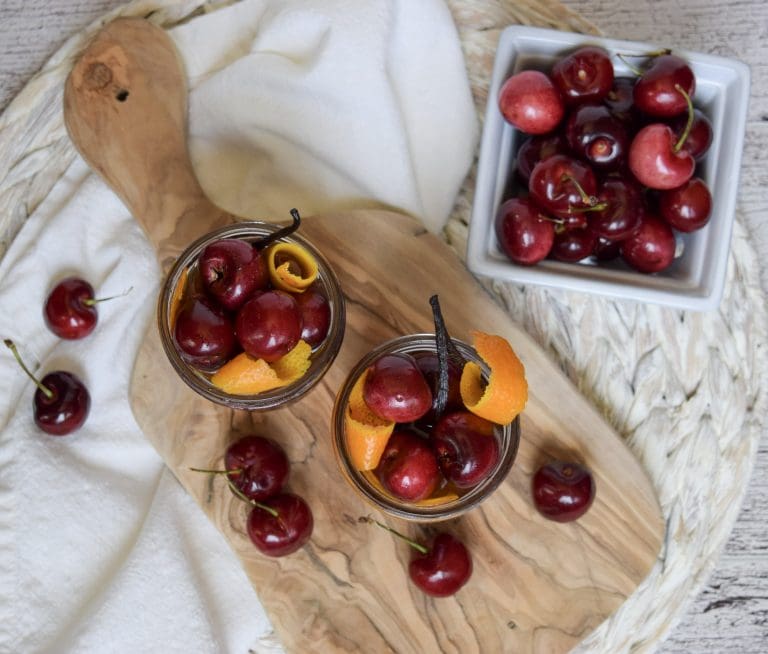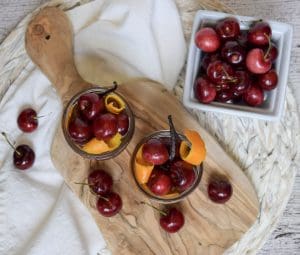 Bourbon Soaked Cherries
Free From Top-9 Food Allergens
1 pound cherries
3/4 c. bourbon or whiskey
1/4 c. grand marnier
1/3 c. honey
1/4 c. fresh orange juice
1 vanilla bean
4 strips orange peel
Special Equipment: cherry pitter, sterilized mason jars and lids
Directions
Wash cherries and pit them. Divide equally between mason jars until they fill to the top. I typically use a 1 cup mason jar and this recipe makes about 4.
Add the bourbon, grand marnier, honey and fresh orange juice to a small saucepan.
Cut the vanilla bean in half and then slice it lengthwise to expose all the yummy seeds. Add to the pan.
Bring to a simmer and swirl, making sure everything is combined, should just take about 5-6 minutes.
Pour the liquid over the cherries, dividing equally between the jars. Place 1 piece of vanilla bean and 1 strip of orange peel in each jar and seal with lid.
Allow to cool on the counter, about 2-3 hours, and then store in the refrigerator for 5-6 weeks.
Happy Foods are the Best Foods!