Have you jumped on the sheet pan dinner train yet? Well, with just a little creativity you can have a crazy delicious meal that cooks up quickly and all in one pan so your clean up is just as easy as the meal prep!
Lately I have been craving bright asian flavors-lots of herbs, ginger and lime juice. Making meatballs is such a simple way to add flavor without the need to wait for a marinade or a dry rub. These meatballs have a base of ground chicken and are so tender they melt in your mouth. Use your favorite veggies, just make sure they are all cut in a similar thickness so they cook at the same time. But that's about the level of difficulty here, it's easy peasy!
Now, after you've made this and see how great it is at a quick and easy weeknight meal, start shifting it to be your own. How about Caprese Chicken Meatballs! Switch from Asian to Italian by using ground chicken, chopped sun-dried tomatoes, dried oregano, dried basil and if you can-finely minced & sauteed garlic + shallot. Maybe a little parmigiana if you can eat cow's milk. Then throw on cauliflower, broccoli, baby potatoes. Roast the same way as the instructions below and then finish with fresh basil leaves! (throw on some baby mozzarella if you can have cow's milk!). Make the recipe your own, it's the best way to cook.
Stay Safe out there, Drizzlers!
xo, Kendra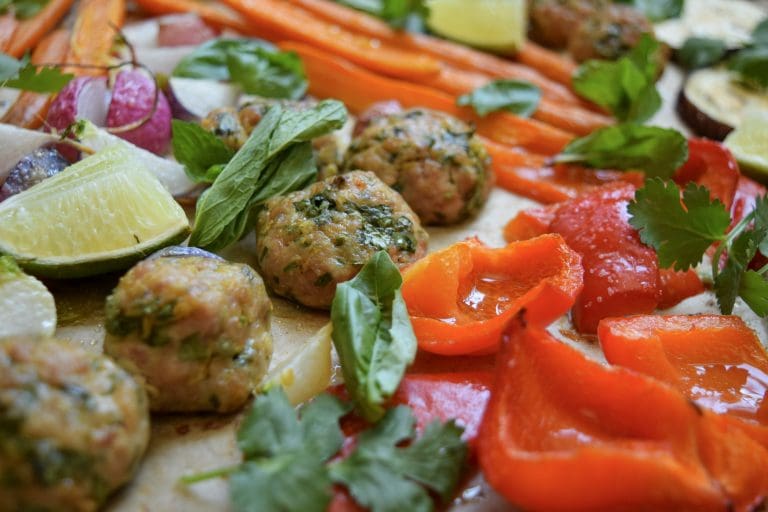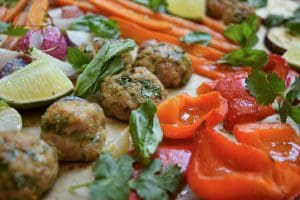 Asian Meatball Sheet-pan Dinner
Free From the Top-9 Food Allergens, Low Fodmap, SIBO friendly
Serves: 4
Prep Time: 25 minutes plus cooking
1 pound ground chicken thigh
3 Tbsp. finely minced green onion tops
1/2 c. minced cilantro
4 Tbsp. grated ginger
2 Tbsp. No Soy Soy Sauce or if you can have coconut use Coconut Aminos (use only coconut aminos for low -fodmap/Sibo Phase 2 or eliminate)
2 red peppers, cut into about 6-8 chunks
1/2 pound carrots, sliced
1 eggplant, cut into 1″ rounds
*For Serving-fresh herb mixture of mint, basil and cilantro. Lime wedges. Additional No Soy Soy Sauce or Coconut Aminos, steamed basmati or jasmine rice (safe for low-fodmap/Sibo Phase 2*)
Directions
Preheat oven to 400 degrees and line a rimmed baking sheet with parchment paper.
Add the ground chicken thigh, minced green onion tops, minced cilantro, grated ginger and No Soy Soy Sauce/Coconut Aminos to a bowl. Mix with your hands.
Use a portion scoop or a spoon to measure the meatballs out onto another piece of parchment paper. Lightly oil your hands and roll each meatball into a nice round shape. Set aside.
Add the veggies to the prepared parchment lined sheet and lightly oil (I find olive oil spray with just the olive oil the best to gently coat the eggplant). Scoot them around so you create little pockets and then place the meatballs all over into those empty spaces.
Bake for 20-22 minutes until the meatballs are lightly golden. Finish with the fresh herbs and serve with choice of sauces and/or rice.
Happy Foods are the Best Foods!
*1/2 c. is the serving size for my fellow Sibo Friends of basmati or jasmine rice