I love when I meet people, they find out I don't eat gluten and then immediately blurt out (with shock and horror in their face and voice) "Well, what do you eat?". It really doesn't surprise me anymore because it has,unfortunately, happened with that much frequency. The beauty of it is that I have now honed my answer into the perfect little song and dance that ends up making them want to eat what I do, rather than feeling badly for me (which I suspect is what they think will happen once they hear I can only eat *twigs and berries* as many of them think we gluten free folk live. ha!).
One of my absolute favorite ways to eat is ethnically. And if you are following any sort of elimination diet, I recommend you explore other cuisines as well. Unfortunately the good 'ole US of A has led us to believe that we eat cereal for breakfast, a sandwich for lunch and then some sort of meat + maybe a vegetable +definitely a starch/carbohydrate/grain for dinner. How boring?! I would much rather explore the incredible foods and traditions of other cultures.
That brings me to Mexican food. Yum. Corn, black beans, rice, vegetables….I love the staples of their diet which happen to conveniently be NATURALLY gluten free! So Mexican food tends to be a weekly occurrence in our house. Whether it is shiitake/kale/queso fresco tacos, salmon-lime tacos or egg and collard greens tacos….me gusta tacos, mucho! Plus, they're a pretty easy dish to throw together and you can easily change it up to be for breakfast, lunch or dinner. This seems brilliant!
We tend to like our tacos with a broccoli-carrot slaw or a mango salsa, but feel free to sass it up with whatever your favorite toppings are! Pop everything in different bowls and let your family build their own, it's a great way to get the kiddos involved in mealtime and maybe, just maybe, they'll try something new! Now go buy some corn tortillas and have yourself a fiesta!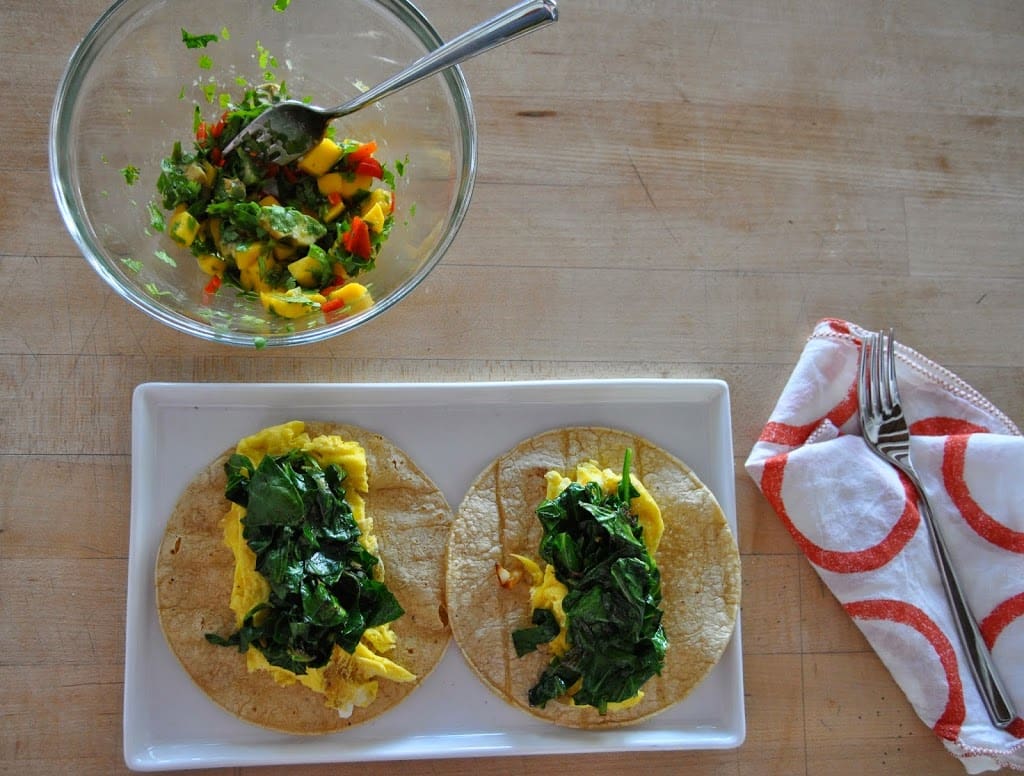 Egg and Collard Greens Tacos
Gluten free, Dairy Free
Serves 2
·
2 generous handfuls of trimmed and sliced collard greens
·
2 generous handfuls of baby spinach
·
2 garlic cloves, thinly sliced
·
To serve: warmed gluten free corn tortillas, mango salsa, sliced avocado, lime wedges, black beans
DIRECTIONS
1.
Heat a medium nonstick fry pan and add a swirl of olive oil. Add the collard greens and sauté until they begin to soften and are bright green. Push them to the side and add the sliced garlic and another little glug of olive oil.
2.
Add the spinach to the top of the garlic, sprinkle with the chipotle powder and then toss everything together until the spinach is barely wilted. Remove to a plate.
3.
Add the eggs to the pan and cook over low heat until just cooked through (in scrambled egg style).
4.
Divide the egg and greens evenly between 4 warmed corn tortillas and finish with your favorite toppings.
Bueno!
happy, healthy eating! ~Kendra