I could eat tacos just about every day. Breakfast tacos with eggs and some wilted greens, shrimp tacos with a garlicky tomato sauce, seared salty steak with sautéed shiitakes….really, tacos are to me what sandwiches are to most people.
Instead of bread, I like a corn tortilla. Instead of lunch meat, I like to use things like seafood, scrambled eggs or even just roasted veggies as my filling. But what is absolutely NOT negotiable is the need for (1) a salsa (2) fresh cilantro (3) lime wedges (4) crumbled queso fresco. Seriously.
The beautiful thing about tacos is that there are so many variables to play with, so even though I must have salsa for mine to be complete it could be any variety of salsa! And what's wrong with always having fresh salsa in your house? Um, nothing. It is a super tasty snack, with lime flecked jicama or some sweet potato chips or it can even be a delicious dressing whisked with some pureed avocado you all of a sudden have a creamy, vegan sassy little salad dressing. Yeah, baby!
So, today's recipe is for one of my favorite and one of my easiest salsas. It requires very few ingredients, as most good salsas go, and is so fresh and delightful. I think you will find you'll want to add it to everything you eat! Plus, for all those summer bbqs you will be heading to, why not be the hero and bring a big batch of homemade salsa. Pretty soon everyone will be inviting you to their fiestas……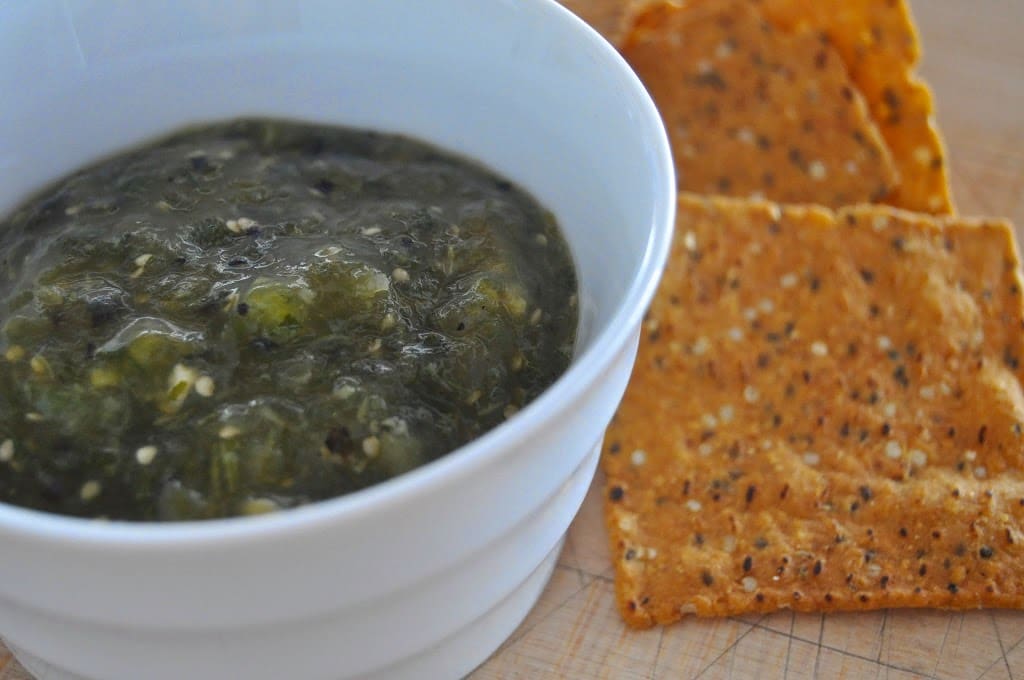 Vegan, gluten free, dairy free
Makes about 1-1 ½ c. salsa
·
1 pound whole tomatillos, husks removed
·
handful of cilantro leaves (about ½ c. packed)
·
tiny squeeze agave (1 teaspoon-
ish
)
·
¼ c. finely diced white onion, soaked in warm water
DIRECTIONS
Grill: Preheat grill. Turn to medium-high and place the tomatillos directly on the grates. Cook 5-6 minutes, turning occasionally, until charred on the outside. Remove to plate to cool.
Oven: Preheat broiler. Line a broiler safe baking sheet with foil. Cut the tomatillos in half, lightly oil the cut side and place cut side down on the foil. Add the 2 cloves of garlic to the pan and place under the broiler. Cook until charred on the outside. Remove to plate to cool.
2.
Add the charred tomatillos and garlic to a blender. Add the lime juice, cilantro leaves, ¼ c. water, the agave and a big pinch of salt. Blend until there are just barely a few chunks of the tomatillos. Remove to a bowl.
3.
Drain the soaked white onion and stir into the salsa. Taste for seasoning and then enjoy!
Happy, healthy eating! Olé! ~Kendra