Growing up I remember brie en croute always being part of the fancy dinners or the holidays. And from the very beginning I LOVED it. Warm, gooey and spread on a cracker it felt so luxurious and tasted so delicious. As an adult, brie is always one of my most favorite of cheeses. And when The Cloudbread Company tasked me with making a recipe for them for the holidays using their tasty Cloudies I immediately thought of this!
Typically wrapped in pastry, brie en croute is usually just a wheel of brie (can't do dairy? Use your favorite vegan brie! There are so many wonderful varieties now!) topped with a jam or chutney and then wrapped in pastry and baked until the pastry is crisp and the brie is warm. This recipe below is perfect for anyone who wants a lighter version of this that is equally as delicious, gluten free as well as something that is easier to consume for anyone navigating through a lower glycemic lifestyle such as diabetic diets.
So if you're hosting for the holidays or throwing a holiday cocktail party I'm sure you'll want to add this to your appetizer repertoire. It's a definite crowd pleaser and such a beautiful way to start your event!
xo, Kendra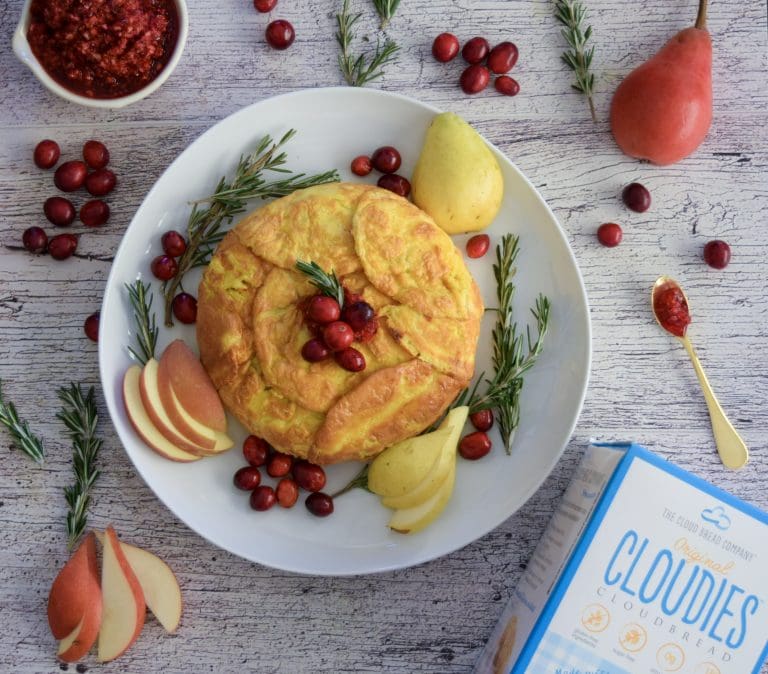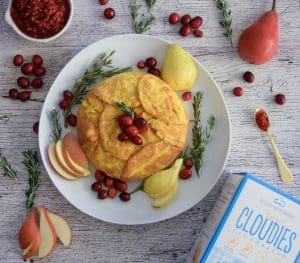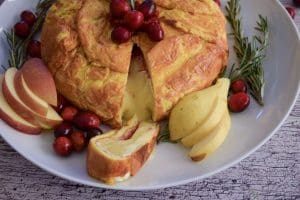 Cranberry Topped Brie en Croute
Gluten Free, **contains dairy 
Prep Time: 30 minutes plus baking
Serves: 8-10 as an appetizer
Ingredients
1 egg (or 3 Tbsp. plant milk)
1-pound round of brie (or vegan brie)
½ c. fresh cranberry relish*
To serve: assorted cut fruit, vegetables and/or crackers
Directions
Preheat oven to 350. Lay a sheet of foil on a baking sheet and lay a piece of parchment (slightly smaller in size) on top. Set aside.
Using a rolling pin, gently roll each of the 8 Cloudies until they are a little flatter.
Whisk the egg until light and fluffy.
Lay the round of brie in the center of the parchment-foil lined tray. Lightly brush the top with some egg and then press one of the flattened rounds in the center. Flip it over so that side is now on the bottom.
Brush the remaining top and sides of the brie with some of the egg (keep the remaining egg wash for later). Spoon the cranberry relish onto the center of the round.
One by one lay the flattened cloudies on the brie, tucking a bit underneath to make sure you cover the entire round. Once all covered gently press all together to keep it compact.
Tightly wrap the brie with the foil/parchment to keep it all compact and tight while baking.
Place in the 350 degree oven and bake for 20 minutes. Remove from the oven and carefully remove the parchment and foil. Brush with some of the remaining egg wash and place back in the oven for an additional 12 minutes. Cool for 15 minutes before serving.
*Cranberry relish: place 1 bag fresh cranberries, ¾ c. sugar or appropriate amount of your favorite sweetener, zest and juice from 1 orange and tiny pinch of cinnamon into a food processor. Pulse until it's all blended.
Happy Foods are the Best Foods!