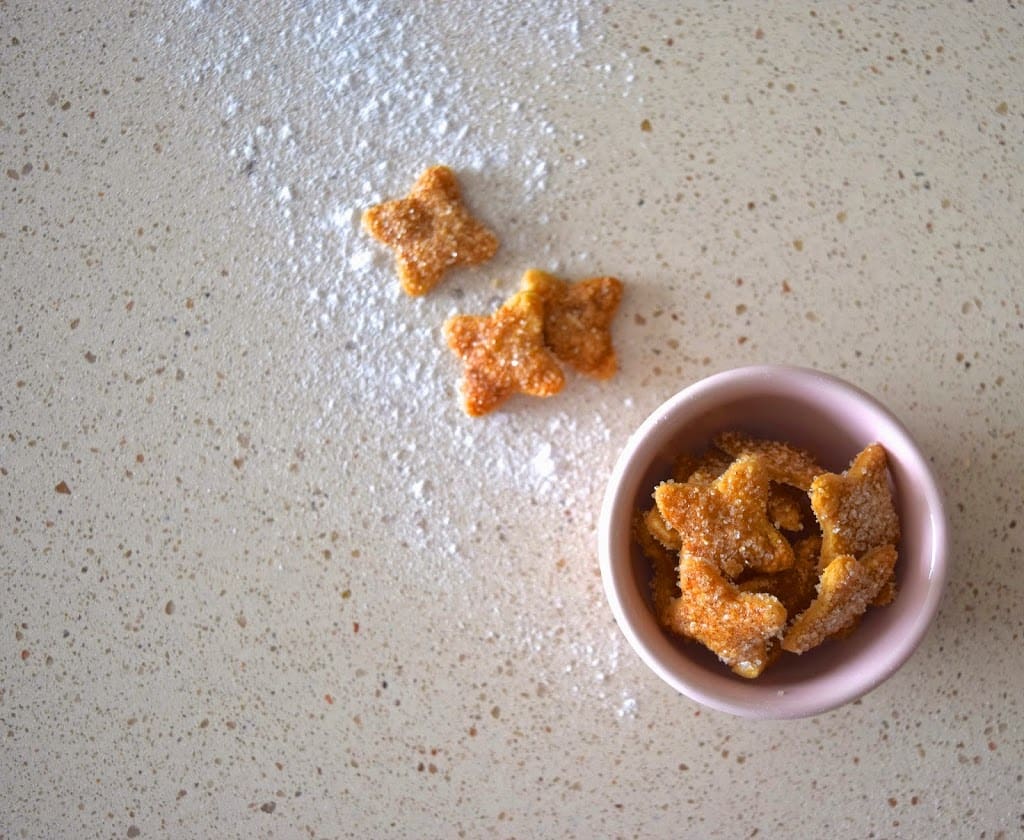 I have a confession. I've been playing with my food, mom would be very disappointed 😉
Though, perhaps I should rephrase "playing with" and in lieu say "testing recipes." More specifically testing recipes for gluten free pie dough. One of my clients is from Australia and her family loves meat pies which are apparently very big down under. It's essentially a teeny tiny hand pie filled with a mixture of ground beef, tomato sauce, vegemite and beef bouillon. Every week I make them 8 of these hand pies and they all disappear the same day. It makes me so happy that they love my food so much!
As a result, I've been bombarded with dough scraps. And often I'll scoop them back up and press them together for a second roll which is usually fine for the top crust. But then there's the scraps from that…and I just can't bring myself to throw the glorious dough out! What that means is I do what my mom always did when she made pie and had leftovers, and I love this part of it more than the actual pie-teeny, tinny cinnamon sugar cookies! I have a super small cookie cutter that is great because I get to use up almost all of the leftover scraps.
And nobody should really feel so guilty eating teeny, tiny cookies.
happy, healthy eating! ~kendra
Teeniest Cinnamon Pie Crust Cookies
·      Leftover pie crust scraps (recipe below!)
·      Ground cinnamon
·      Sugar
·      1 egg, lightly whisked*
DIRECTIONS
1.     Preheat oven to 325.
2.     Roll out scraps on floured surface.
3.     Using the tiniest cookie cutter you have (mine is barely 1"x1") stamp out as many tiny cookies as you can.
4.     Brush the top with the lightly whisked egg and sprinkle with plenty of cinnamon and sugar.
Pop in the oven and bake for 7-8 minutes until golden brown. Remove, cool for 10 minutes and try not to eat them all before you share!
*to make egg free: use your favorite allergy adaptable milk to brush on the crust in lieu of the egg.
Ancient Grain Pie Crust
Allergy Adaptable
Makes 1 pie crust
·      1 ¼ c. sorghum flour
·      ¼ c. + 2 T. tapioca starch
·      ¼ c. + 2 T. quinoa flour
·      pinch sugar
·      pinch salt
·      ½ stick butter, diced and chilled*
·      3-4 T. ice cold water
DIRECTIONS
1.     Mix together the sorghum flour, tapioca starch, quinoa flour, sugar and salt in the base of a food processor. Pulse a few times to blend.
2.     Add the chilled butter and pulse until mixture is crumbly and looks like sand.
3.     Drizzle the chilled water in tablespoon by tablespoon and pulse until the dough comes together, once it does stop the blade immediately. Turn out onto a floured surface and shape into a disk. Wrap tightly in plastic and chill for at least an hour or up to 48 hours.
*to make dairy free: use your favorite vegan shortening
Happy Helps! If you don't have a food processor you can also do this in a bowl and use a fork or a pastry blender to cut in the butter. Drizzle the water into the mixture and quickly mix together until the dough comes together. Follow remaining instructions.