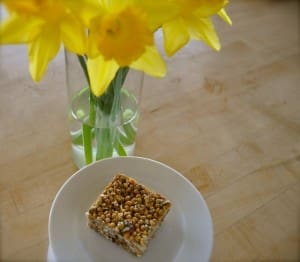 I have already begun preparing for next weekend. Yep, it's only Sunday night, some might call me a nut-job. Though, in my defense, next weekend will be super busy. I am so excited to be going to the Natural Foods Expo West in Anaheim, CA, to work with one of my favorite companies-Enjoy Life Foods!
So, needless to say, I will be on the go all day long Thursday through Sunday which means I need to make sure I have some healthy, nutritious snacks on me at all times. Well, one of my new favorite recipes (which actually happens to contain one of my favorite Enjoy Life Foods cereals) is an allergy free granola bar. Oh, you read right. It is so chock full of protein, fiber, and omega-3s you will have yourself wondering if it is truly nutritious or just delicious. Heheee.
The best part of these is that they make a decent sized batch, last about a week and you only really need a little square to last you for a while. Chewy, tasty little squares of goodness that you will be pleased you put in your mouth. And I will be please I planned ahead to make some of these little beauties with me on the plane. Argh, airplane food…..
Keep stopping by the blog this coming weekend, I will be posting (and tweeting and facebooking and whatever other social media-ing) my little patootie off to show you lovelies what new fun products are coming soon to you!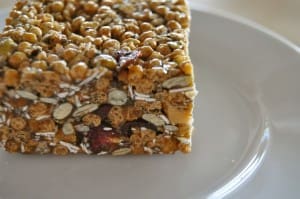 Sweet and "Nutty" Granola Bars
Free of the top 8 allergens
Makes 16 squares
1 c. pumpkin seeds
1/3 c. sunflower seeds
1 c. gluten free rolled oats
¼ c. flaxseeds
¼ c. chia seeds
2/3 c. dark brown sugar
½ c. + 1 T. honey
4 T. coconut oil OR sunflower seed oil
1 T. vanilla powder (or vanilla extract if you can't find the powder)
2 c. Enjoy Life Perky's Crunchy Flax with Chia cereal
½ c. dried cherries
DIRECTIONS
Line a 9×9 glass baking dish with parchment paper, letting 2 sides overhang to use as handles later.
Preheat oven to 325. Place the pumpkin seeds, sunflower seeds, rolled oats and flaxseeds on a baking sheet. Toast for 10-11 minutes until lightly browned. Pour into a large bowl.
In a small saucepan, whisk together the dark brown sugar, honey and coconut oil/sunflower seed oil until a nice caramel has formed, about 5-6 minutes.
Add the vanilla powder, Perky's Crunchy Flax cereal and the dried cherries to the bowl with the toasted pumpkin seeds and oats. Mix together. Pour the warm caramel over this and stir to combine everything. Pour into the parchment lined baking dish. Place another small piece of parchment on top and press the mixture down firmly to compress. Allow to cool about an hour and then cut into the 16 squares.
xoxo- Kendra