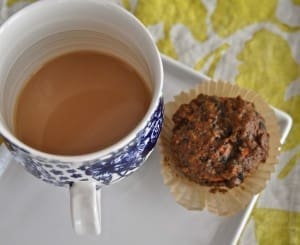 On my quest to nourish my body yet still eat cleanly, I opened my fridge. Leftover pumpkin puree from a little nugget I roasted last week. Over-ripened bananas. Kale. On the counter I had leftover dried cherries from some recipe testing I had to do for a company I consult for. I always have toasted pumpkin seeds. So, what to do with this delightful bounty? Well, I have been hankering for a little breakfast treat. Something aside from a juice or a smoothie. And with pretty much every breathing person coming down with the flu these days I thought a muffin packed with these goodies would hit the spot while giving my body a nice dose of nutrition.
Now, I do this sometimes with my baked goods. Ssshhhh, don't tell anyone. Because until now, nobody really knew. And I'm sure you were wondering how I was going to sneak that kale into these muffins. Well, the trick is to quickly blanch them, shock them in cold water and them chop the hell out of them. I typically throw the kale into chocolate baked goods, it hides very nicely in chocolate cake or cupcakes. But I though, why not? And who cares if there are tiny green specks. If people think it's mold, well, then all the more for me.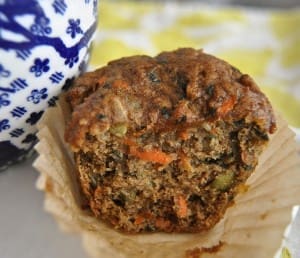 Super Muffins
gluten free, dairy free, egg free, soy free, vegan
Makes 12 muffins
6 kale leaves, stripped of stems
1 carrot, shredded
½ c. mashed ripe bananas
½ c. pumpkin puree (preferably roasted at home and pureed)
¼ c. sunflower seed oil
1 c. light brown sugar
1 t. vanilla
2 T. chia seeds + 6 T. hot water, mixed together
¼ t. white balsamic vinegar
½ c. teff flour
½ c. buckwheat flour
½ c. tapioca starch
1 t. baking soda
1 t. baking powder
pinch salt
1 ½ t. xanthan gum
¼ t. powdered ginger
½ t. cinnamon
½ c. toasted pumpkin seeds
¼ c. dried cherries, chopped finely
DIRECTIONS
Line a muffin tin with paper liners. Preheat the oven to 350.
Heat a pot of water. Fill a shallow bowl with an ice water bath. Pop the kale leaves into the hot water for about 20 seconds then put them immediately into the ice water bath to stop cooking. After a few minutes, remove them and squeeze to remove extra water. Lay out flat and chop as finely as possible.
In a large bow mix together the chopped kale leaves, shredded carrot, mashed bananas, pumpkin puree, sunflower seed oil, brown sugar, vanilla, chia/water mixture and white balsamic vinegar. Whisk until smooth.
In another small bowl whisk together all remaining ingredients from teff flour through pumpkin seeds. Add the dry ingredients into the wet ingredients and stir gently with a whisk until combined.
Scoop into the muffin tins, dividing equally. With damp fingers smooth the tops.
Bake at 350 for 22-25 minutes until cooked through.
Happy, Healthy Eating! ~xo, Kendra