So many things to begin this posting with….let's start out with the reason why I even have all these things to talk about-last weekend I was with one of my favorite companies, Enjoy Life Foods, out in California at the Natural Products Expo West. Now, if you aren't familiar with this expo it is the end all be all for me and the type of business that I do. It's enormous, takes up 3 floors of a convention center and the basketball arena next door! It has a gazillion beauty/pet/baby/food products-all based in the natural platform. Now, natural can mean a lot of things, but once you sift down to the actual products that are made cleanly, simply and "Kendra approved" then it's like being in the middle of organic-nonGMO heaven!
I met some amazing people, including Tess Masters of The Blender Girl, Beth Manos Brickey of Tasty Yummies and Meg van der Kruik of Beard and Bonnet. These are some seriously inspirational chicks! All successful, all have beautiful blogs and sites and all are-WOMEN! Makes me so happy to meet other female entrepreneurs that are as obsessed with clean and nutritionally focused foods while still cuddling up to their chocolate addictions.
I also had a blast with the Enjoy Life Foods team. Talk about inspirational, if you haven't heard of or used any of the Enjoy Life products please let me convince you to start! Everything this company produces is free of the top 8 food allergens…you read that right! And let me tell you, that it's all delicious. My most favorite products-you can probably guess-their semisweet mini chips and their *new* dark chocolate chips. They are made with chocolate and sugar, none of the other crap like soy or dairy that many companies use to extend their products. Oh, and did I mention those chocolate chips are also vegan? Hell, yeah.
So on top of this, I then got to walk the show and meet some incredible companies such as Massel broth company and meet the lovelies behind O Olive oil. These are just a few to start!
After the show I got to spend time with one of my dear friends, also a private chef, based in LA. She works with some very, very elite clients and we always love brainstorming with each other. She introduced me to some really cool things that you can probably only find in LA (insert sad face) but also took me to a few restaurants that inspired me to try some new recipes and play in the kitchen! One of these things is a pretty simple and pretty basic vegan condiment, cashew cream. But I wanted to put a middle eastern spin on it as that is the kind of food I have been experimenting with most lately. So, today's cashew cream is a harissa spiked version. Yesssssssssss. Seriously, put it on anything. The light warmth that the peppers in the harissa lend to the creaminess of the sauce is a beautiful compliment on everything from black beans to quinoa to a dip for veggies! Give it a try, even if you aren't a vegan. I promise you will enjoy it and you won't even believe that you do.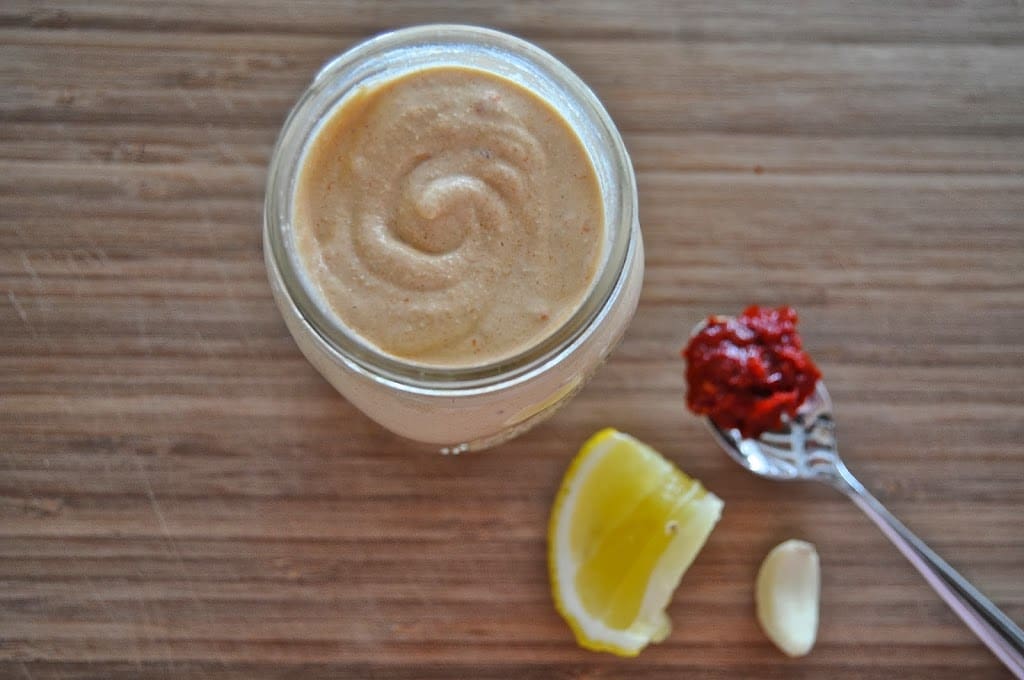 Spicy Harissa Cashew Cream
Vegan, gluten free, dairy free, soy free
Makes about 2 cups
·
1 c. raw cashews, soaked in water for about 3 hours
·
3 small/medium cloves garlic
·
½-1 c. room temperature water
Directions
1.
Place everything but the water in the base of a blender. Add the ½ c. water and blend, adding more water as needed to create the thickness desired for your cashew cream.
*as a dip I like this pretty thick, if I am using it to drizzle over a quinoa bowl I add a little more water to thin out. But better to keep it thick and thin out small quanitities as needed!
Happy, Healthy Eating! ~kendra