It's a beautiful Sunday morning as I sit here and type this post. The sun is streaming through the windows and it's been multiple days of beautiful sun here in Chicago. This kind of weather, even if there is still a chill in the air, makes me crave warm weather food. Fresh peas, asparagus, peaches, apricots and everything between. The problem is that it still really is springtime here in Chicago and we are just starting to get a trickling in of those warm weather foods. But strawberries…..thanks to all the rain in California we have been getting hoards of gorgeous, delicious, sugary sweet strawberries.
So how do I satisfy my warm weather food craving? Let's do something with those red beauties! And a favorite of my clients happens to be roasted strawberry and lemon muffins. Full of protein from Greek yogurt, omega-3s from hemp seeds and a b
right flavor from lemon zest these muffins are sure to satisfy your summer month food cravings until summer actually arrives.
happy, healthy baking!
~kendra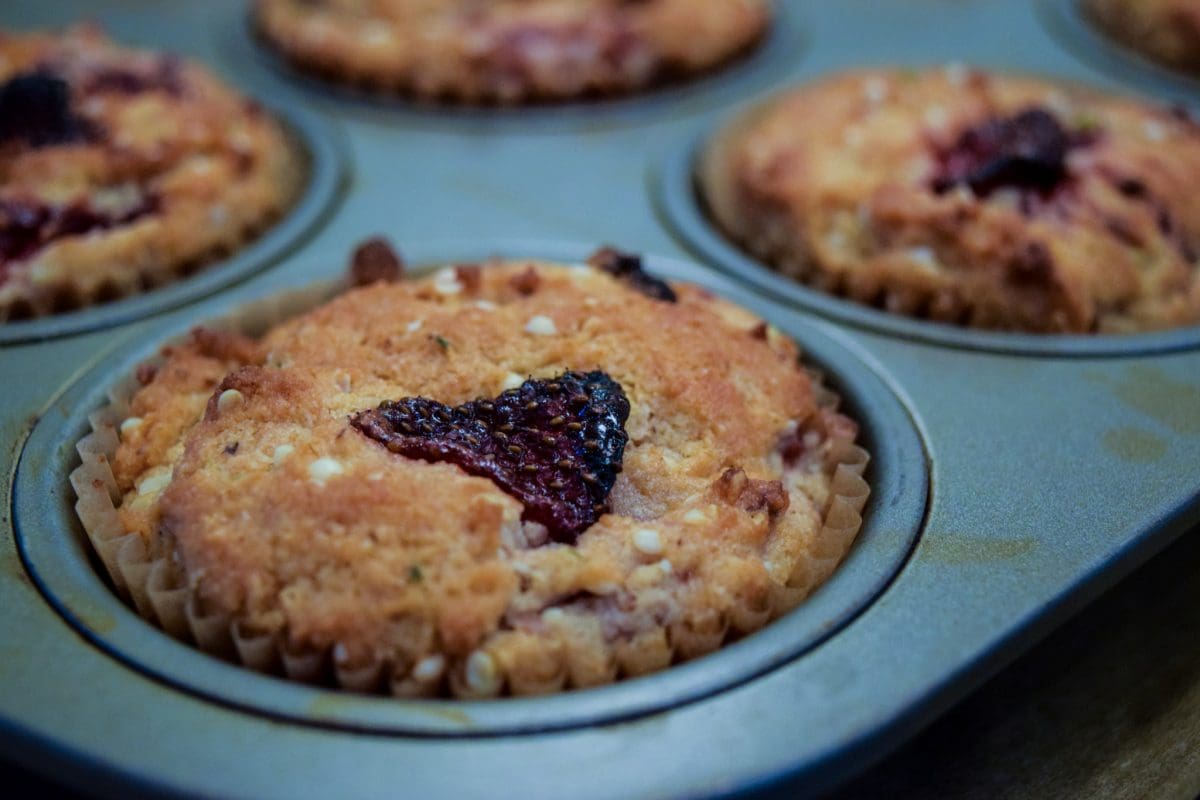 Roasted Strawberry Muffins
Makes one dozen muffins
Strawberries
1 lb. fresh strawberries, hulled and quartered
1 T. maple syrup
Muffins
1 ¾ c. favorite gluten-free flour blend (if your blend doesn't include xanthan or guar gum be sure to add ½ t. xanthan or 1 t. guar gum to recipe)
½ c. almond flour*
1/3 c. hemp seeds
2 t. baking powder
1 t. sea salt
zest from 1 lemon
¼ c. sugar
½ c. packed brown sugar
2 T. unsalted butter or vegan margarine, melted
½ c. coconut oil, melted*
¾ c. Greek yogurt**
2 eggs***
1 t. vanilla extract
juice from 1 lemon
Directions
Line a 12 cup muffin tin with muffin papers. Set aside.
Preheat oven to 375 and line a baking sheet with foil. Brush with coconut oil.
Toss the strawberries with the maple syrup and pour onto the prepared baking sheet. Roast at 375 for 20-25 minutes until strawberries are soft and have released some liquid. Set aside.
Whisk together the gluten free flour, almond flour, hemp seeds, baking powder, sea salt and lemon zest.
In another large bowl whisk together all remaining ingredients.
Add the flour mixture into the liquid mixture and whisk until just combined.
Gently fold in the roasted strawberries and their released juice until equally distributed into the batter.
Divide evenly between the 12 muffin cups and bake for 23-25 minutes until lightly golden brown and springy to the touch. Cool for 20 minutes before removing from baking pan and enjoy!
*to make nut free: replace the almond flour with allergy friendly flour of choice. 
*replace the melted coconut oil with allergy friendly margarine of choice.
**to make dairy free: use your favorite dairy free greek style yogurt
***to make egg free: substitute each egg with 1 t. baking soda + 1 T. white vinegar