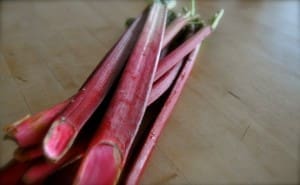 'Tis the season. Not Christmas, sillies, the season for farmers markets and beautiful, bountiful produce!! Last week's market score was a bundle of gorgeous rhubarb and a (tiny) bag of (very pricey) morel mushrooms (but damn, were they good!). Mr. Giggles daughters were in town so we thought how fun to make some vanilla bean frozen custard?! And then I thought, how fun to throw some fresh rhubarb-ginger jam on top of the frozen custard?! I mean, sometimes I have fabulously good ideas.
So off we went to pick up the ice cream maker (I'm sorry lady at Sur le Table who tried to sell me a $400 ice cream maker and the powdered ice cream starter kit. I had to give her the old 1-2 ditty of "We'll be making it from scratch…" with the girls piping in-"Giggles is a chef!" so that stopped any attempt at a sell of the unnecessary $400 ice cream maker and $15 ice cream starter, whatever that even means). Needless to say this is one of the tools that will serve my purpose just fine at the low end price range (here's the one I bought, I've used it before a gazillion times and it works just fine). So now ice cream isn't just something we eat for dessert, it's a fun activity for everyone, and once those berries start to come in at the market watch out! It's frozen greek yogurt with berries and rosewater for this lady!
In the meantime, go pick up an ice cream maker (or not). But at least go to the market this weekend and pick up some rhubarb to make this easy-peasy Giggliciously delicious rhubarb jam.
Happy, Healthy Eating! ~ Giggles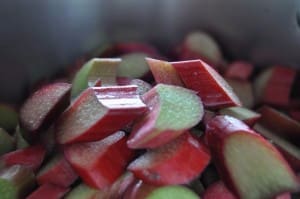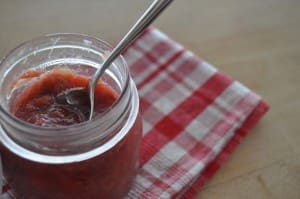 Strawberry-Rhubarb-Ginger Jam
gluten free, dairy free, soy free, egg free, nut free, peanut free
Makes about 3 cups of jam
2 pounds sliced rhubarb
1 c. chopped strawberries
2″ piece ginger, grated
1 c. coconut sugar or organic cane sugar
1 apple, grated
juice from 1 lemon
Directions
Place the rhubarb, strawberries and ginger in a medium, heavy bottomed sauce pan. Toss with the cane sugar and set aside for 30-60 minutes, stirring occasionally.
Add the grated apple and lemon juice to the pot and place over medium heat. Cook until fruit is softened but jam is nice and thick (it should coat the back of a spoon and you can run your finger down the middle leaving a clear trail). This should take about 15-20 minutes.
Then, either process in sterilized jars in a hot water bath for 10 minutes for storage or pour into clean jars and keep in the refrigerator for 2-3 weeks. Either way you are sure to enjoy it sooner rather than later!