With New Years Eve around the corner I thought one more new appetizer recipe was in order! And this is one of my most favorite gluten free starters. It's chewy, crunchy, gooey and just darn delicious. And if you plan properly then you can have risotto for dinner one night, make extra, and save the rest of the risotto to make arancini a few days later!
I like arancini in its most basic form. Simple risotto with just parmigiana and herbs, filled with mozzarella, lightly breaded (gluten free breading, of course) and shallow fried in a pan on the stove. Served alongside some spicy marinara and I can easily make a meal out of it! You could, of course, make giant arancini in which case I would recommend adding an egg and maybe some cream to the mixture and then baking it after pan frying. I like a golfball size, it's usually 2-3 bites with a fork and two of those puppies makes for a pretty filling appetizer.
Want to make this ahead of time?
Make the risotto one day. Cool overnight in sheet pan.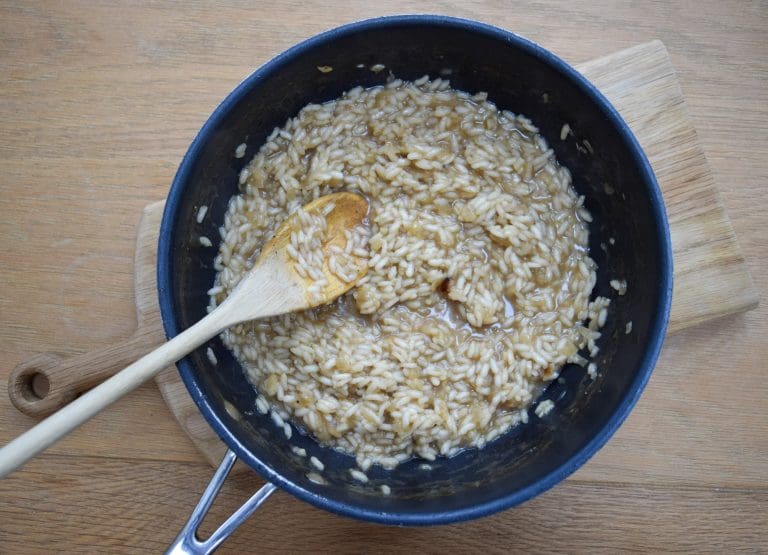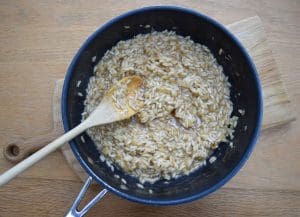 Fill with the mozzarella and roll them another day.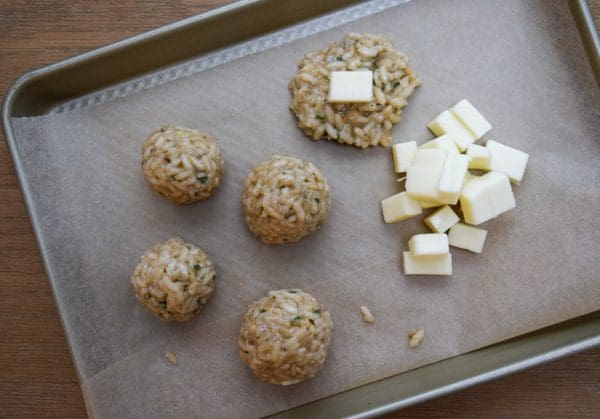 Then prep the 3 step breading before you plan to serve.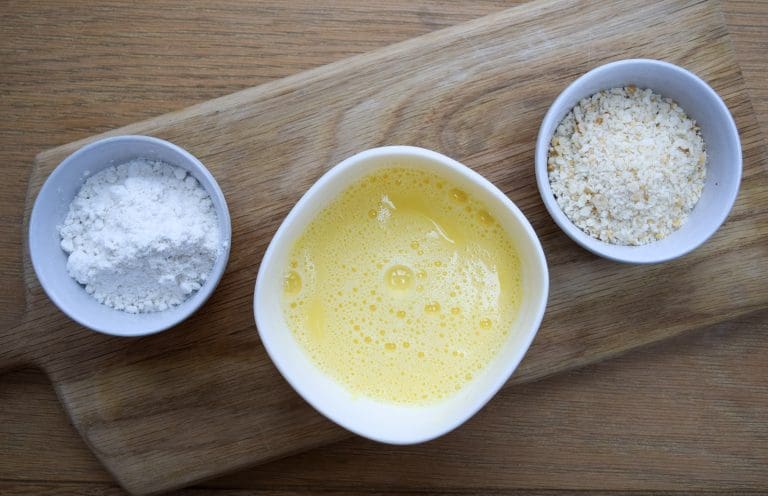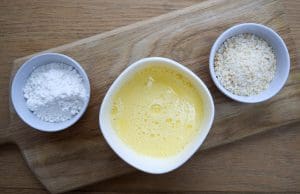 Break it up into sections like that and it doesn't seem so daunting. Whichever way you make these, you will certainly be happy you know how. Arancini is a special little Italian treat that would make anyones New Years Eve all that much tastier!
xo, Kendra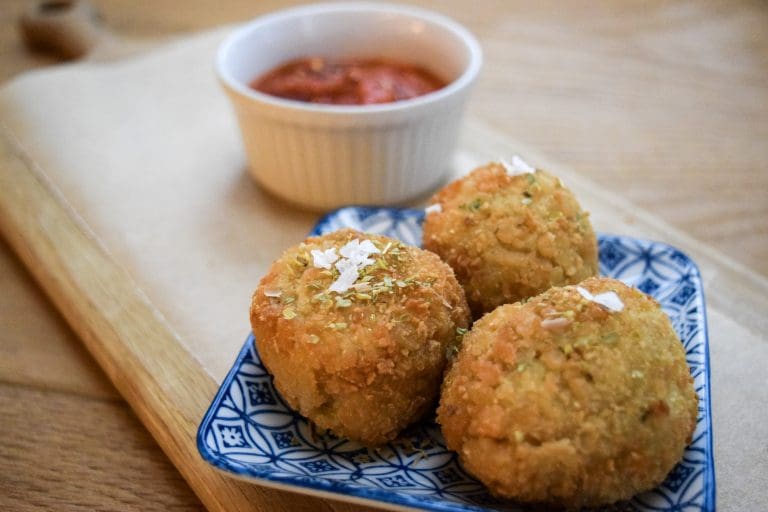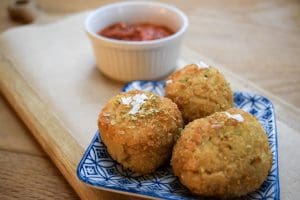 Mozzarella Stuffed Arancini
Gluten Free, Top-9 Free Allergy Adaptable
Prep Time: 1 1/2 hours + chilling time for the risotto (at least 1 hour)
Makes: 18-20 arancini balls
Ingredients
3 Tbsp. unsalted butter or olive oil
1 yellow onion, finely diced
4 cloves garlic, finely diced or pushed through garlic press
1 c. arborio rice
1/3 c. white wine
3 1/2 c. chicken broth, warmed
1/4 c. assorted minced herbs such as parsley, oregano, thyme and chive
1/2 c. grated parmigiana (dairy free: use your fave DF parm or 3 Tbsp. nutritional yeast)
20 cubes diced mozzarella, slightly smaller than dice (dairy free: use your fave DF mozzarella or eliminate)
3/4 c. gluten free flour
1 egg, whisked + 1 Tbsp. water (egg free: use your fave egg sub or 1/4 c. unsweetened plant milk + 1 Tbsp. flax meal)
1 c. gluten free breadcrumbs
Additional olive oil for frying
Flaky sea salt for topping
Optional: marinara sauce
Directions
MAKE THE RISOTTO
Preheat a medium saucepan, preferably with rounded sides, over medium for about 30 seconds. Add half the butter or olive oil and add in the yellow onion. Saute until softened, don't brown, for about 4-5 minutes.
Add the garlic and saute 1 more minute.
Add the remaining butter or olive oil along with the rice and stir for 2-3 minutes until the rice becomes more translucent.
Add the white wine and cook until mostly evaporated, stirring.
Add one ladle at a time of the warmed broth, stirring the rice mixture until about 2/3 of the broth has been absorbed. Continue this until you've used all the broth and the rice is al dente.(It shouldn't be mushy, each grain should still be intact and it should be chewy).
Remove from heat, add the herbs and grated parmigiana. Taste for seasoning, adding salt and pepper as needed.
Spread on a rimmed sheet tray and cool for at least 1 hour or up to 3 days.
MAKE THE ARANCINI
Scoop up a big tablespoon full of the cooled rice and flatten into a little patty. Place a piece of the mozzarella in the middle and cover it up with the rice mixture, rolling into a ball. (I like to do this by passing it back and forth in my hands.)
Continue this with all the rice, placing each ball back in the refrigerator after you've stuffed it and rolled it out.
Preheat oven to 375, line a small sheet tray with parchment paper.
Warm a shallow pot with about 1/2 c. olive oil over medium-low heat.
Get out 3 bowls and fill them with each: gluten free flour, egg mixture+ water (or substitute), gluten free breadcrumbs.
Dip each ball first in the flour then the egg mixture then the breadcrumbs.  Do this to all the balls before beginning to fry.
To see if the oil is at the correct temperature drop a breadcrumb into it and see if it bubbles up. If so, it's ready! Add 1-2 balls into the oil and turn them every once in awhile until they're golden brown all the way around, about 3-4 minutes.
Remove to a paper towel lined tray to drain.
Continue with the remaining prepared balls. Add them to the prepared parchment lined sheet and place in the warmed oven for 5-6 minutes to be sure they are hot when serving.
Serve alongside marinara sauce, I like mine with calabrian chilis in it!
Happy Foods are the Best Foods!