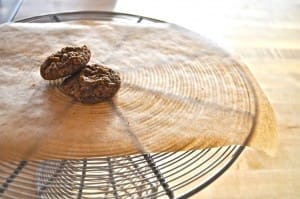 We had a few friends over last night and like Julia Child said, "A party without a cake is just a meeting." Well, I also think that applies to cookies, pies and pretty much any delicious sweet. So, last night, amidst the nibbles of baba ganoush, rosemary roasted almonds and Boursin with almond crackers I put out a cake stand full of these tasty little cookies.
Now, I have to tell you this was no normal friend get together. Everyone who came either owned a restaurant or was a chef. So, you better believe they are free flowing with the "constructive criticism." But, to my credit (pat, pat on my own back) the comments after half the cookies were gone happened to be along these lines- "What's in these cookies?!" and "These are delicious!" "No way these are healthy and gluten free."
Now, there is one ingredient in this list you may not be familiar with-Mesquite Flour. The mesquite flour comes from the ground pods of a tree, typically found in warm and dry areas such as Arizona. I was recently reintroduced to this flour by the owner of Casa Mesquite, a producer of a certified organic and gluten free mesquite flour. And let me tell you, how happy I am to have found this flour again! It has a very unique taste profile that is warm and will elicit flavors of cinnamon, roasted nuts and caramel on your tongue. If you can't find mesquite flour I would suggest buckwheat flour but first try, try, try to get some of this lovely flour. You won't be disappointed!
Feel free to substitute as you would like. I made the recipe free of all nuts and just used seeds, but you could use peanut butter or almond butter if you like. Use any kind of nut or seed in lieu of the sunflower seeds if you'd like. But I suggest starting with this recipe exactly, they'll soon be your new lil' buddies!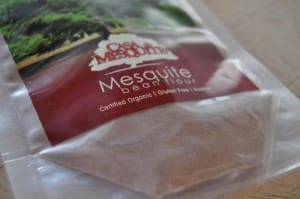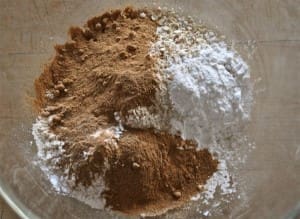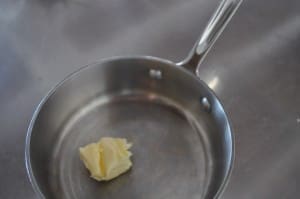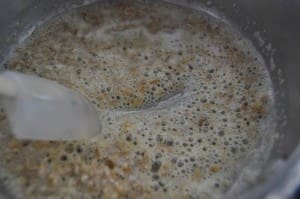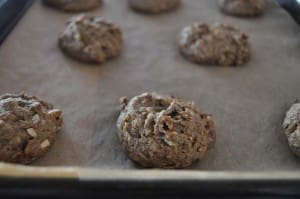 Nutty Buddies
Gluten Free, Egg Free, Nut Free
I love making these as little favors for dinner parties. Wrap them in small clear cookie bags and tie with a festive ribbon. Place them at everyone's place setting and watch their faces light up when they see they have a treat to take home!
Makes about 48 cookies
1 ½ sticks butter, softened
1 c. gluten free old fashioned oats
GF flour blend: ¼ c. + 2 T. sorghum flour, ¼ c. teff flour, ¼ c. mesquite flour, ¼ c. tapioca starch, ½ t. xanthan gum
1 t. baking soda
1 t. fine salt
1/3 c. granulated sugar
½ c. packed brown sugar
1 T. chia or flax meal + 3 T. hot water
1 t. gluten free vanilla extract
½ c. sunflower seed butter
½ c. toasted pumpkin seeds
DIRECTIONS
Preheat oven to 350 and line 2 rimmed baking sheets with parchment paper.
Melt ½ stick butter in a small saucepan. Add the oats and cook for about 4-5 minutes until the butter is lightly browned and smells nutty. Remove to a plate to cool.
In a small bowl whisk together the GF flour blend, baking soda and 1 t. salt. In another bowl beat together remaining stick of butter with the granulated sugar and packed brown sugar until light and fluffy. Add the chia or flax egg and the vanilla extract. Beat until combined. Add the sunflower seed butter and beat until combined.
Add the toasted oat mixture and chopped nuts and beat on low speed until mixed in evenly. Add the flour mixture and beat until combined.
Using a cookie scoop or a teaspoon, scoop out the dough into 1" balls and roll. Place 1" apart on the parchment lined sheets and bake at 350 for 10-12 minutes until set.
Happy, Healthy Eating! ~Giggles