Power balls are a huge thing with our weekly cooking clients. They are delicious, kids love them, they are little bites of yumminess that can easily hide loads of nourishment and they are easily transportable. You can throw them in your purse, pop them in a backpack, toss them in a gym bag.
Now I have plenty of homemade power ball recipes but sometimes you just want to add minimal amounts of ingredients and end up with maximum amounts of flavor. Well, recently Miss Jones sent me a whole package of fun things to play with and it was such a treat. If you've been reading the blog then you've seen me post about the Smart Sugar that I love so much. They also sent me one of their new gluten free mixes for Monster Cookies and, man, it was delicious. First I made the cookies as the instructions indicated and then I thought, "this would be an awesome and easy way to make a power ball!" Not only was the flavor fantastic but the mix uses their Smart Sugar to sweeten it, delish and low in sugar is a winning combination in my book!
Why not try this 2 ingredient recipe next time you're thinking about making some power balls and don't have a ton of time? Plus they're real fun with bright colored tiny chocolate pieces, mini chocolate chips and just enough of that oat flavor. Use your favorite nut or seed butter and, voila! 2 ingredient power balls.
xo, Kendra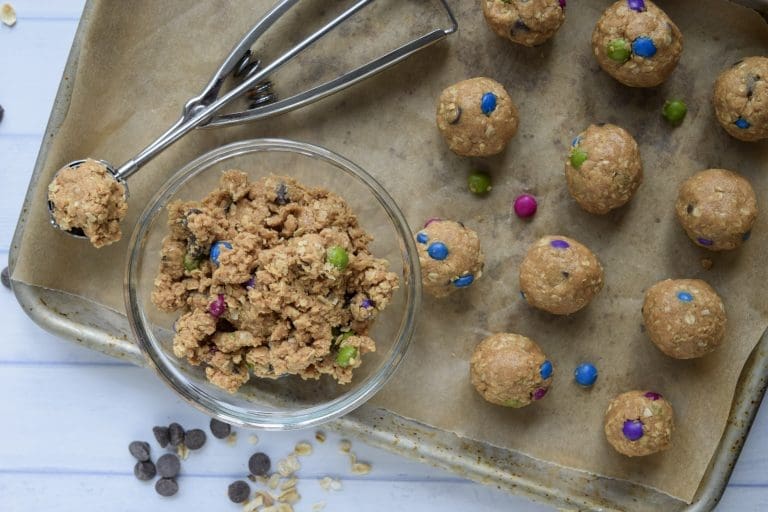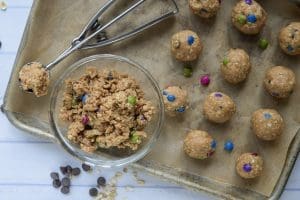 Monster Cookie Power Balls
Vegan, Free From Top-9 EXCEPT SOY
Prep Time: 10 minutes
Serves: Makes about 20 golf ball sized power balls
3/4 – 1 c. favorite seed butter (or nut butter if no allergies)
Directions
Pour the monster cookie mix into a bowl and add 3/4 c. of your favorite seed butter to the bowl as well. I like to use sunflower seed butter or watermelon seed butter!
Mix together until completely combined and scoop out into golf ball sized balls. Roll and place in a container to store.
Enjoy!
Happy Foods are the Best Foods!