Valentine's Day is sneaking up right around the corner….are you prepared? Now, I've been celebrating and enjoying this sweet little holiday for a handful of years now and I can tell you indefinitely that, just like every other holiday, a little handmade treat is everyones favorite. And, of course it has to be chocolate because, duh. It's literally the National Holiday for Chocolate in all essence!
So I wanted to create a little something for you to make for your loved ones but, let's be honest, we are all busy. We don't have a ton of time to be in the kitchen tempering chocolate and doing elaborate things with it (or if you do, I am envious! Have fun and create something gorgeous!). But most of us just want something short and sweet (ha!) to toss together for our little love bunnies.
So I give you a mixture of two of my favorite things from two of my favorite brands:
Matcha Chocolate Hearts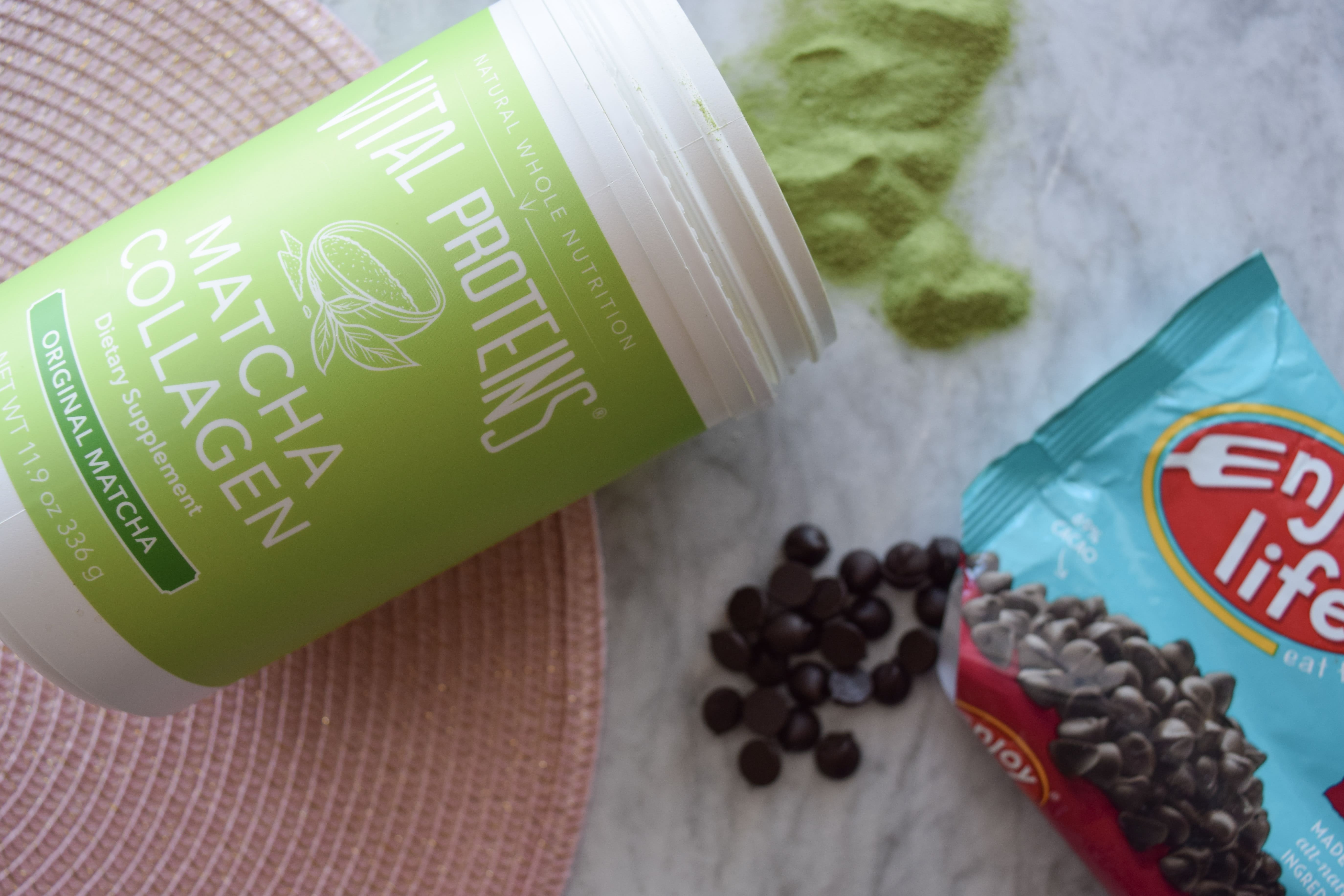 Vital Proteins sent me some of their gorgeous matcha collagen to play with and Enjoy Life keeps me stocked with their chocolate chips, basically like an IV drip. And the combination of matcha and chocolate is a gorgeous little duet. Plus! Like most things I have up my sleeve this is not only a delicious little treat but something that has a little added nutrition quotient to it. The matcha provides loads of antioxidants from the tea leaf. A little background as to why matcha is so superb to just green tea: it is the crushed powder of the whole tea leaf as opposed to just steeping the leaves and then discarding like traditional tea. So you are ingesting every part of that healthy little plant! And the combination in the powder of matcha plus collagen works seamlessly.
Collagen is a bit of a buzz word these days but for such good reason. A really well sourced collagen, such as from Vital Proteins, provides your body with a lot of nourishment. It's not just about better looking skin, hair and nails. Collagen is almost like glue that holds your body together. It is the fibrous protein that is found everywhere in your body from your organs to your muscles to your bones to your blood vessels and digestive system (plus more!). Factors such as age (by 40 collagen begins to deplete faster than our bodies can produce it), pollution, smoking, genetics, sun and nutritional deficiencies can all play a role in our body's depleting of collagen.
I will happily get into even more collagen detail in another post but for now I just want you to have a little grasp of all the benefits it has:
helps with gut health (the villi in your intestines are actually built of collagen)
strengthens hair, skin and nails
helps with joint health
supports your bone health (your bones aren't made up of just calcium! Collagen is in there too.)
has been shown help with liver detoxification
Ok, enough nutrition and science talk. Let's get down to the chocolate! Oh, and speaking of…..of course the chocolate I used is from Enjoy Life. As their consulting chef, of course, I love their chocolate. But everyone I talk to also loves it for all the right reasons too! It's the cleanest chocolate I've found-the simplest of ingredients. It's vegan and it's allergy friendly so pretty much anyone can enjoy all of their chocolate without worry!
Happy Valentine's Day, love bugs, and enjoy sharing these delicious little hearts with all the people you want to share your joy with.
happy, healthy eating!
~xo, Kendra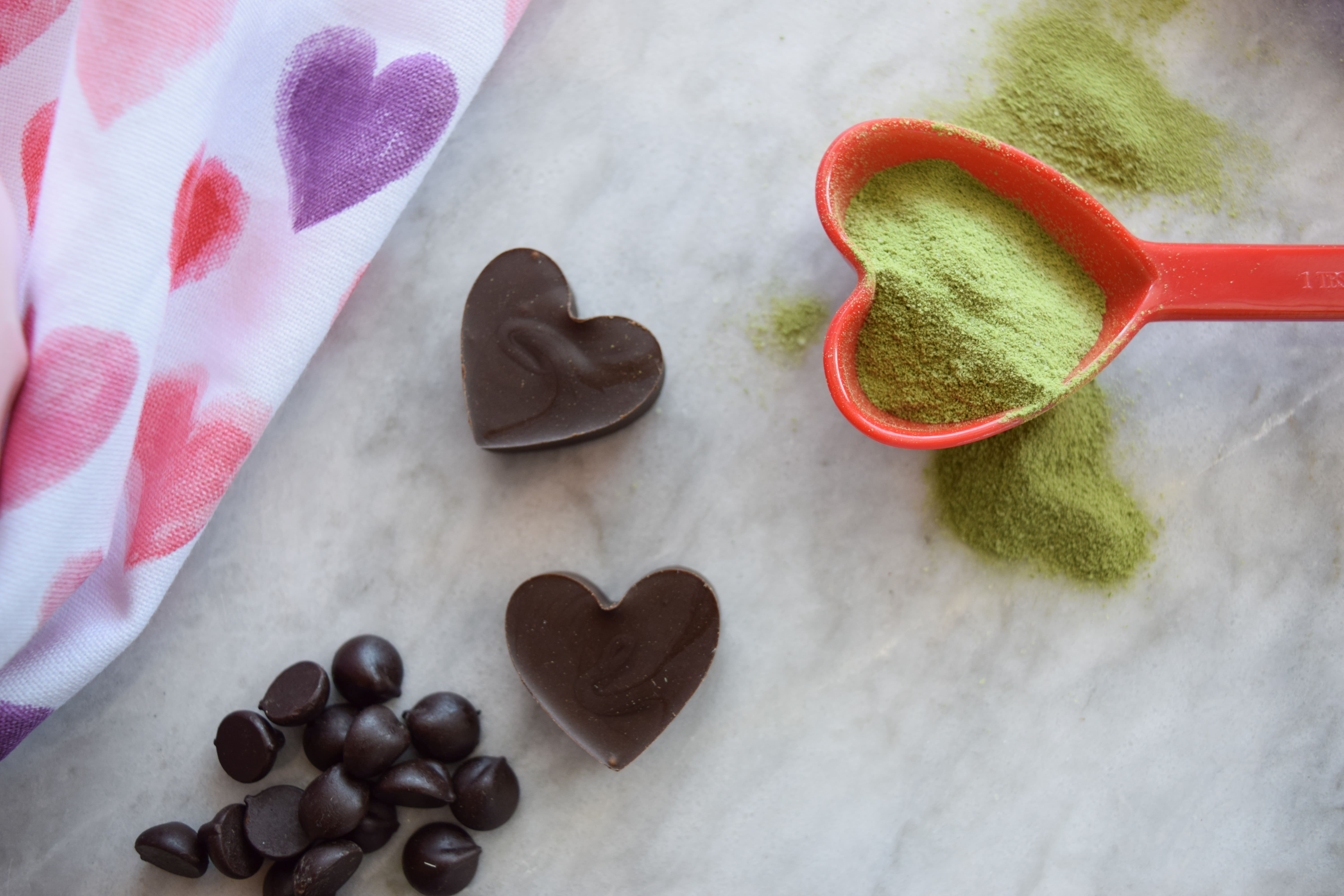 Matcha Chocolate Hearts
Free of top-8 allergens
Makes approximately 60
1 bag Enjoy Life Foods Dark Chocolate Morsels
1 T. coconut oil or flavorless vegetable oil such as sunflower or safflower
3 scoops Vital Proteins Matcha Collagen powder
special equipment: silicone heart mold
Directions
In a double boiler or in a microwave at 30 second intervals melt together the chocolate morsels and the oil.
Once melted, sprinkle the matcha collagen into the chocolate and whisk until silky smooth. Let chocolate cool about 15-20 minutes at room temperature. This will make it easier to manage when you fill the mold.
Using a small spoon, piping bag or freezer safe resealable bag with tip cut off* fill the heart shaped wells in the silicone mold. Place in the refrigerator for about 20 minutes to set and then pop the heart candies out of the mold.
Continue filling the molds, refrigerating and then popping the hearts out until you have used up all your chocolate. Store in the refrigerator until it's time to give to your favorite lovies!