This past week has been such a fun blur of love, support and excitement for my cookbook. And I couldn't be happier! It's been a lot of celebrating, meeting with friends, dinner parties and clinking of glasses.
This also meant more work than I've ever experienced before in my life. Emails, responding to questions, promoting the book, organizing future promotions for the book, answering more questions, doing takeovers, and continuing to cook for my regular clients. 14-16 hour work days with my nose deep into the computer and social media apps meant very little time for cooking for myself and the mister. Without meal planning or having the time to run to the store after my clients for dinner ingredients and with little brain bandwidth left to be creative with our own dinners, I relied on many of my tried and true recipes that I prepare for my clients! Soups, quinoa salads, things that can be pieced together, ingredients that are malleable and can be swapped out  if I happened to not have it. No recipes used, just throw together and go.
It was also important to have things that we could grab for lunch the next day or things that would last for another meal. And that is exactly where this recipe came into play. Quinoa salads are a big staple in my business. My clients like to be able to open the fridge and have a fresh salad in there that isn't wilted, that has all different nutritious ingredients in it and that tastes delicious from day 1-day 4. Quinoa salads are PERFECT for that! This version is what just happened to be in our fridge, but you can really throw in anything you like. In my cookbook I have a version that is made of all green veggies and a green dressing, you can also make a fall flavored one with roasted pumpkin, pumpkin seeds, kale and dried cranberries. The options are really endless!
Start with some recipes you like (hopefully the one below!) and then get your creative flow on! Add crumbled feta, maybe shredded chicken from dinner last night, toss in some toasted nuts or seeds. Get crazy! And have fun, because after all if you aren't cooking with joy then why cook at all?
happy, healthy eating!
~kendra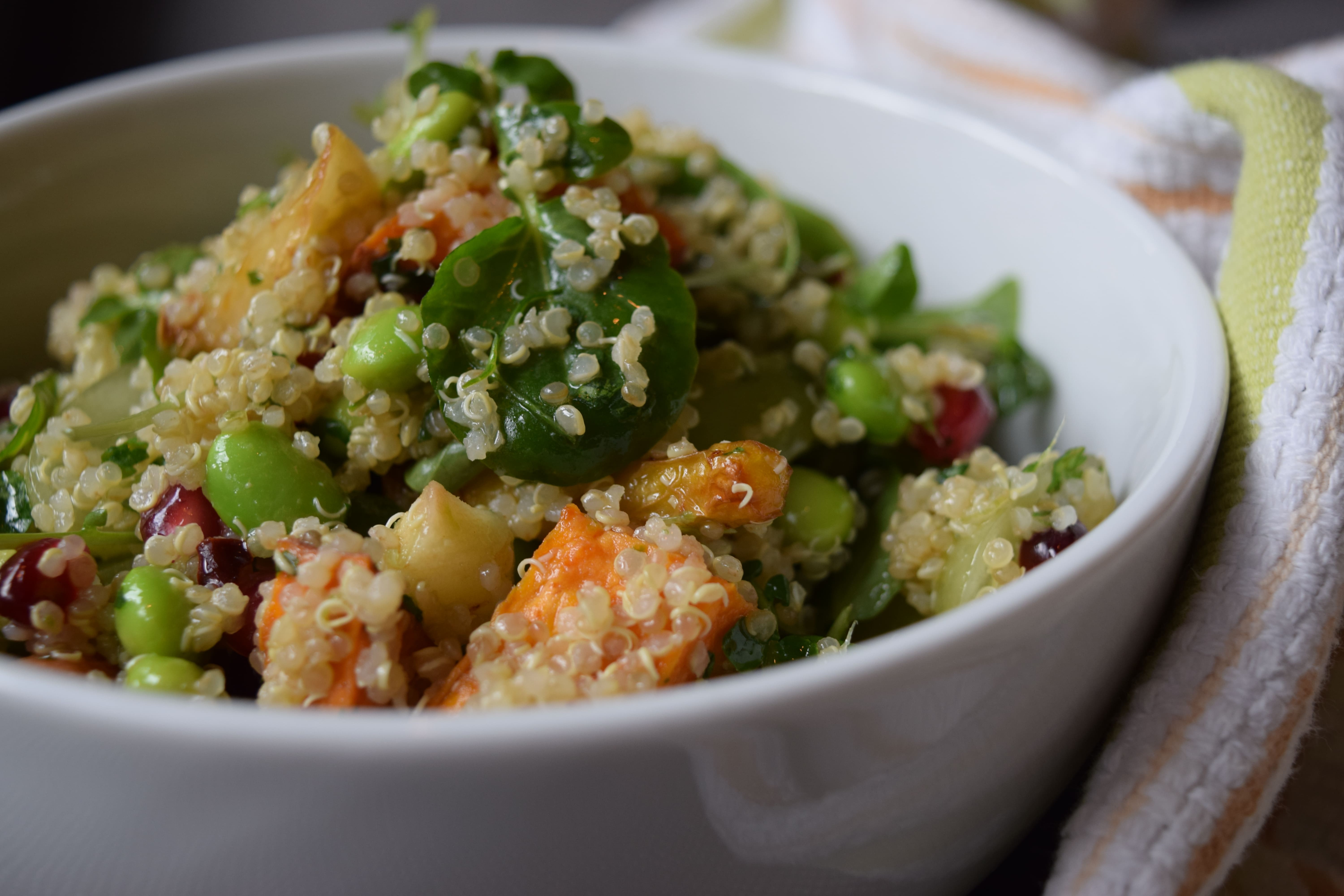 Jeweled Quinoa Salad
Serves 6 as a main
1 c. white quinoa
1 medium sweet potato, scrubbed well and diced
1 c. shelled edamame*
½ c. pomegranate seeds
2 c. watercress, baby spinach or chopped kale
½ c. chopped cilantro
¼ c. chopped mint
dressing
zest and juice from 2 limes
1/3 c. olive oil
1 garlic clove, grated
dollop of honey or maple syrup
pinch of sea salt
some favorite optional add-ins: shredded cooked chicken/roasted salmon, toasted pistachios/toasted pumpkin seeds, crumbled feta
 Directions
Preheat oven to 425. Line a sheet tray with parchment paper, set aside.
Rinse the quinoa and place in a small saucepan with 1 ½ c. water and a pinch of salt. Bring to a boil then turn down to simmer, cover and cook for 15 minutes. Spread into a 9×13 dish to let it cool while you prepare the remaining ingredients.
Meanwhile, toss the scrubbed sweet potatoes with olive oil. Pour onto the parchment lined baking sheet and sprinkle with salt. Bake at 425 until lightly golden, about 25 minutes.
Add the cooked quinoa, roasted sweet potato, pomegranate seeds, watercress, chopped cilantro and chopped mint to a bowl.
In another small bowl mix together the dressing ingredients. Taste for seasoning and adjust with more honey or salt as needed. Pour over the quinoa mixture and toss. Serve immediately or keep up to 3 days in the refrigerator.
*To make soy free substitute baby lima beans or peas for the edamame.
Happy, healthy eating! ~kendra