Written by Drizzle Kitchen Contributor Lauren Woodbridge
Happy Farmer's Market Week! I am so excited there is a whole week dedicated to the farmers in your region and creative members of your neighborhood. This is the time to go to that market you have been talking about for months and find your favorite seasonal vegetable. Let the time of year tell you what's for dinner. Thank the hard working business owners you meet!
You frequently hear words like "local", "seasonal", "organic", "natural" and wonder what they mean and if you should be considering them in your own diet. The answer is yes! I am not saying you need to buy only local, organic and seasonal all the time, but it is important for you to ask questions and understand the impact of the food you buy. Not only should you think about how you feel every day, but track your food all the way back to the day it was planted.
I feel very strongly about buying my food in its purest form and as locally sourced as possible.
Local is typically within 400 miles of where you are. Check out this website for resources and help finding what's in season. https://www.ilfma.org/
Be sure to share this post with a few friends and family members.
Here are a few reasons why local is a smart choice:
Eating locally and seasonally could reduce the amount of fossil fuels and energy needed to transport and store the food after harvest.
Transparency, which allows the customer to get a much closer look at how their food is grown, delivered, handled, packaged, etc.
Buying from your local market, supports of the local economy and the individuals willing to put in the time and effort.
You could end up trying a new fruit or vegetable variety.
The produce is picked at peak ripeness making the nutritional value greater and flavor richer.
If local AND organic, the surrounding soil remains fertile, the water stays clean and animals feel free and welcome to roam the land. Mass food production can produce harmful effects on the environment and surrounding wildlife.
Establishing farmer's markets throughout the city drastically improve food access for all neighborhoods.
Most importantly, walking through a farmer's market on a Sunday morning, eating a bagel, chatting with friends sounds really nice! You may even come across a cooking demo, cheese sampling or nutrition lesson.
https://books.google.com/books?id=-DrjAkTEqpwC&lpg=PR5&ots=55J3vY4-e5&dq=why%20eat%20local%20and%20organic&lr&pg=PR5#v=onepage&q=local&f=false
https://www.onegreenplanet.org/natural-health/why-local-organic-food-is-the-best-choice-for-everyone/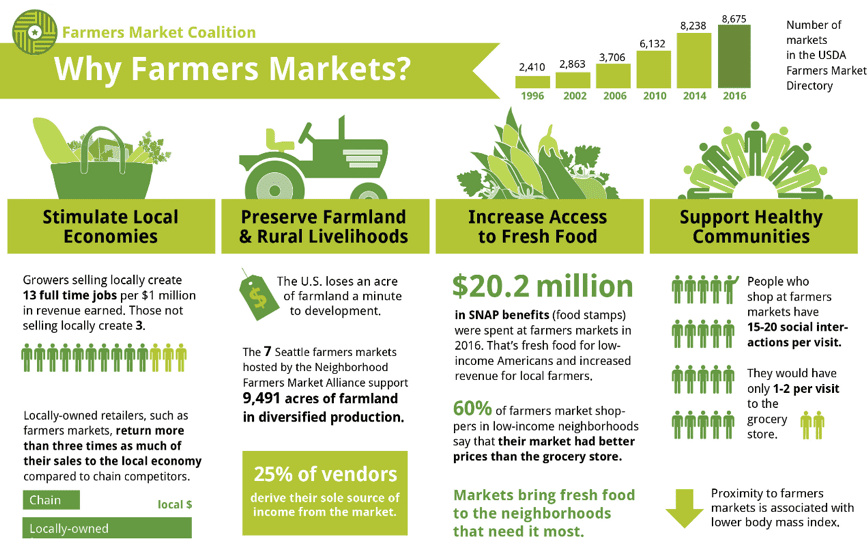 A few of my favorite markets include:
Independence Park
Every 2nd and 4th Sunday 9am-1pm
3945 North Springfield Ave.
Green City Lincoln Park
Every Saturday 7am-1pm
1817 North Clark St.
Andersonville
Every Wednesday 4pm-8pm
Berwyn Ave between Clark and Ashland
The Plant
First Saturday of the month 11am-3pm
1400 West 46th St.
City Market at Daley Plaza
Every Thursday 7am-3pm
50 W. Washington St.
Contributed by Lauren Woodbridge:
Board member of the Illinois Farmers Market Association
Co-Owner of The Kitchen Sink Chicago, vendor at Independence Park Farmers Market