We have many different food lifestyles and diets that our clients at Drizzle Kitchen need to follow. The overarching theme is gluten free because of celiac or a sensitivity. But we also have clients that follow keto to help with cancer treatments, families that are nut free because of multiple allergies, SIBO diet, Candida diet, grain free and low-fodmap to help with inflammation and auto-immune disease among many others.
So when products come along that fit into those categories I'm so eager to try them and play around with possible new recipes. The Cloudbread Company makes one of those products, their Cloudies! What began as a product to help diabetics enjoy a bread substitute has turned into a super fun product that everyone enjoys. And, for me, the beauty is that it's gluten free and super tasty. Recipe development with these little circles of puffed yumminess has been so much fun!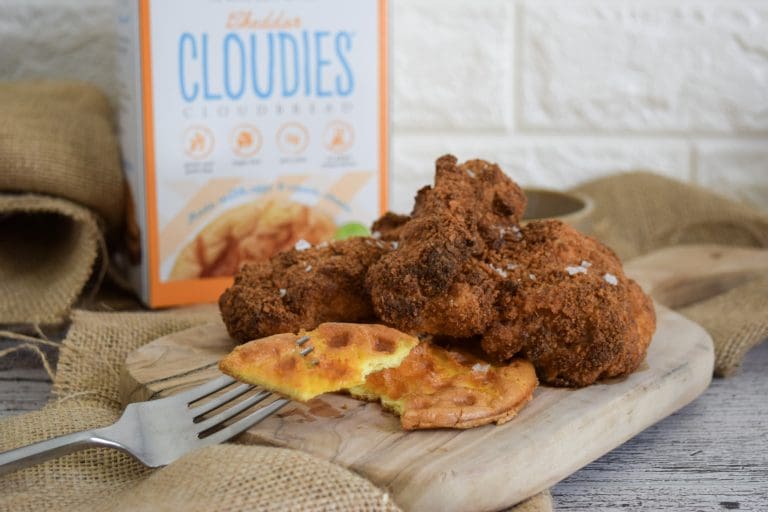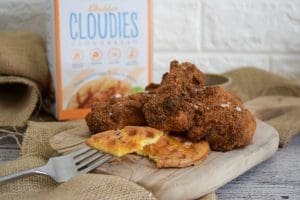 Which leads me to today's recipe, Chicken and Waffles!! I knew I wanted to do something with waffles since I got an adorable tiny waffle iron. Well, the Cloudies fit perfectly into this individual waffle iron and then I knew I could make breadcrumbs out of some toasted Cloudies as well! How fun! To keep it nice and light, there is a simple dip in coconut flour then buttermilk then the Cloudies breadcrumbs. A light drizzle of olive oil and instead of pan frying these delicious pieces of chicken are baked, keeping them crispy still but without the extra fat from deep frying.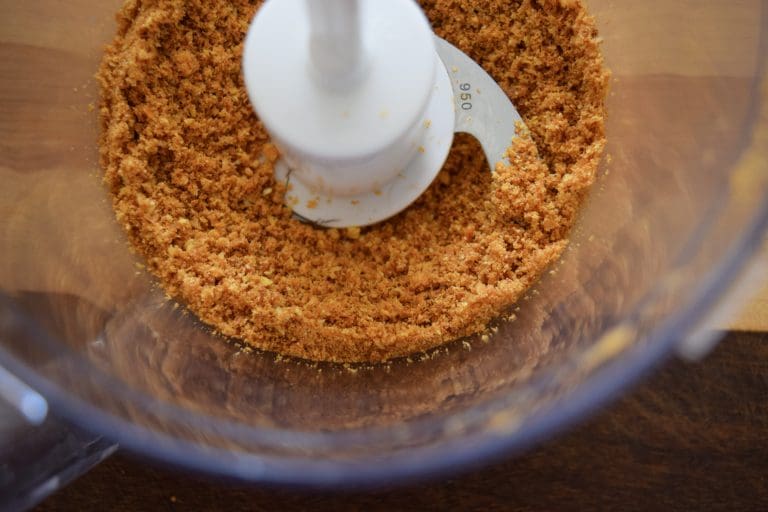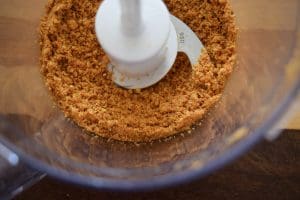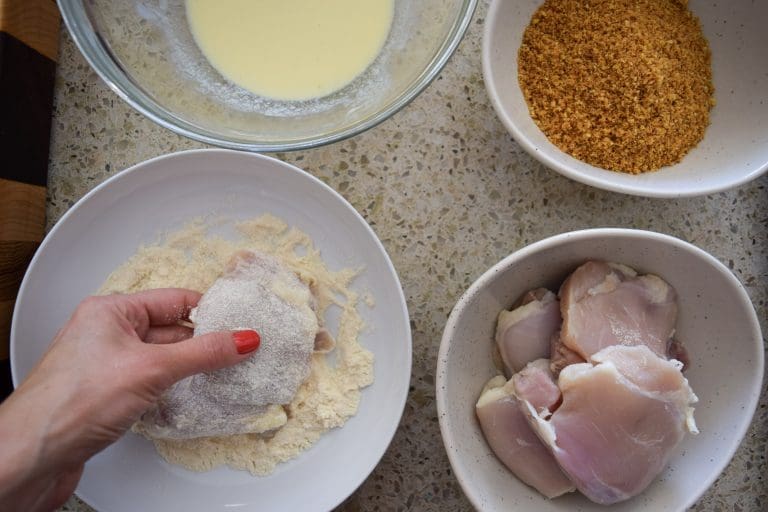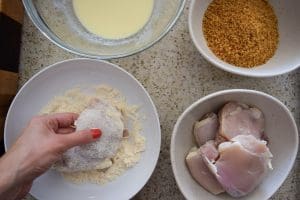 So be sure to stock up on Cloudies and save this recipe for the next time you're hosting brunch or maybe want a fun breakfast for dinner. And don't forget to make it your own! Add some herbs or maybe put a light drizzle of hot honey on top.  A drizzle of maple syrup is also a delicious idea and if you are a bacon lover then some super crispy bacon strips would really make this extra tasty. However you do it, have fun and enjoy your new lightened up version of Chicken and Waffles!
xo,
Kendra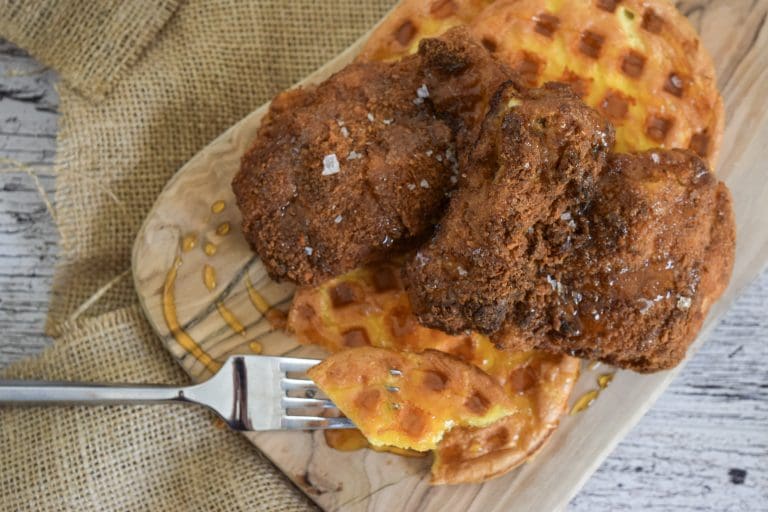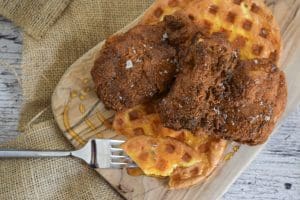 Chicken and Waffles
Grain Free, Gluten Free, Nut Free, Soy Free, Tree-nut Free, Peanut Free
*contains coconut, eggs, dairy
Serves 4
Prep Time: 25 minutes plus 25 minutes cooking
Ingredients
2 Boxes Cheddar Cloudies (total of 16 Cloudies)
2 Tbsp. coconut sugar
1 pound chicken thighs, boneless and skinless
1 egg
½ c. buttermilk (or ½ c. milk + 1 tsp. fresh lemon juice)
½ c. coconut flour
1 tsp. salt
1 tsp. ground paprika
2 tsp. garlic powder, divided
Olive oil, for drizzling
Optional, maple syrup to finish
Directions
Make your breadcrumbs first. Preheat oven to 300. Place a metal cooling rack on top of a baking sheet. Tear 8 Cloudies in half and place on the baking sheet. Place baking sheet in the oven for about 40 minutes until the cloudies are crunchy and no longer soft. Cool 10-20 minutes.
Add the dried cloudies to a small food processor or high speed blender and pulse until you have perfect breadcrumbs. Set aside.
Turn up the oven to 400, line a baking sheet with parchment paper.
Prepare your breading process by whisking together 1 egg, ½ c. buttermilk and 1 tsp. garlic powder in one bowl. In another bowl combine the coconut flour, salt, ground paprika and remaining 1 tsp. garlic powder. Lastly, in a third shallow bowl pour the breadcrumbs in.
One by one, take each chicken thigh and first give them a nice coating of the coconut flour mixture, pressing down on both sides to coat. Next, dunk them in the buttermilk mixture allowing excess to drip off. Lastly, coat them completely in the Cloudies breadcrumbs and then place on the prepared baking sheet. Continue with remaining chicken thighs.
Drizzle with olive oil, sprinkle with sea salt and bake at 400 for 22-24 minutes until golden brown.
Remove chicken from oven and get the waffles ready with the remaining 8 Cloudies!
Any waffle iron works but if you have the tiny, individual ones those are the perfect size! Spray the waffle iron lightly with olive oil spray, place the Cloudie inside and sprinkle with a tiny bit of coconut sugar. Press the top down to "cook" the waffle for about 45-60 seconds. Continue with remaining waffles.
Place 2 waffles on each plate and top with one or two of the chicken thighs. Add optional drizzle of maple syrup and enjoy!
Happy Foods are the Best Foods!