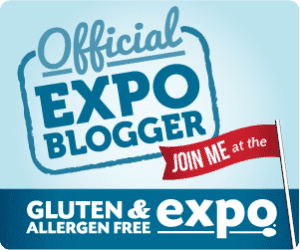 Gluten free and allergy free people unite!! Coming back to Chicago this year is the oh so fabulous Gluten Free Allergy Free Expo. What's that, you say? An entire convention center filled with products I can safely eat and try before buying?? Believe it bunnies.
You didn't go last year did you (insert me shaking my head with a tisk tisk)…. Well, be sure to pop over to the GFAF Expo website and snatch up your ticket. Adults are just $20 and children $5 for a whole day of checking out new companies, trying some delicious foods and meeting up with some pretty cool peeps (obvi). There are also cooking demonstrations, cookbooks to peruse and purchase and a whole kids section. It's a really great way to spend the weekend!
Do I need to dangle the carrot a bit more? Take a look at just a few of the vendors that will be there-
Pamela's Products
Chebe
Enjoy Life Foods
Glutino
Hail Mary
Sweet Ali's
Schar
Simply Sprouted Way Better Snacks
Happy Family Organic Superfoods
And the list goes on and on and on…..I am so looking forward to spending the day exploring new products and meeting some great people, hopefully one of them is you!
happy, healthy eating! ~Giggles