The Driz has been super busy lately, guys. I apologize if I've been lax with my posts but it's only because we are working on some super fun stuff for you! If you don't follow me on instagram then you most likely missed my announcement of my soon to come YOUTUBE CHANNEL. Yep, that was in all caps because I'm freaking excited about it!
There has been loads of filming, loads of food photography, loads of cooking and then there's a private chef business to run. But truly, I am so thrilled for all the amazing opportunities that come my way, for all the incredible businesses and entrepreneurs I get to meet and to just do what I love every day.
However, there are only 24 hours in a day. So even though I truly love what I do there is only so much time to do it in! Hence today's posting of Freezer Oatmeal. This recipe has saved my butt the past couple weeks. It's something you can customize to whatever you want, you can add things or keep it minimal. You can eat it hot right when you make it and then freeze some for later. You can add berries and seeds or none at all. But the glorious part of this recipe is that it's totally cooked, it takes 2 minutes to reheat in the microwave and you've got a good breakfast at your fingertips to set your day up for success.
happy food is the best fuel
xo, kendra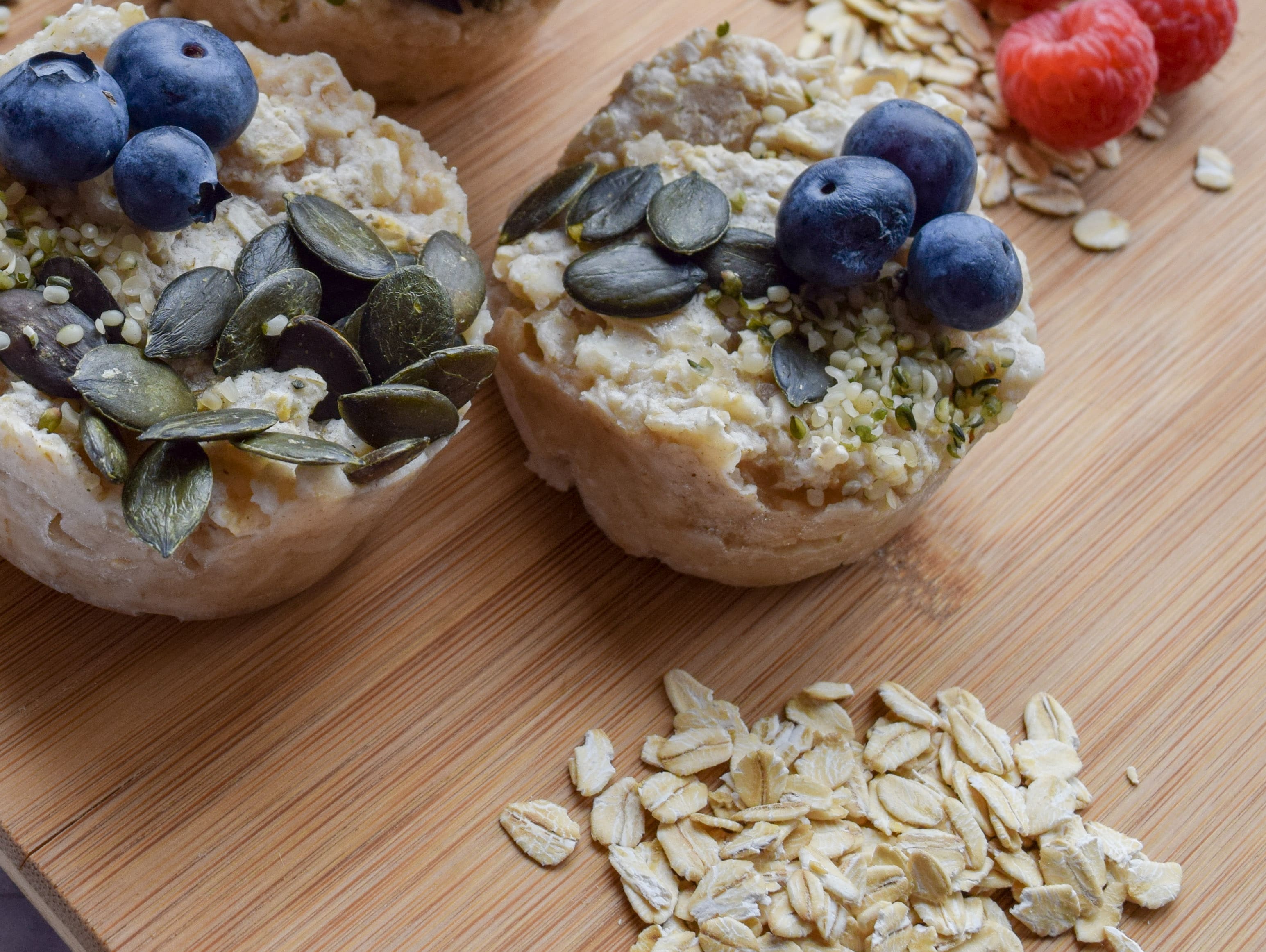 Freezer Oatmeal Cups
Free from the Top-8 food allergens
Makes 8 cups
1 cup gluten free old fashioned rolled oats*
1 c. water
1 ¼ c. favorite milk or dairy free milk
3 T. chia seeds
1 T. vanilla extract
1 t. ground cinnamon
2 scoops collagen (my favorite brand: Vital Proteins)
Toppings, some of my favorite: hemp seeds, pumpkin seeds, berries, maple syrup, honey
Directions
Add the oats, water, milk/dairy free milk, chia seeds, vanilla extract and ground cinnamon. Whisk to combine and bring to a simmer.
Cover and cook over low for 20 minutes or until the liquid is all absorbed, whisking occasionally.
Stir in the collagen until completely blended.
Pour into silicone muffin cups and sprinkle with toppings, pressing in lightly making sure to stick to the oatmeal.
Cool on the counter for 30 minutes and then place in the freezer for 8-10 hours or until frozen through. Transfer to a freezer safe baggie and keep in the freezer until ready to eat!
When ready to enjoy, remove an oatmeal cup and warm in the microwave for 1 ½-2 minutes, adding sweeteners and more toppings if desired.
*To make oat free: You can substitute the same amount of amaranth grains making sure to whisk a bit more to prevent burning on the bottom of the pot.