Mr. Giggles and I have both fallen to the plague. For those of you who follow me in Instagram, you have been bombarded with my latest photos all the little vials of ginger, all the mugs of tea and all the bowls of broth I have been downing in any sort of attempt to feel better.
Well, all those kisses that Mr. Giggles insisted on giving me last week have backfired on him! He's now down for the count and I am still nursing myself back to health. But in-between all this homeopathic healing I have been trying to still make nutritious meals for us, as opposed to eat the oh so easier and comforting bowl of oatmeal 🙂
And while looking through recipes, I was reminded of this delicious little salad. Aside from the knife work it is pretty easy to toss together. It's beautiful, with an array of different colored vegetables and thus different vitamins and antioxidants. And in addition, it's delicious! It just might be dinner tonight….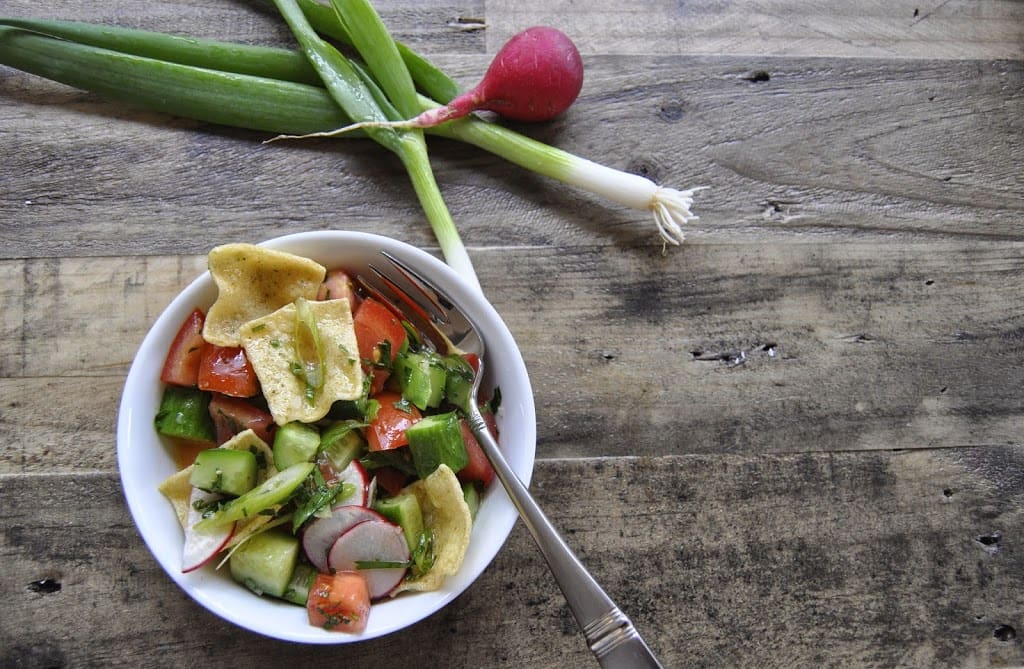 Free from the Top 8 Allergens
Serves 4
½ large bag dill and sour cream Plentils (Enjoy Life Foods brand of delish lentil chips!)
2 large tomatoes, diced or 1 container grape tomatoes sliced in half
5 small radishes, sliced thinly
2 mini cucumbers, diced
2 green onions, thinly sliced
¼ c. chopped mint
¼ c. chopped flat leaf parsley
2 cloves garlic, pushed through garlic press
4 T. fresh lemon juice
1/3 c. olive oil
2 T. cider vinegar
optional, 1 T. Sumac (found online or in specialty stores)
DIRECTIONS
Add everything from Plentils through parsley to a large bowl and mix to combine. In another small bowl whisk the pressed garlic, fresh lemon juice, olive oil and cider vinegar. Season with salt and pepper and pour over the bowl of vegetables and Plentils. Toss to coat everything and then sprinkle with the sumac.
happy, healthy eating!~Kendra