Recently, over at Drizzle Kitchen, we have been making quite a bit of almond milk for our clients on a weekly basis. So I thought, maybe people want to have the recipe. Maybe people want to be able to do it for themselves!
And just like the title of this post reads, it really is easy peasy. While not as easy as just picking up a carton of the ready made stuff at the store, trust me you will be so much happier if you make it yourself. Your body will be so much happier if you make it yourself. And with such a short ingredient list, very little equipment required you really have no excuse.
In just a few simple steps you will have fresh, unpasteurized, all natural, carageenan free almond milk. Hip-hip hooray! If you make a batch of this luscious dreamy beverage, store it in a glass jar and it will keep in your fridge for 5-6 days….if you don't drink it all by then! I like to use it for everything, from my morning smoothies to my sunshine muffins. Keep me posted with how you plan to use it.
happy, healthy eating (and drinking)! ~Giggles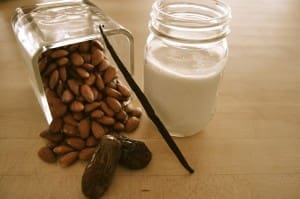 Almond Milk
soy free, dairy free, gluten free
Makes 4ish cups
1 c. raw, organic almonds
4 cups filtered water
1 vanilla bean, 1 T. vanilla powder or 1 T. vanilla extract
2-3 pitted dates, soaked in hot water for 2-3 minutes
Soak almonds overnight or up to 3 days in water (change water out everyday).
Rinse almonds off thoroughly and pour into the pitcher of a good blender. Add the 4 cups filtered water, the scraped inside of the vanilla bean (or powder or extract) and the soaked dates.
Blend on super duper high for 1-2 minutes until the almonds are broken up into teensy pieces and the dates are all blended.
Pour milk through a fine mesh sieve (or nut milk bag) set over a bowl, then pour into whatever containers you would like to store this lovely, luscious treat in!