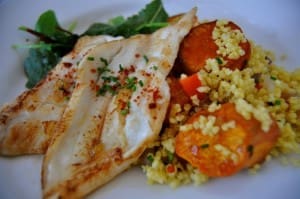 Real Food Detox is going well! I have been enjoying my home pressed beet-carrot-broccoli juice, been enjoying my apples with sunbutter and chia seed snacks and (unsweetened!) berry tea. So many wonderful things to eat. Whats up for this weekend? Tonight-jicama and red pepper with hummus I will be throwing together shortly, babaganoush with sweet potato chips and more jicama for a party on Sunday and lots of delightful goodies in between. Now, I must confess. I am going out to dinner tomorrow night. Will wine be consumed?
Yes…..
Will less detox friendly foods be consumed?
Uh-huh.
So how to counter balance? A lovely detox bath the next morning and lots of water and fresh produce throughout the next day. It's ok to splurge every so often, it's life!
So, forging ahead I am so excited to share one of my recent meal swith you. There are a few foods that I am seriously obsessed with right now. In addition to just being healthy, they are so tasty and I can't get enough. Do you love sweet potatoes? Me too!! Can't get enough millet? Me neither!! Want to eat beets for breakfast, lunch and dinner? Yes, yes, yes! So I have had a plethora of all these things hanging around in my place.
Well the other day I was on my way home from teaching a cooking lesson to a client, daydreaming about what to make. I remembered that I had millet in the fridge that I made earlier in the week, also had a red pepper, some kale and some roasted sweet potato wedges that needed to be used. So my brain started whirling around and I decided to sauté make a little sauté with the millet, sweet potatoes and red pepper. Wilt the kale gently and then to top it all off I lightly sautéed some sole with a crushed clove of garlic, sea salt and a touch of olive oil. deeeeeeeelightful! It was so delicious and satisfying, it was just the way to re-energize my body for the rest of the days work. And quite honestly, the millet saute would be just as delicious on its own as another great lunch, so make extra!
Enjoy my lovelies, and happy
Real Food Detoxing
!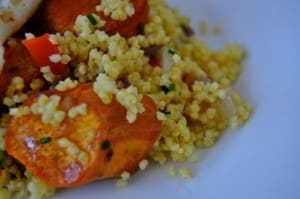 Sauteed Sole with Wilted Kale and Millet Saute
Gluten Free, Dairy Free, Egg Free, Soy Free
2 T. olive oil
½ red onion, diced
1 red pepper, diced
3 cloves garlic, minced
8 chunks already roasted sweet potatoes*
1 c. steamed millet
¼ cup minced fresh chive
3 cups baby kale
2 cloves garlic, minced
8 oz. sole filets, patted dry
2 t. red stamp pepper
DIRECTIONS
Warm a medium or large nonstick fry pan for 1 minute over medium heat. Add the 2 T. olive oil and warm another 30 seconds.
Add the diced red onion and pepper and sauté 4-5 minutes until softened. Add the minced garlic and sauté until fragrant, about 1 minute. Place the sweet potatoes and millet in the pan and gently toss to mix. Cover with lid and steam 5-6 minutes until warmed through. Stir in the chive and then divide between 2 plates.
In same pan pour in another 1 t. olive oil. Add the baby kale to the pan and turn with tongs until wilted, about 1 minute. Add to the plates, dividing equally.
And again, in the same pan, add another 1 t. olive oil and the minced 2 cloves of garlic. Gently lay the fish on top of the garlic and cook 3 minutes per side until cooked through. Place on top of the millet and kale, sprinkle with the red stamp pepper, and enjoy!
* If you need to roast the sweet potatoes, peel and cut them into 2" chunks. Place on a parchment lined baking sheet and drizzle with olive oil and sea salt. Roast at 350 for 24-26 minutes.