I'm back, everyone!! I realize it's been awhile since I posted but since I posted last it's been a whirlwind here at Drizzle Kitchen. Growing the business, traveling with clients to amazing places, learning so much more about food and recipes. And I'm so ready to share it with you! To start you off I have a tasty little treat below for you to bake….
Over the weekend I had one of my best friends in town, went to visit the baby from another one of my best friends and had a bridal shower. All while my boyfriend was traveling so I had some time on my hands. And what that meant was I wanted to bake. And I was craving some peanut butter style cookies, the kind I remember eating and baking when I was younger. The issue? I don't really use peanuts. I don't use peanut butter or cook with peanut anything (the mister has a peanut allergy) and I also find there are so many other nuts and seeds that are just awesome!
So with some almond butter in tow I decided to make a "peanut butter-esque" cookies. And because I'm human I also decided to add some dark chocolate chips. Because, duh.
I hope you get the itch to bake this week because these little gems are really worth it. Easy, hidden with some healthy hemp seeds and just plain scrumptious. Happy to say I'm back in action on the blog so stay tuned for more fun recipes!
happy, healthy eating!
~kendra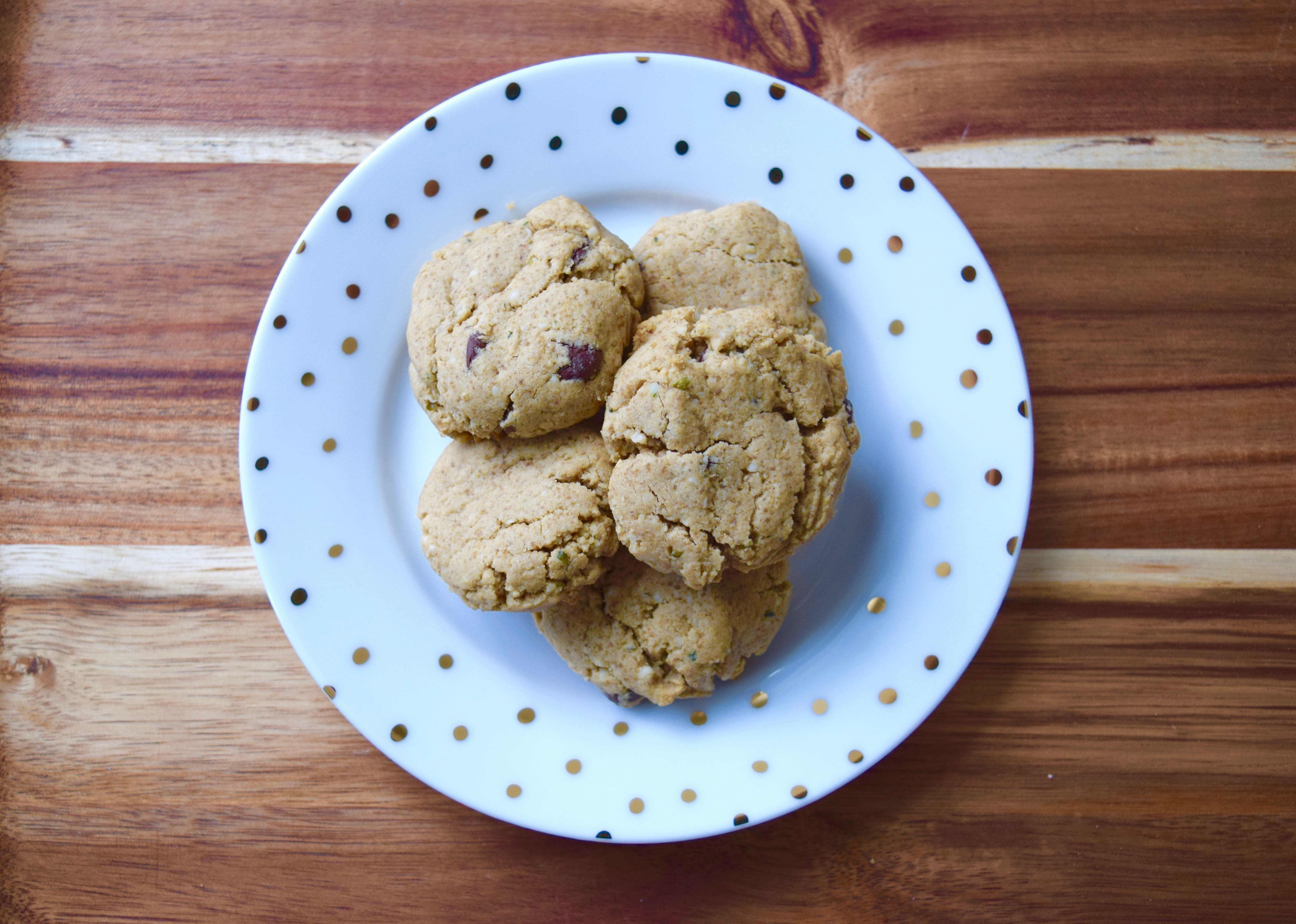 Dark Chocolate-Almond Butter-Hemp Seed Cookies
Makes 36-40 2 bite cookies
Ingredients
• 1 cup almond butter*
• ½ cup unsalted butter, softened**
• ¼ c. granulated sugar
• ¾ c. packed brown sugar
• 1 t. baking soda + 1 T. white vinegar (this is your "egg")
• 1 T. vanilla extract
• 1 ½ c. favorite gluten free flour blend (including xanthan or guar gum)
• ¼ c. hemp seeds
• 1 t. baking soda
• ¾ t. salt
• 1 c. dark chocolate baking morsels (I prefer to use Enjoy Life Foods because it's the cleanest dark chocolate morsel!)
Directions
1. Preheat oven to 350 and line two baking sheets with parchment paper.
2. Add the almond butter, unsalted butter, sugar and brown sugar to the bowl of a mixer. Mix until creamy, about 2-3 minutes.
3. Add the baking soda/vinegar mixture and the vanilla and mix about 30 seconds until blended.
4. In a small bowl mix together the gluten free flour blend, hemp seeds, baking soda and salt. Pour the flour mixture into the mixer bowl and mix for 1-2 minutes until blended.
5. Add the dark chocolate morsels and mix until incorporated.
6. Scoop the cookies out in generous tablespoon size and gently press and round the edges.
7. Bake for 8 minutes until just lightly browned. Remove from oven and allow cookies to cool completely on the tray before removing to a storage container. Will keep in an airtight container for 5-6 days.
While I love a natural almond butter straight from the machine, a preblended almond butter works best in this recipe. I like the MaraNatha No Stir Almond Butter in these cookies.
*to make nut free: use sunflower seed butter in lieu of the almond butter
**to make dairy free: use your favorite vegan margarine in lieu of butter