After returning from Expo West, the country's largest natural foods show, where packaged snacks are abundant, I realized I have so many fun and yummy homemade snack ideas that you guys need to know about!
I know there is a lot of chatter about how we shouldn't snack and we should stick to 3 solid meals per day. I do agree that it's great for our gut and we are definitely much to much of a snacking society. BUT-I also think it's not realistic to think that during the course of our busy days we will always have time to get all the nutrition we need during breakfast, lunch and dinner.
So, having nutritious and delicious snacks at our fingertips is a smart thing. This way we avoid the crappy choices when the hunger beast strikes. We avoid reaching for anything to help calm our blood sugar and have better choices to help balance us out.
Entertaining is also one of my favorite things in the world and what do we want to do when we entertain? Nosh, drink and enjoy time with our friends. So, again, having delicious snacks to put out while also being nutrient dense seems like a win-win to me!
Enjoy one of my favorite snacks to pop together. Warning, though! Be sure to dry them as LONG as you possibly can to prevent them from exploding in your oven. Aside from that these little snackable crunchy bites are one of my favorite and inexpensive snacks to make!
Happy Foods are the Best Foods!
xo, Kendra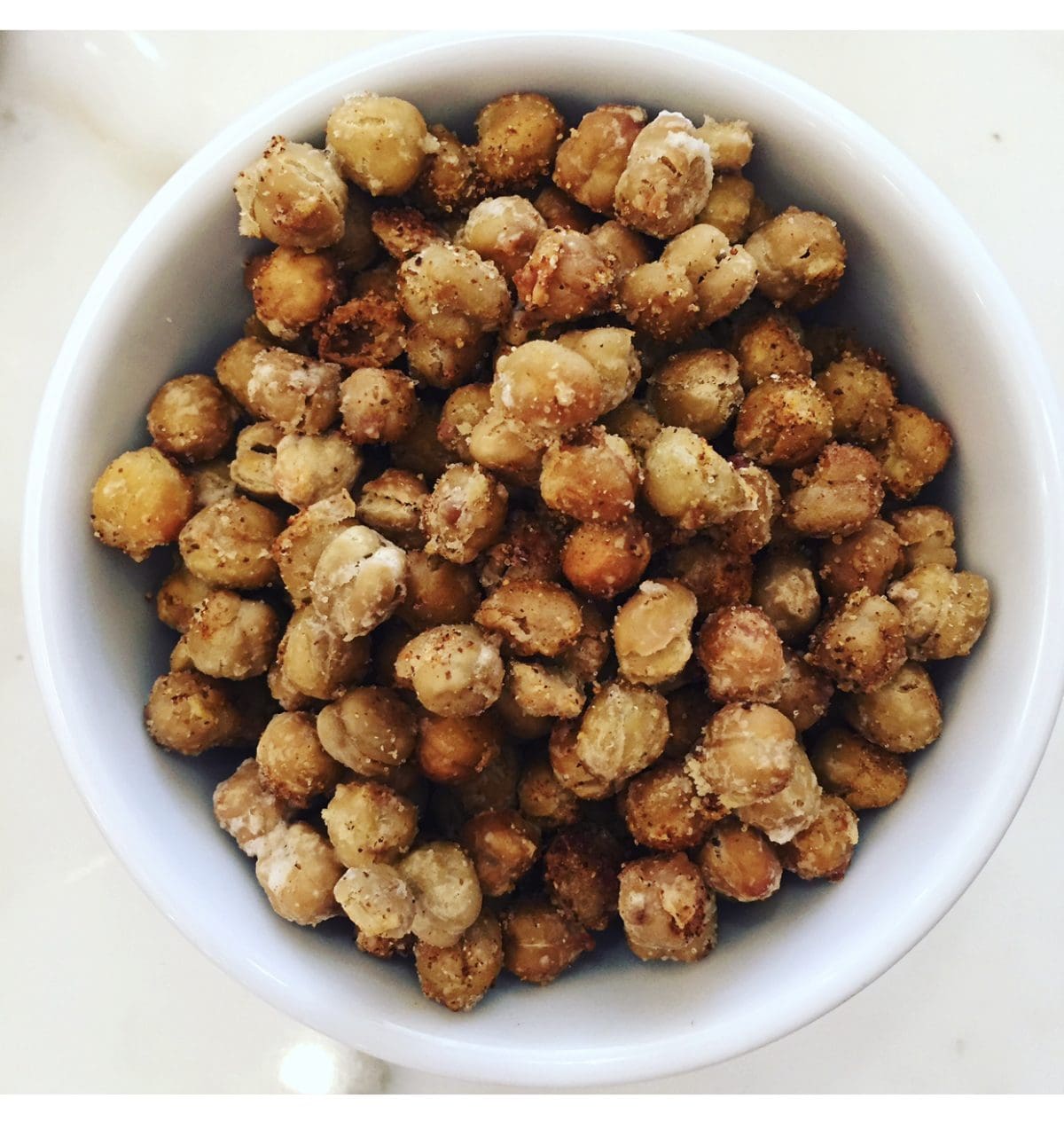 Crispy Baked Chickpeas
Free from Top-8 Allergens, Sesame, Potato, Mustard and Corn
1 can chickpeas, rinsed and drained
2 T. tapioca or arrowroot starch
2-3 T. olive oil
2 T. sea salt
2 T. garlic powder
Cracked black pepper
Additional olive oil
DIRECTIONS
Dry the chickpeas as well as you can. I like to do this by pouring them onto a dishtowel or paper towel lined rimmed baking sheet, cover with another dish towel or more paper towels and roll back and forth until they are as dry as you can get them.
Pour into a bowl and toss with the arrowroot or tapioca starch. Drizzle with olive oil and sprinkle with sea salt and toss gently to coat. Pour onto a parchment lined and rimmed baking sheet and pop in the oven for 20 minutes.
Toss with a little more olive oil, the garlic powder and the cracked pepper and pop back in the oven for another 20-30 minutes until they are crispy and crunchy.
Cool on the tray for 15-20 minutes, pour into a bowl and try not to eat them all yourself!