Chicken Parm Meatballs is one of the fan favorite recipes for Drizzle Kitchen clients. They please everyone, they reheat beautifully and are a breeze to put together! The flavor of chicken parmigiana all wrapped up into a juicy and delicious chicken meatball is a fun way to switch up Italian night!
Now, I've been using gluten free breadcrumbs for as long as I've been gluten free, of course. But recently I was introduced to a new product: Cloudies Cloud Bread! I've had "cloud bread" before and have even made it but have never seen it in stores. This new line of tasty little rounds is a game changer! Originally created for those managing diabetes as a bread substitute it's a perfect lower calorie, gluten free and carb free "bread" for anyone managing a lifestyle that needs any of those things!
But of course I can't just leave well enough alone, I thought there must be a way to make this into an ingredient or a new recipe! Chicken parm meatballs were perfect! Rather than breadcrumbs, we can use the Cloudies as the structure for the in a lower carb and still tasty way. Plus the Garlic Herb Cloudies already have seasoning in them to help with the Italian flavor of the meatballs. Win win!
Grab yourself some boxes, enjoy them in all the ways and especially use them to make these tasty little meatballs.
xo,
Kendra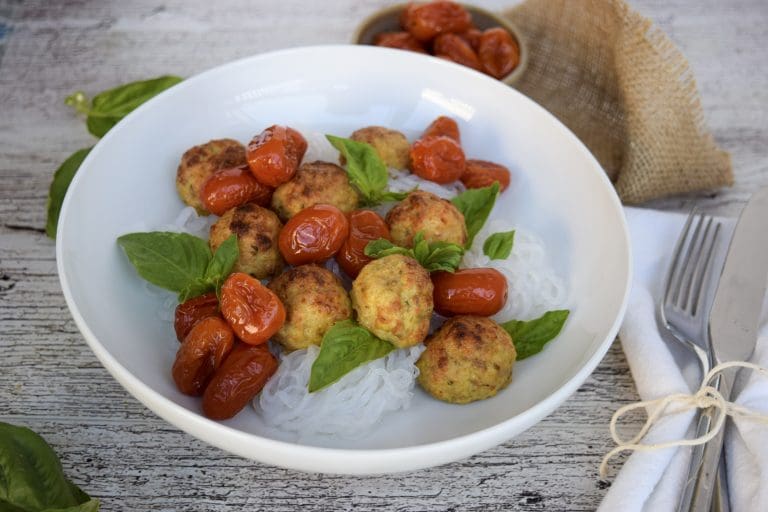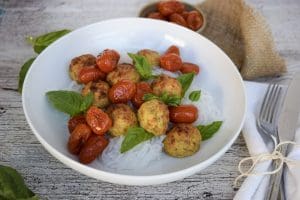 Garlic and Herb Chicken Parm Meatballs
Gluten Free, Soy Free, Nut Free
Grain Free
Makes: approximately 24 meatballs
Prep Time: 10 minutes + baking time
¼ c. milk of choice

1 Tbsp. dried oregano

1 egg 

3 Garlic and Herb Cloud Breads

⅓ c. grated parmigiana

½ tsp. salt

1 pound ground chicken

Olive oil
Options for serving: roasted grape tomatoes*, favorite tomato sauce, shiratake noodles, zucchini noodles, extra grated parmigiana cheese, fresh basil leaves
Directions
Preheat oven to 375, convection if you have it. Line a rimmed baking sheet with parchment paper and set aside.

Add your milk of choice, dried oregano and egg into a medium mixing bowl. Whisk until completely combined.

Tear the Cloud Breads into small pieces and let them soak in the milk and egg mixture for 10 minutes. Then use a fork or your hands to completely break them down.

Add the grated parmigiana and the salt and mix to combine.

Mix in the ground chicken with your hands or a spoon until evenly combined with all the other goodies in the bowl.

Use a portion scooper or tablespoon to scoop out about 24 meatballs. Lightly drizzle with olive oil and then form into smooth balls.

Bake at 375 for 16-18 minutes until golden brown and enjoy with your favorite sauce, roasted grape tomatoes (recipe below!), noodles and toppers!
*roasted grape tomatoes: preheat oven to 400 and line a small tray with parchment paper. Pour 1 pint grape tomatoes onto the tray, drizzle with 1 Tbsp. olive oil and sprinkle with salt. Roast for 20 minutes.

Happy Foods are the Best Foods!